March is National Crafting Month, but I am a firm believer that every single month of the year can benefit from some hands-on creative therapy! Getting together with good friends to make something fun, laugh a lot, and make a bit (or a lot!) of a mess is always such a great way to connect, and today, I've teamed up with Plaid and their Creators team to put together a terrific and totally stress-free girls' craft night idea. Around my neck of the woods, painting studio girls' nights have recently surged in popularity, so today, I've come up with a fun way to help skip the crowds and save some money to host a totally fun painting girls' night at home! I'm sharing my super simple tutorial for how to create a DIY canvas lettered sign with any quote that strikes your fancy, as well as some helpful tips for putting together a painting party your friends are sure to love. Read on for all the details.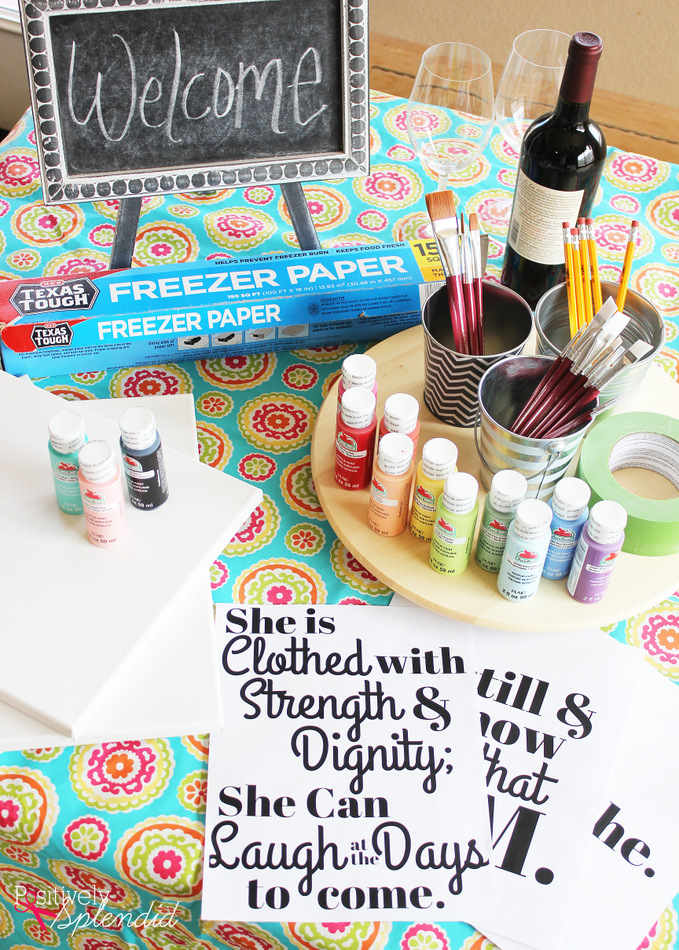 This is a sponsored post written by me on behalf of Plaid. All opinions are entirely my own.
How to Throw an At-Home Painting Party
So many of my friends now love to go for nights out at local painting studios, and it dawned on me recently that there is no reason in the world not to do something similar at home! With just a few inexpensive essentials, a gathering like this one can come together in no time at all.
Some of the supplies I recommend:
Assorted brushes
Waterproof table cover(s)
Freezer paper
Lazy Susan or tray
Decorative containers for holding pencils, brushes, etc.
Refreshments and/or appetizers
When hosting a painting party, make sure you purchase an assortment of paint in an array of different colors to your guests can find the perfect color scheme that appeals to them. Apple Barrel paints are my go-to for times like these. Available in a ton of great colors with three different formulas, there truly is something for everyone here. And they are so incredibly affordable, found in Walmart stores nationwide, as well as in other craft stores.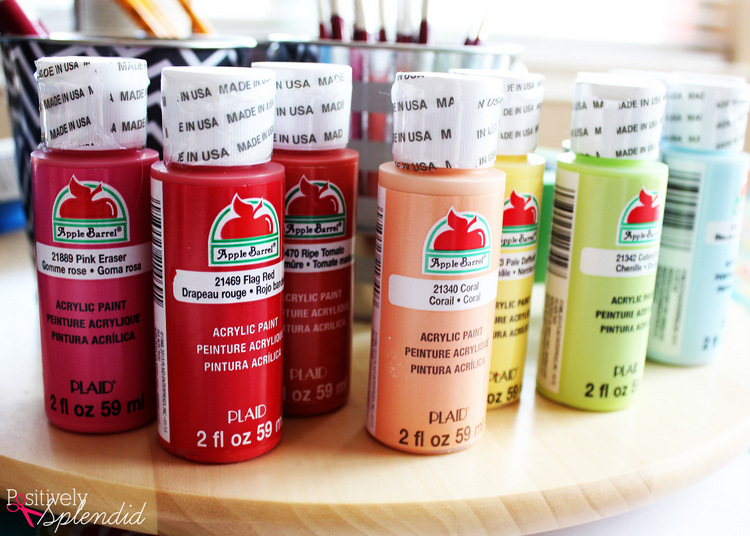 I love that Apple Barrel paint is water-based for easy soap-and-water cleanup, and because it is certified AP non-toxic, I don't have to stress about my kiddos wanting to join in on the creative fun. And–something I was very happy to learn–Apple Barrel paints are proudly made in the USA!
One thing that I know deters many from hosting parties like this one at home is the thought of dealing with the mess that comes as a result. Waterproof table covers will ensure that any messes don't make it on to your furniture so you don't have to stress. Truly, though, for any crafting project that involves paint, I simply cannot live without my favorite trusty secret: freezer paper! Tearing a sheet for each individual's work space not only protects the work surface from spills and smudges, but it also gives each person a handy spot for squirting paint to use as they work. Because freezer paper is plastic coated on one side, the paint won't bleed through!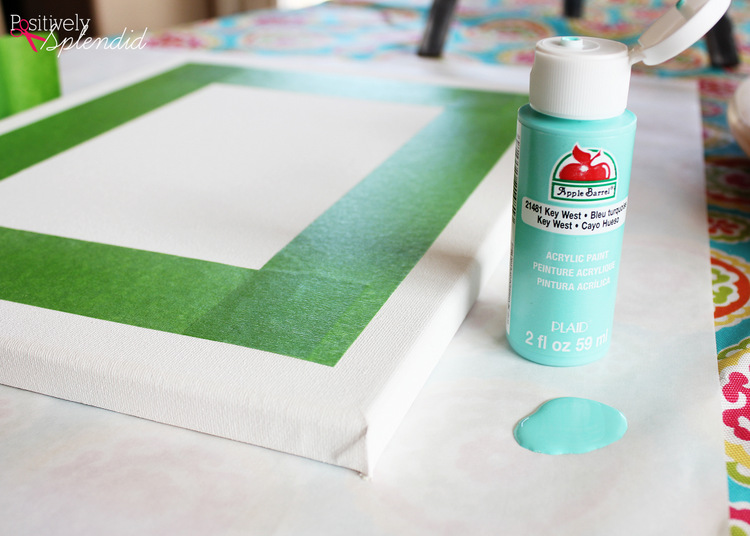 To keep the work area clean with so many hands reaching for tools and supplies, I love to have my handy lazy Susan and some dollar store metal containers at the center of the table to contain brushes, paint and other must-haves. It is amazing how much more fun there is to be had when everyone has access to what they need when they need it.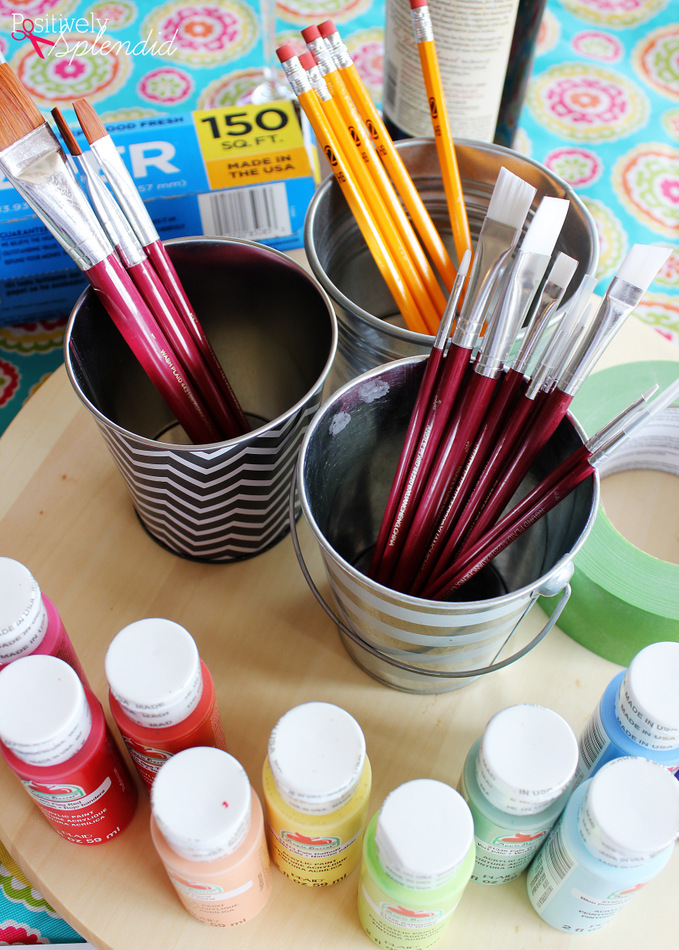 And, of course, as you work on your creations, you'll definitely work up an appetite! Be sure to have plenty of snacks on hand that guests will love. Appetizers and small finger foods are perfect for noshing on while paint dries between steps, and a nice bottle of wine or some sparkling cider to share is a great option, too.
Most important of all, though, is selecting a painting project to complete during the gathering. I recommend something that is quick and easy enough for crafters of any skill level. My DIY lettered canvas sign project is a terrific option!
To make a DIY Lettered Canvas Sign, You Will Need…
A stretched white canvas, any size you wish (However, if you want to use your computer printer at home to print your design, strive for something 11×14″ and under)
Computer and printer
Pencil
Acrylic paint
Assorted paint brushes
Painter's tape
Ribbon and hot glue (optional)
To begin, create a design with one of your favorite quotes using your computer. (I created the designs for the files you see here using Google Drawings.) When you have come up with a design you love, print the design onto a regular sheet of paper. Set the design aside.
Tip: When using this project idea for a painting party, consider asking guests for some of their favorite quotes/sayings so you can have those design templates prepped beforehand. Creating designs with guests' intitials and/or monograms is a great idea, too.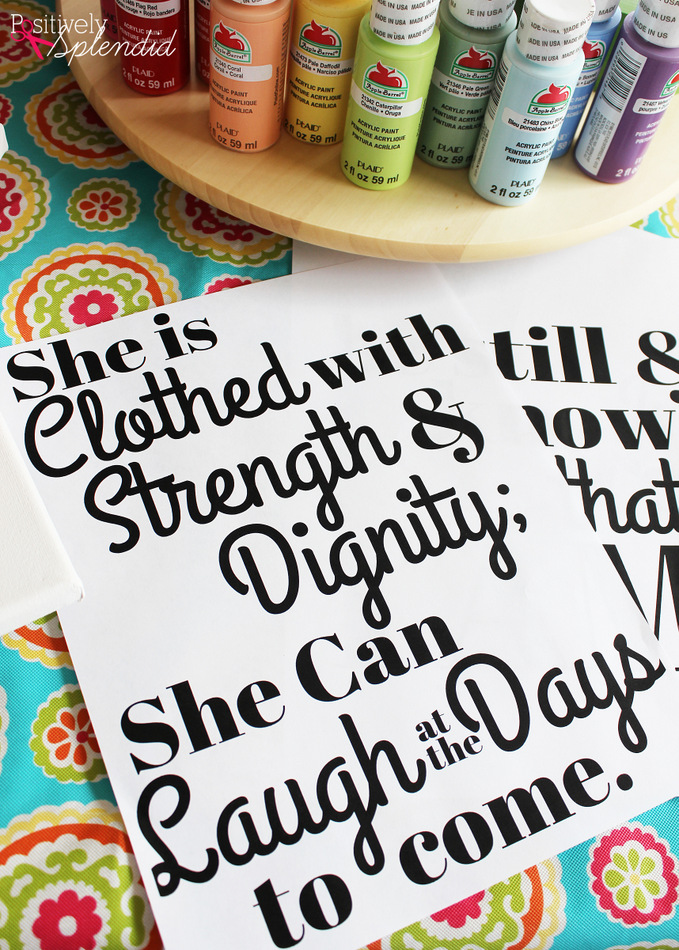 If desired, paint a border or other background design onto the canvas using the acrylic paint and paint brushes. Set the canvas aside to dry completely while you complete the next step.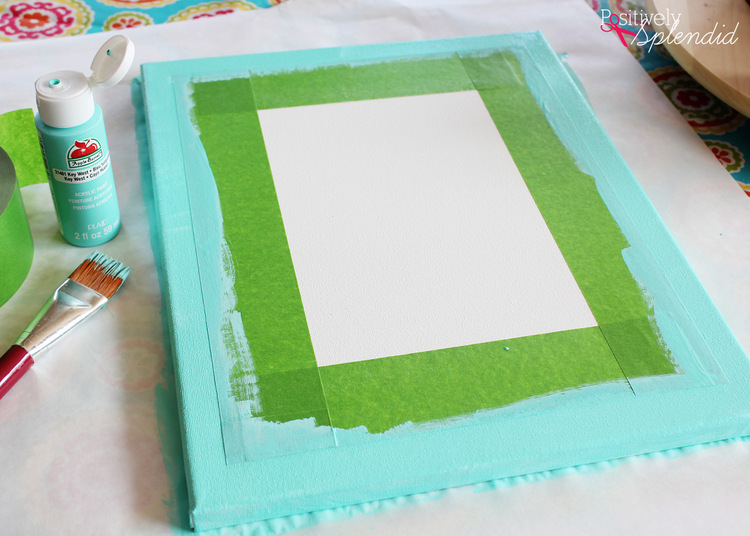 While the paint dries, grab your printed design. With the front of the design facing down, use the pencil to trace all the way around the outer perimeter of each letter, as shown. (To make this easier, it is helpful to use a lightbox or a even a sunny window.)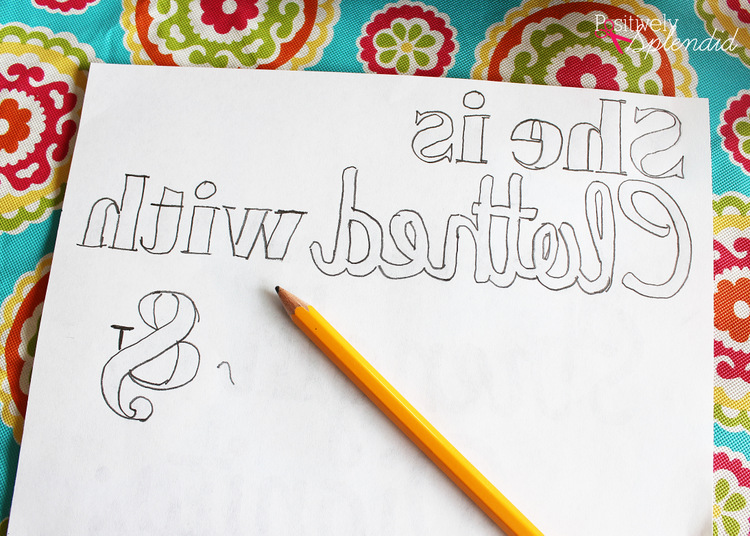 When the canvas is dry, place the design face up on the canvas, making sure the lettering is positioned exactly where you like. Use painter's tape one each of the four corners of the paper to secure the design in place.
Using a pencil, carefully outline each of the letters and figures in the design. As you work, the markings you made on the reverse side of the paper will be transferred onto the front of the canvas. I just love it when a plan comes together!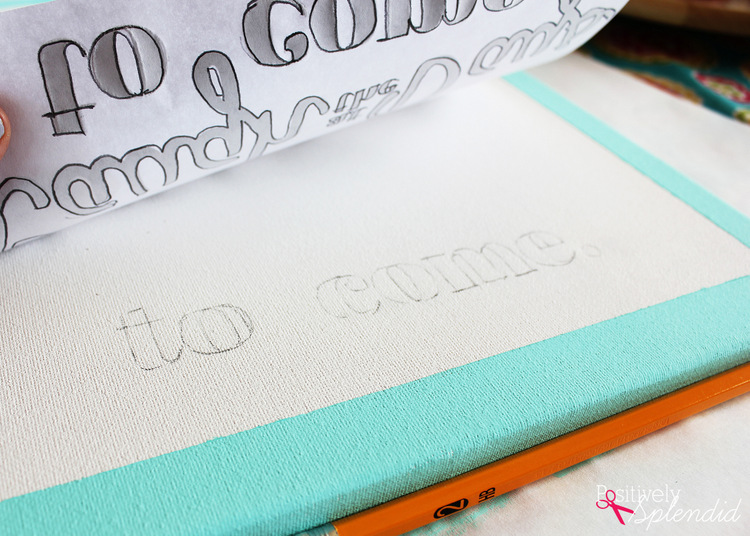 When the design has been completely transferred onto the canvas, remove the design template from the canvas. Use the assorted brushes and acrylic paint to very carefully fill in each letter and detail with paint. At this point, you can even add some more decorative touches with pretty stencils. Plaid has a fabulous selection of stencils in so many fun designs.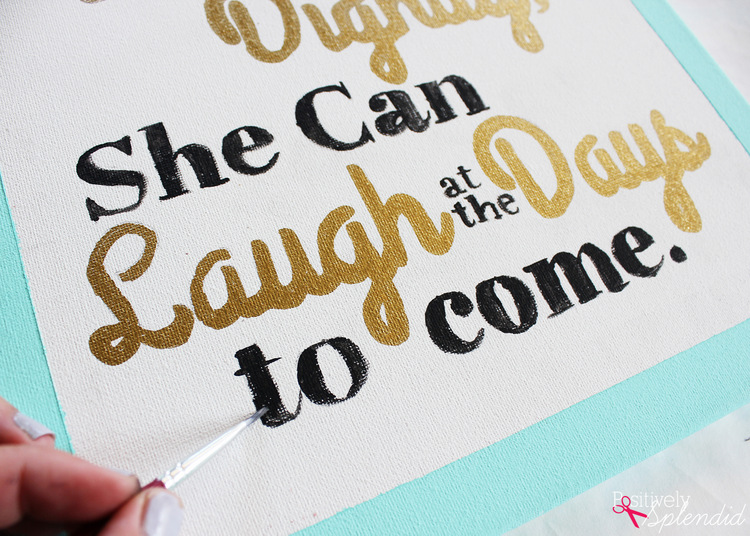 When each design element is filled in with paint, set the canvas aside to dry completely before affixing a ribbon hanger to the back of the canvas with hot glue, if desired.
In no time at all, your oh-so-professional, totally custom lettered canvas sign is complete!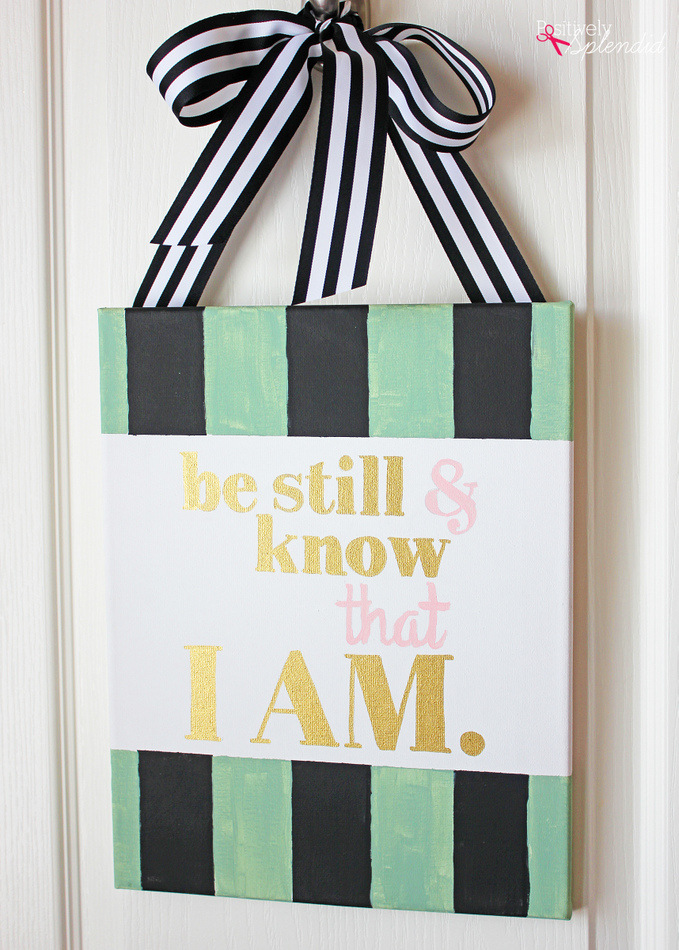 There are so many possibilities for these beauties: think baby shower gifts, wedding gifts, seasonal decor, and more!
I hope you're inspired to gather together some close friends and put together a fun crafting night of your own. Custom painted canvases are a terrific project for a memorable, enjoyable night of crafting together, and the best part about a painting girls' night in is that once the party has come and gone, you'll have a stylish memento to remind you of all the fun you had!
For even more inspiring ideas and tips for connecting with others through crafting, be sure to check out Plaid on Facebook, Pinterest, Instagram, and through their newsletter!
Having grown up in a home brimming with sewing notions and paintbrushes, Amy has a deep love for all things creative. On any given day, you'll find her knee-deep in her latest creative endeavor, with projects ranging from sewing and crafts to home decor and kid-friendly ideas. Amy believes that everyone, regardless of skill level or experience, possesses the ability to create something beautiful, and Positively Splendid was born of her passion for helping others harness their innate creative potential.