You know the saying, "I am so done with this."
With trying to finish a seemingly impossible project.
With listening to your kiddos fuss at each other.
With dealing with bumper-to-bumper traffic.
Or, in my case at the moment:
With being incredibly pregnant.
As I am in the last days of this pregnancy, I have uttered that phrase on more than one occasion. Because, really, I have grown tired of having to flip myself over every hour during the night like a rotisserie chicken so I don't literally become stuck in one spot. And I am weary of the waddling. And the sciatica. And the constant need to use the bathroom. Of the way my energy is sapped after accomplishing scarcely a quarter of what I am usually able.
But, oh mercy: I am trying to appreciate each and every moment.
Because when I say now, "I am so done being pregnant," it is the truth. I will never again go down this road.
When this new little bundle is placed in my arms, a door will be closed on perhaps what I will always consider the most monumental season of my life. We know our little family is complete at six. 
So I am trying hard to ignore the aches and pains and inconveniences of pregnant, instead focusing on its miracles:
The shape of a tiny foot or hand (or is that an elbow?) pressing ardently against my belly. "Hello, Mama!"
My excited children leaning close to tell their new sibling they can't wait or his or her arrival.
Daydreams of who this little creature will be and what he or she will be like.
My body rising to the challenge of growing and sustaining a living being.
I have been pregnant for at least a portion of seven of the last eight years. It has been a journey of growth and maturation, of faith-building and soul-searching. No experience in the world could ever possibly rival the the immense joy – the gratification – of those first moments when each of my sweet children has been placed in my arms, the transient discomfort and irritations of the preceding months completely eclipsed by a love more profound than words can convey.
So when I feel tempted to complain about these last days, I will choose to focus on the positive. Because in one, three, ten years' time? I have no doubt I will ache to relive even just one more moment of this precious miracle.
For you created my inmost being; 
   you knit me together in my mother's womb. 
I praise you because I am fearfully and wonderfully made; 
   your works are wonderful, 
   I know that full well. 
Psalm 139:13-14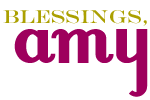 Having grown up in a home brimming with sewing notions and paintbrushes, Amy has a deep love for all things creative. On any given day, you'll find her knee-deep in her latest creative endeavor, with projects ranging from sewing and crafts to home decor and kid-friendly ideas. Amy believes that everyone, regardless of skill level or experience, possesses the ability to create something beautiful, and Positively Splendid was born of her passion for helping others harness their innate creative potential.