I've teamed up with Better Homes and Gardens at Walmart to bring this post to you. All opinions are entirely my own.
I absolutely love to make quick changes to the spaces in my home that take just a few minutes' time to execute, but that make a huge difference in the feel of a space. Not every DIY endeavor has to break the bank or require days of hard work! Our guest room is used more during the summer months than any other time of year, and I wanted to spruce up the room with a few changes to give it a summery, beach-themed vibe. With just a few simple swaps and some great finds from Better Homes and Gardens at Walmart, this space is outfitted in beachy style and ready for summer guests. Continue reading for my 5 helpful tips to instantly update a bedroom to see how this mini-transformation came together.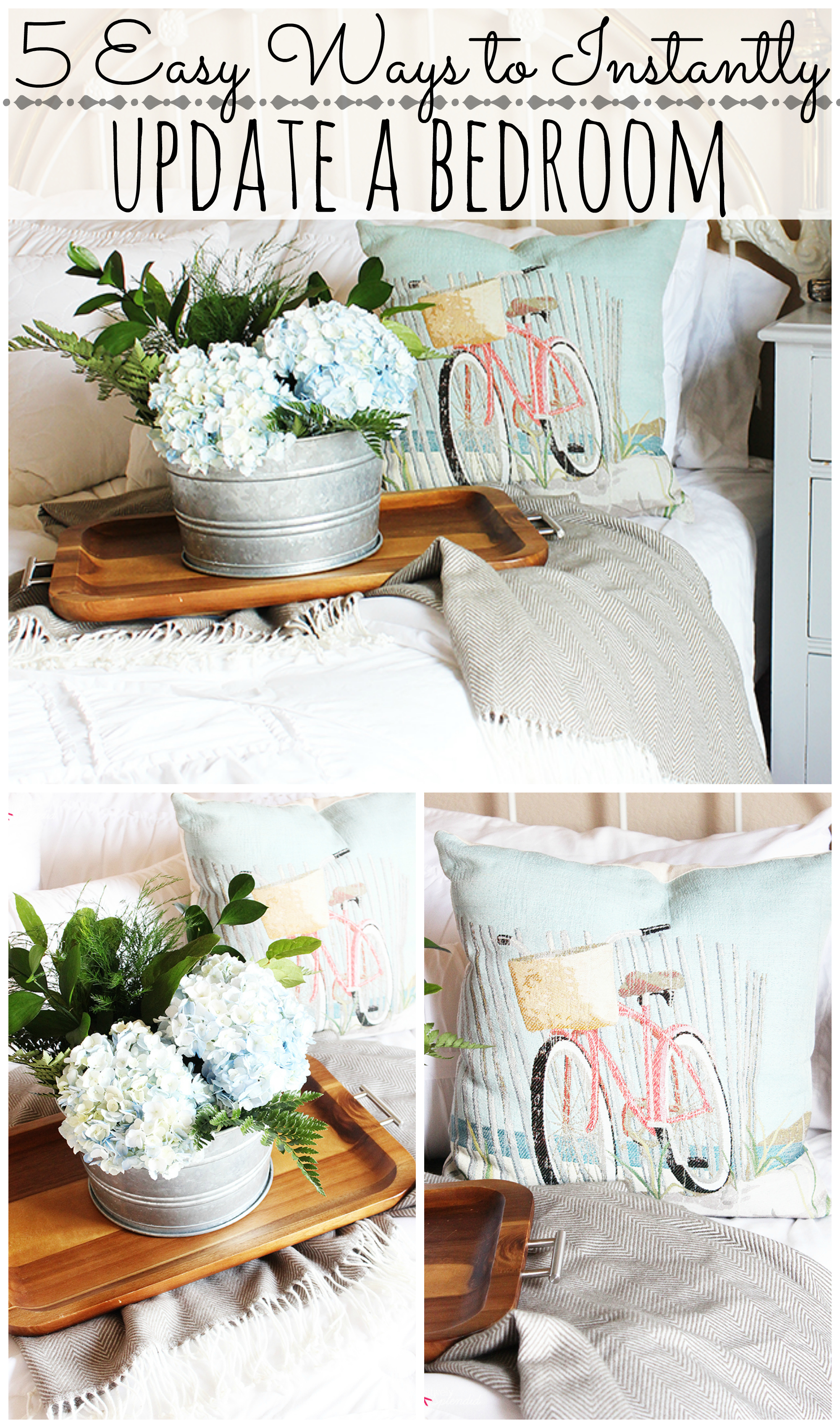 5 Easy Ways to Instantly Update a Bedroom
1 – Start with a foundation of neutral, classic bedding.
---
Crisp white is the perfect carte blanche for creating any look under the sun in the same space, simply by swapping out accessories, textiles and other decorative elements. I purchased this Classic 5-Piece Bedding Set from Better Homes and Gardens at Walmart over the holidays last year, and I have been thrilled with the quality and look of this set. It is plush, beautiful, and (most importantly!) incredibly comfortable. At $59, this set is a serious steal.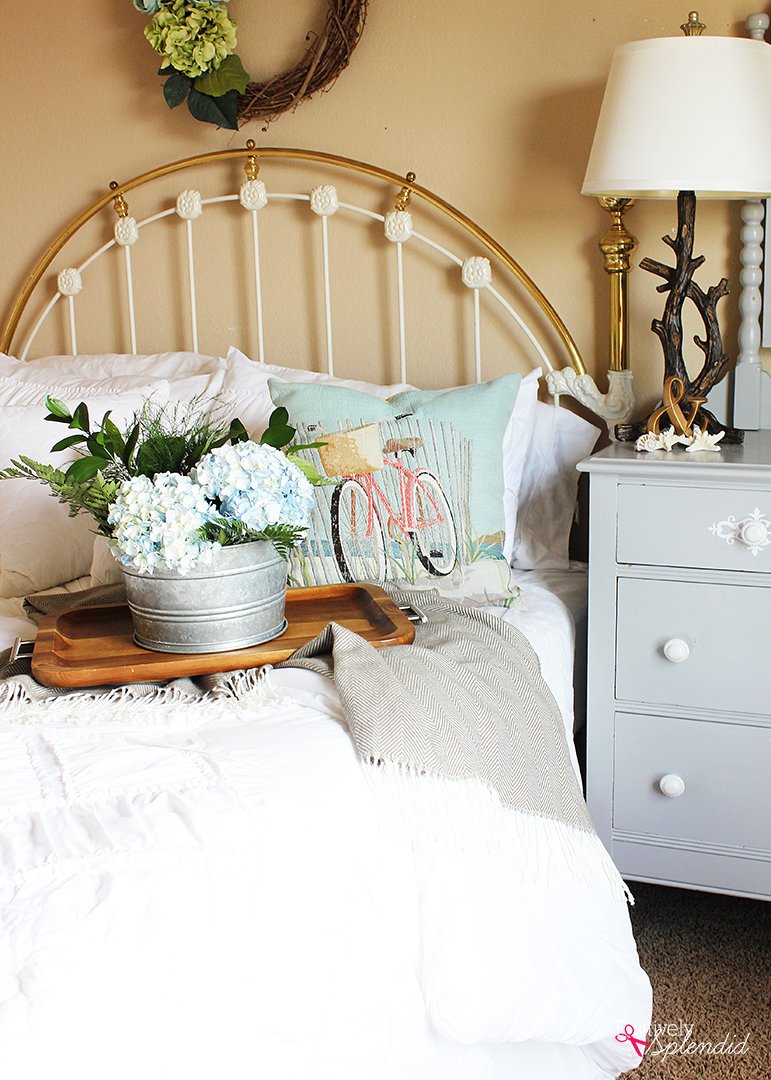 2 – Swap out decorative pillows in a particular theme or color scheme.
---
Although I love having neutral bedding, anyone who knows me well knows that I LOVE plenty of color! My favorite way to bring in a pretty color scheme is with toss pillows, since they are inexpensive and super easy to swap out as my mood changes. In this space, I knew I wanted to incorporate some muted blues, corals and other tropical, beachy hues, and this pretty Beach Bicycle Decorative Pillow was a great bargain and absolutely perfect for sticking with the vibe I was going for.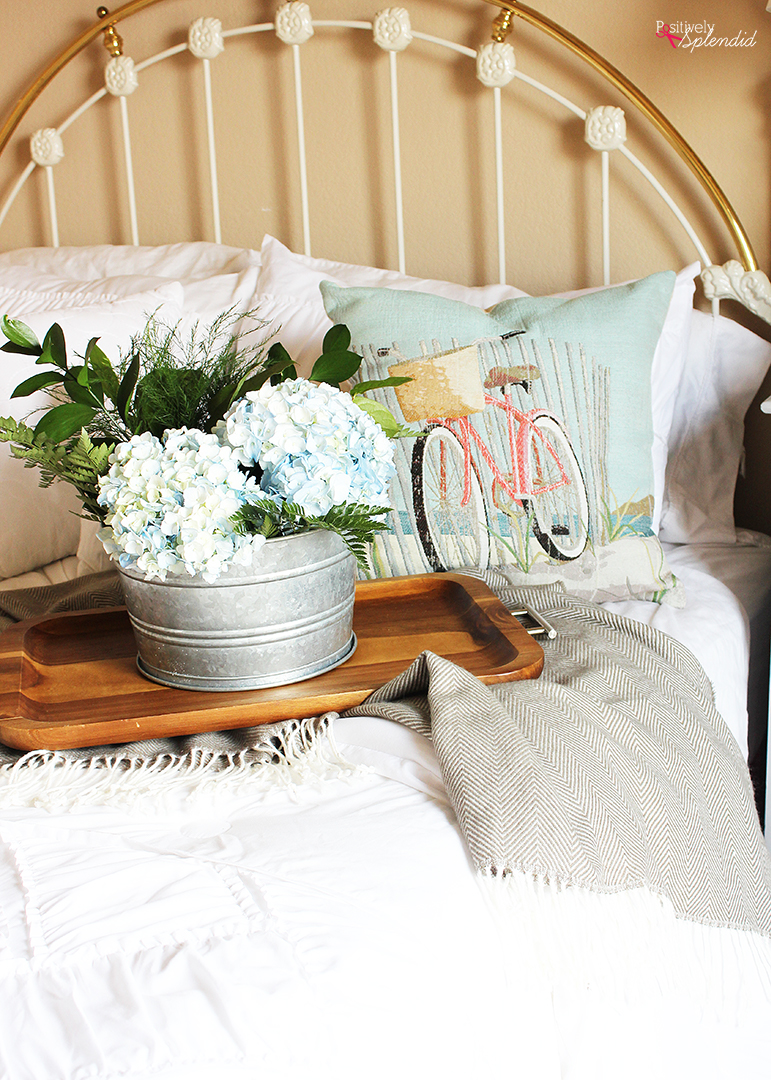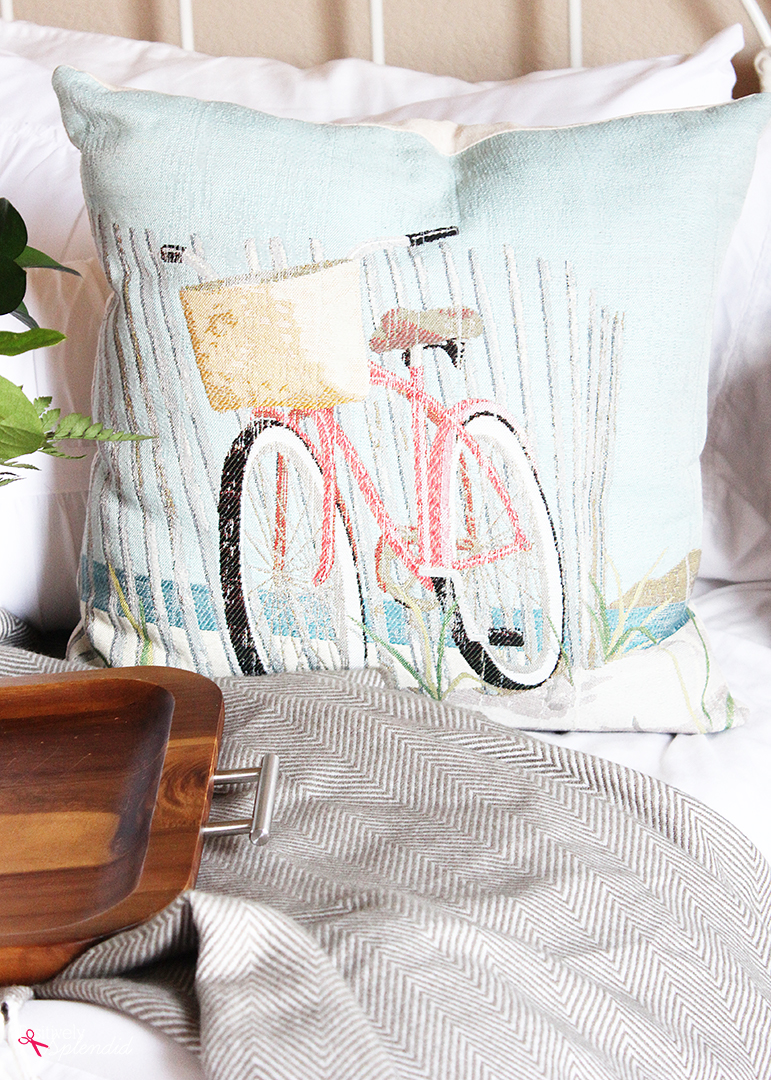 3 – Switch out lighting.
---
My husband loves to give me a hard time because I am seriously addicted to table lamps. Not even kidding. The lovely, muted light they give a space is an absolute must in creating an inviting, cozy space, and especially so in a bedroom environment. (Plus, guests will thank you for giving them a light to read by at bedtime!) I recommend finding a neutral lamp shade that you love, and then swapping out decorative bases periodically to create a whole new look in a flash. This Branch Lamp Base from Better Homes and Gardens at Walmart reminds me of driftwood on the beach, and I love the rustic sensibility it imparts into this otherwise soft and polished space.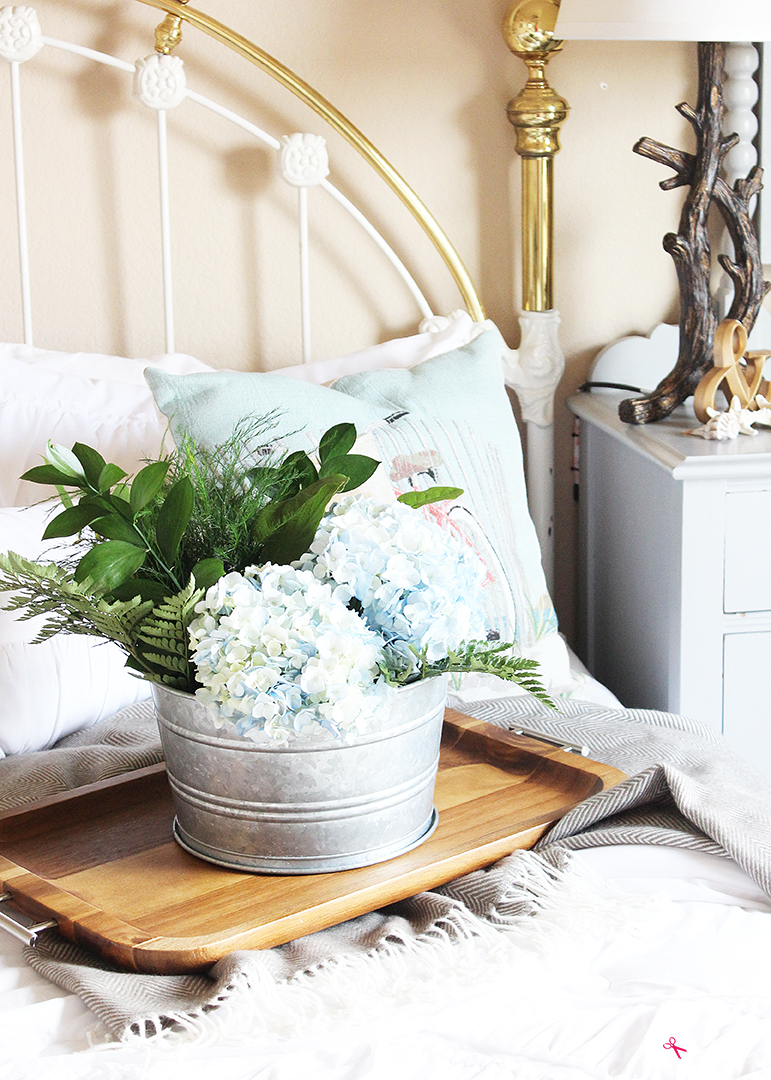 4 – When in doubt, add a new throw!
---
I cannot say enough how much I love throws in every room in my home, and especially in bedrooms. The cozy lift they give to a space is such a fabulous way to draw in instant color and texture! This Gray Herringbone Woven Fringe Throw is an absolute steal at just $9 (!!), and it not only looks beautiful, but it is soft and downright delicious to wrap up in!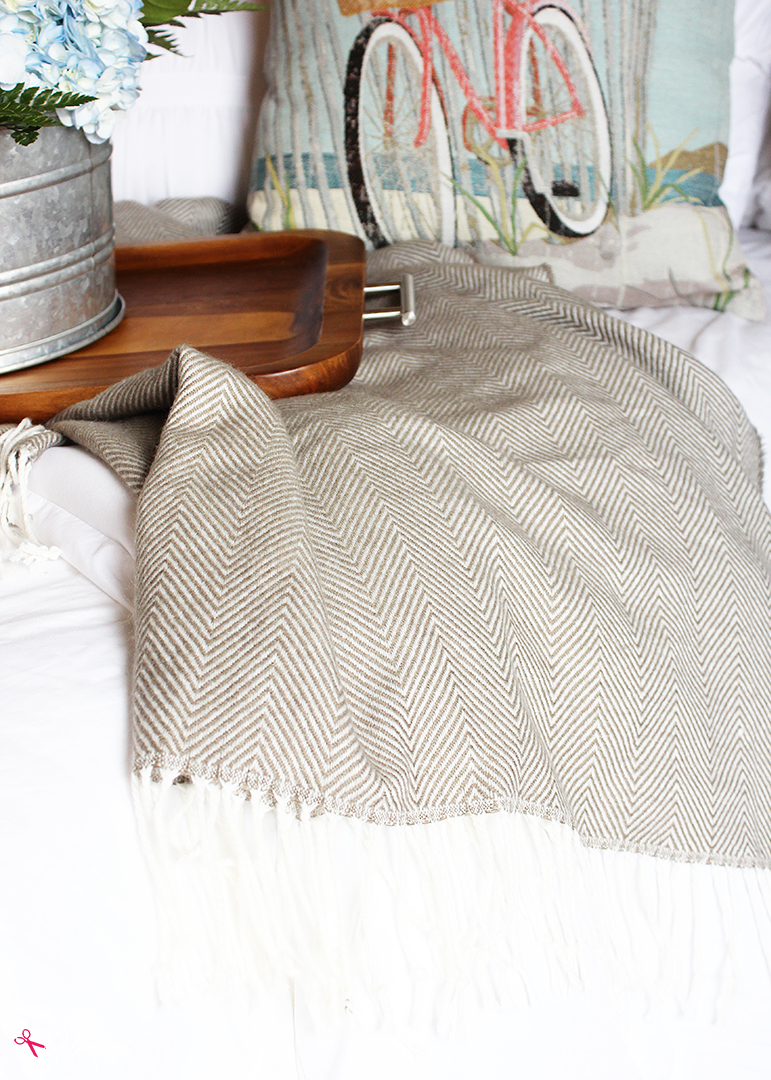 5 – Brighten things up with fresh flowers.
---
I am the type of person who loves to have fresh flowers throughout my home. There is something so invigorating about the vibrant, natural color and the lovely scent of fresh blooms, and flowers bring a cheery, joyful vibe into a bedroom. No need to get fussy with a complicated arrangement: for my flowers here, I simply placed cut hydrangeas and assorted greenery stems into a galvanized bucket. Simple, elegant and beautiful!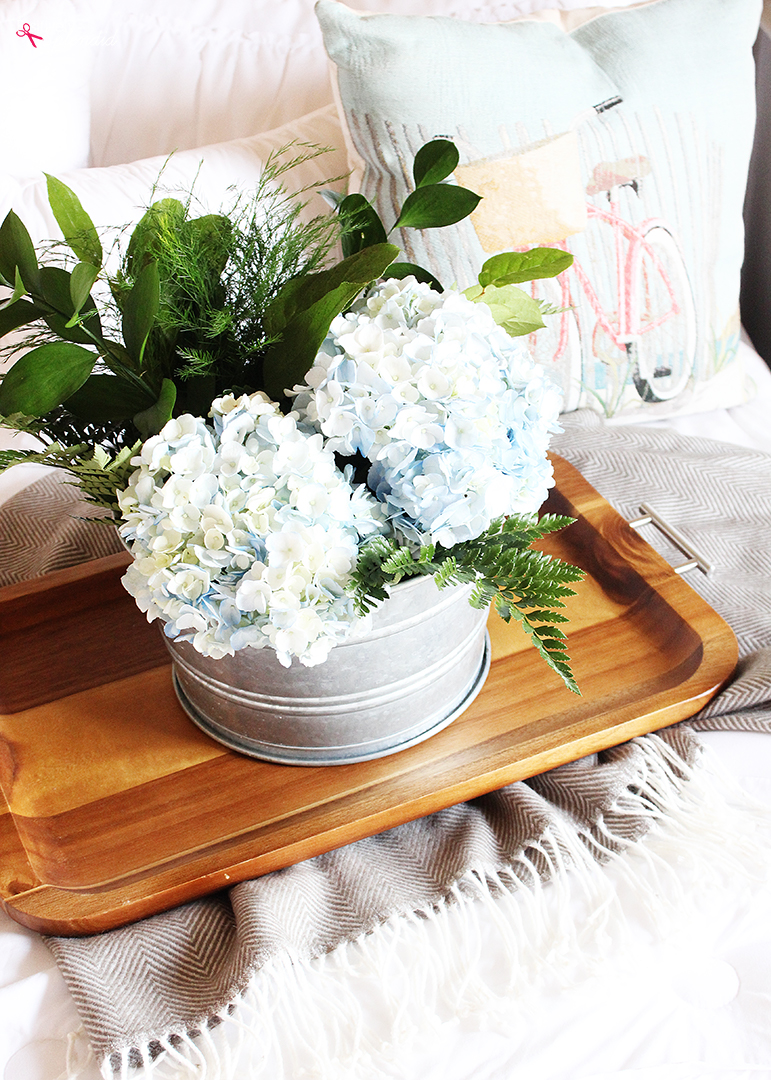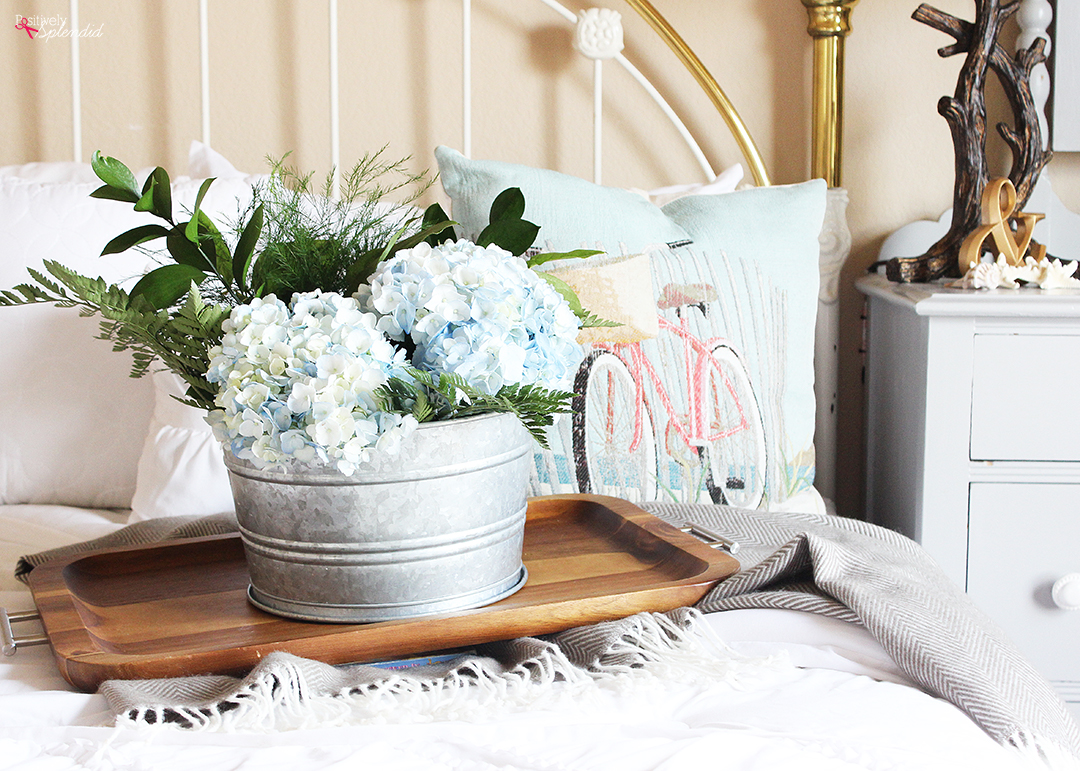 Shop this look!
---
Better Homes and Gardens Branch Lamp Base – $22.97
Better Homes and Gardens Woven Fringe Throw – Gray Herringbone – $9
Better Homes and Gardens Beach Bicycle Decorative Pillow – $12.44
Better Homes and Gardens Acacia Tray – $19.42
Better Homes and Gardens Round Galvanized Stand/Bucket – $7.94
Better Homes and Gardens Textured Classic 5-Piece Bedding Set – $59
All of the fabulous Better Homes and Gardens products featured in this post are available exclusively at Walmart, both in stores and online, and you can find a terrific assortment of other products online by visiting Walmart.com/BetterHomesandGardens. With just a click, the styles, colors and sizes you need are right at your fingertips!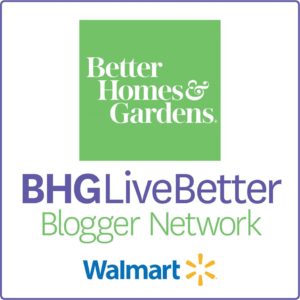 FOR MORE INSPIRATION, VISIT BETTER HOMES AND GARDENS LIVE BETTER ON FACEBOOK, TWITTER, INSTAGRAM AND PINTEREST!
Having grown up in a home brimming with sewing notions and paintbrushes, Amy has a deep love for all things creative. On any given day, you'll find her knee-deep in her latest creative endeavor, with projects ranging from sewing and crafts to home decor and kid-friendly ideas. Amy believes that everyone, regardless of skill level or experience, possesses the ability to create something beautiful, and Positively Splendid was born of her passion for helping others harness their innate creative potential.