A few weeks ago, I was approached by Stefi from Just Chic to participate in a project that really sounded like fun: 5 different bloggers are each be given the same item to embellish or refashion to their hearts' content, and then everyone posts their creations in a series called The Embellished Five. Fun!
I am thrilled to be participating in this series with these other marvelous bloggers…
This week's item to liven up was a plain-Jane pink tee from Joann. With a bit of snipping and a bit of stitching, I transformed my tee into a fun little bolero. I used the fabric I trimmed away from the bottom of the tee to create the fun little ruffle detailing around the neck, and to finish the raw edges, I used lettuce stitching for added interest. Overall, this was a super simple project to put together!
step 1 / Fold your tee in half, as shown below. Use a washable ink marker to mark the overall shape of your bolero. As you can see, it took me a couple of tries until I was satisfied. 😉 With your tee still folded, trim along your sketched lines, and then unfold your tee.
step 2 / Measure 4 inches out from the top shoulder seam of your tee on your sleeve, and make a mark. Measure 1/2 inch from the bottom of this same seam, and make a mark on the lower portion of your sleeve. Connect these two marks with a line, as shown, and trim away the excess. Reserve this extra sleeve piece to use as a tracing template in the next step.
step 3 / Flip your tee over, so that the opposite sleeve is aligned in the same way your other sleeve was in the previous step.Using the extra portion of the sleeve your trimmed off as a template, trace a trimming line on this sleeve, and trim away the excess. Use a straight edge to draw a line down the middle front of your bolero. Cut down this line, making sure to cut only through the top layer of fabric. Now, go around the entire perimeter of your bolero with a lettuce stitch to finish the edges and give everything a fluttery, flirty look. You can find a great lettuce stitch how-to here.
step 4 / Take the excess fabric you cut away from the bottom of your tee in step one, and cut 3/4″ strips with your rotary cutter. Make a snip to open up these loops, and then ruffle each piece using the ruffling method I detail here. Now, arrange these ruffles in loops and swirls on the front of your bolero, stitching as you go.
All finished!
I hope you'll venture over to the other four blogs to see their take on this challenge. Everyone did a marvelous job, and it was so enjoyable to see how unique each take was!
Have a terrific weekend!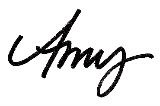 Linking this to…

If you enjoyed this post, subscribe to Positively Splendid 
to receive updates, and join us on Facebook and Twitter!





Having grown up in a home brimming with sewing notions and paintbrushes, Amy has a deep love for all things creative. On any given day, you'll find her knee-deep in her latest creative endeavor, with projects ranging from sewing and crafts to home decor and kid-friendly ideas. Amy believes that everyone, regardless of skill level or experience, possesses the ability to create something beautiful, and Positively Splendid was born of her passion for helping others harness their innate creative potential.