Commemorate the milestones of each year by having children sit down at the beginning and end of the school year to fill out fun interview questionnaires. These first and final day of school interviews can be tucked away in a special place to be cherished once precious school days have come and gone. Today, I'm sharing the complete set of free printables to help you get started!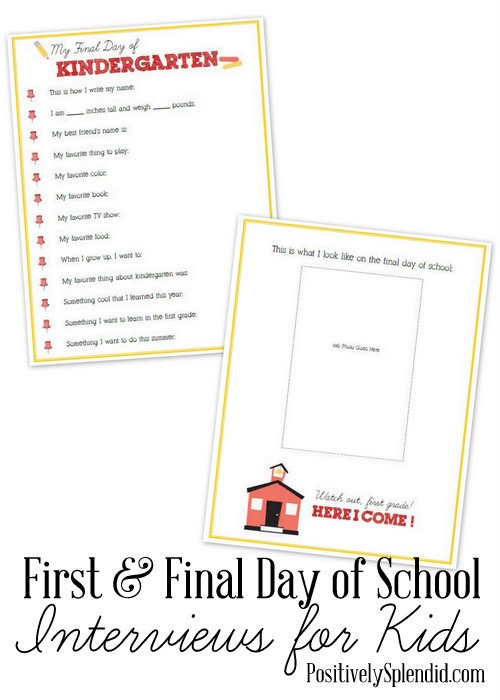 I initially began this project in the fall with a set of printable interviews for the first day of school. With the end of the school year upon us, though, it dawned on me that it would be really fun to create a second coordinating set of printables for the final day of school, too, to show just how much children grow and change in the span of a year.
The idea behind each set of printables is simple: Have children sit down on the first and final days of each school year to answer a number of questions about their likes, dislikes, friends and more. Included in the questionnaires is a place to document a child's growth, as well as a place to include a photo for posterity. It would also be fun to include a self-portrait drawn by the child for each questionnaire!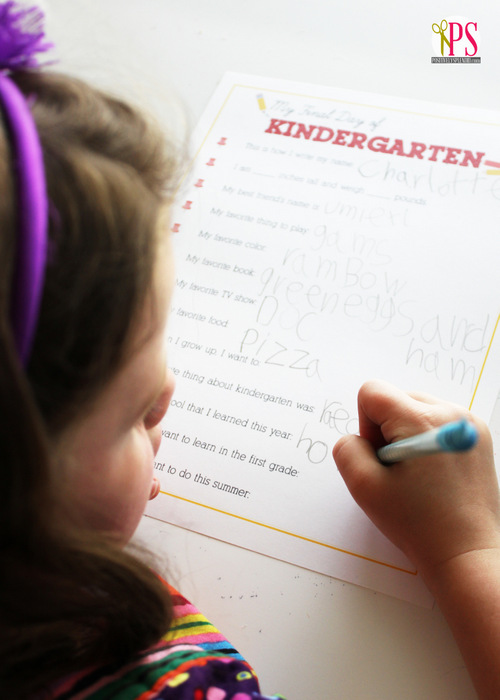 By printing off each questionnaire and placing them into a nice notebook, this collection of printables would make a great gift for any parent of school-aged children.
I love comparing these photos of my Charlotte. The first photo is of her filling out her interview at the beginning of her kindergarten year…
…and this is her today. She has grown up in so many ways, and I am so happy to have this memento to recall these days once these precious years have come and gone!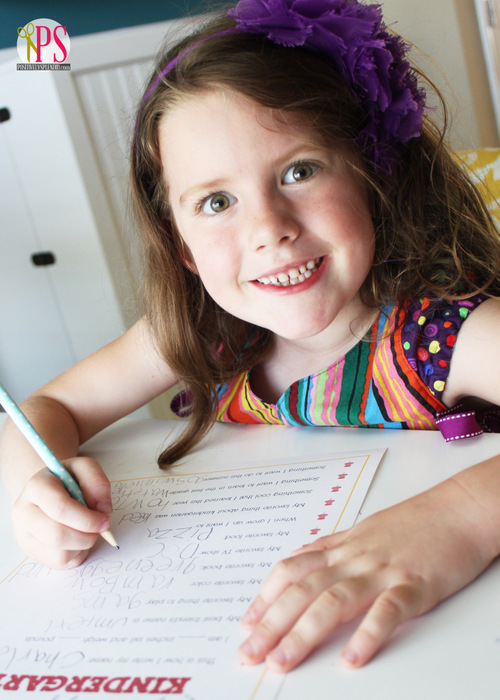 Please don't be discouraged if your child is already beyond the early grades. Any time is a great time to get started documenting memories!
To download and print the printables, click on the appropriate links below.
As always, please be considerate when using these files and remember that they are intended for personal, non-commercial use only. Thank you!
First Day of Preschool  /  Final Day of Preschool
First Day of Kindergarten  /  Final Day of Kindergarten
First Day of First Grade  /  Final Day of First Grade
First Day of Second Grade  /  Final Day of Second Grade
First Day of Third Grade  /  Final Day of Third Grade
First Day of Fourth Grade  /  Final Day of Fourth Grade
First Day of Fifth Grade  /  Final Day of Fifth Grade
First Day of Sixth Grade  /  Final Day of Sixth Grade
First Day of Seventh Grade  /  Final Day of Seventh Grade
First Day of Eighth Grade  /  Final Day of Eighth Grade
First Day of Ninth Grade  /  Final Day of Ninth Grade
First Day of Tenth Grade  /  Final Day of Tenth Grade
First Day of Eleventh Grade  /  Final Day of Eleventh Grade
First Day of Twelfth Grade  /  Final Day of Twelfth Grade
If You Liked This, You Might Also Be Interested In: