Party tables are so fun to put together, and especially during warm months when there are so many beautiful fresh flowers to add to the mix! Today, I've teamed up with Better Homes and Gardens at Walmart to share three great tips for how to put together a sleek and festive party table using neutral, classic serving pieces and elements. Plus, I'm showing you how to make one of my all-time favorite centerpieces! This tiered bowl floral centerpiece is perfect for so many different occasions. You're sure to be pleasantly surprised with how truly simple this centerpiece is to put together. Continue reading for all the details!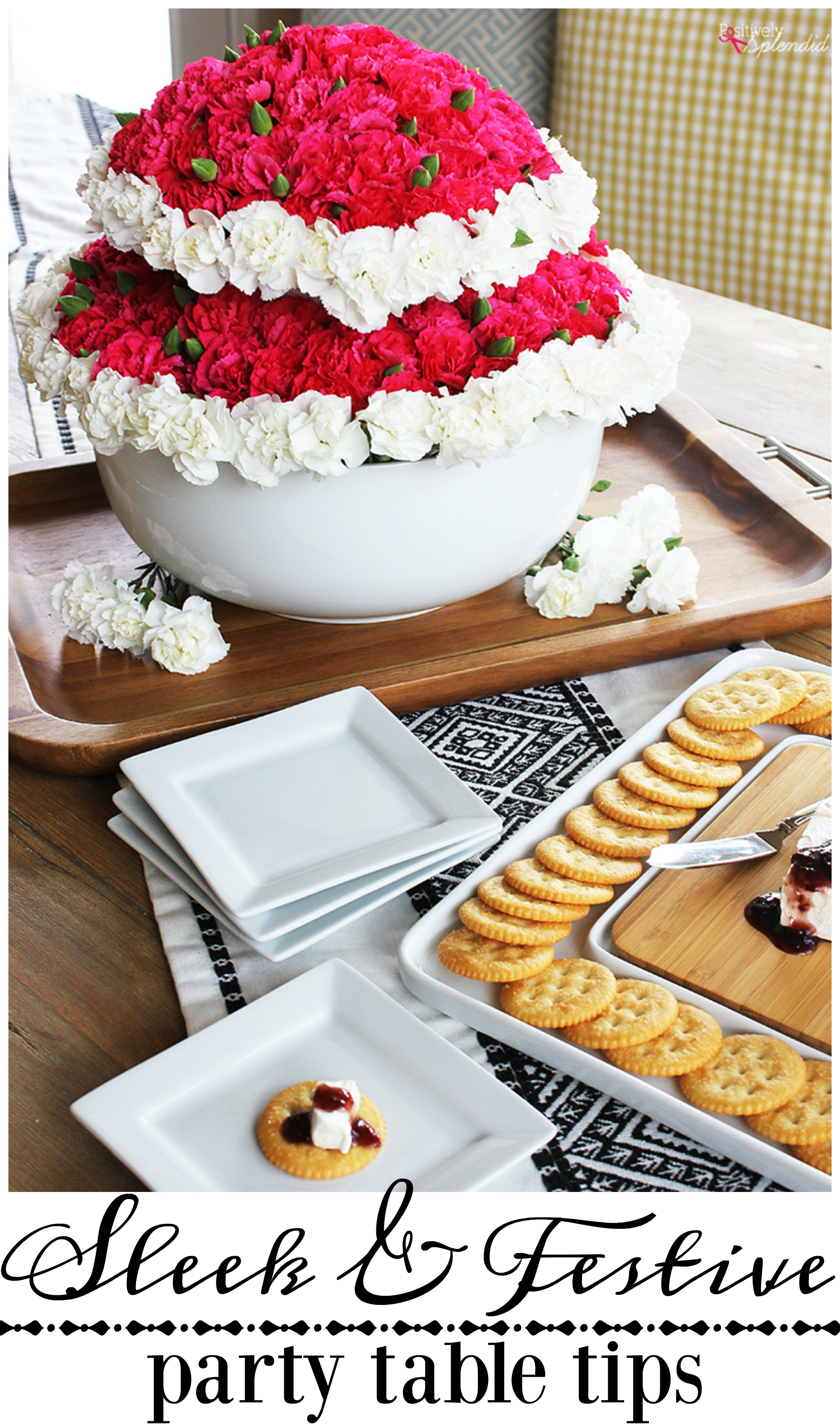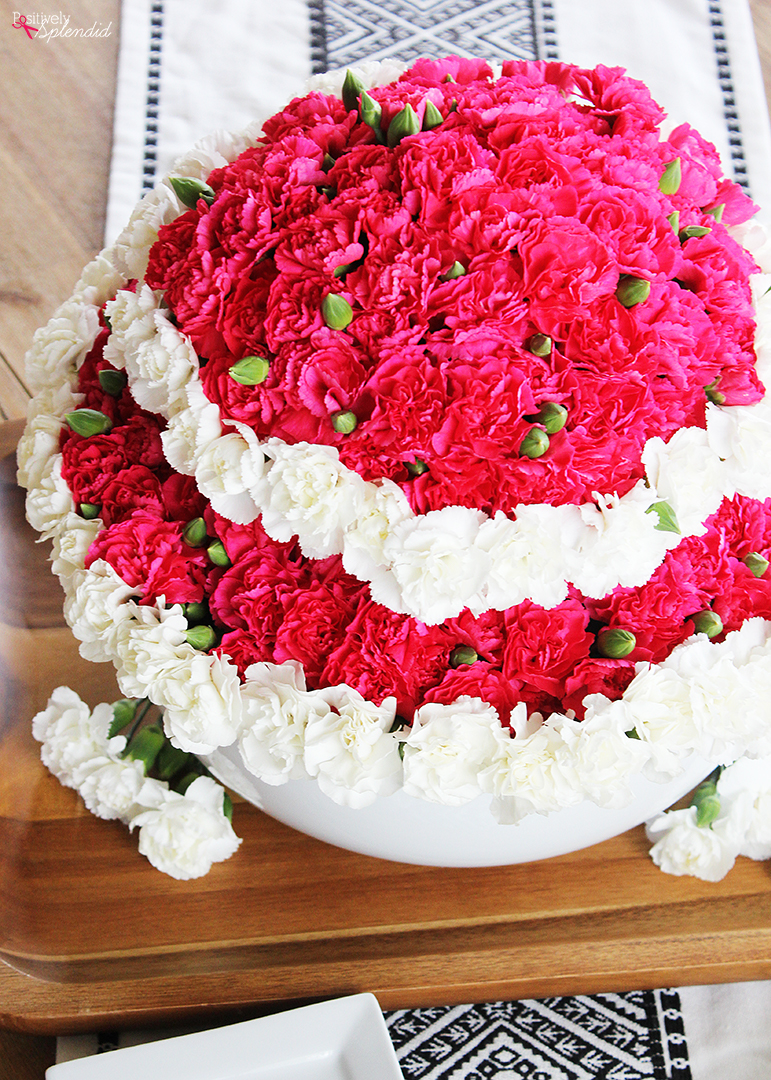 I've teamed up with Better Homes and Gardens at Walmart to bring today's post to you. As always, all opinions are entirely my own.
Sleek & Festive Party Table Tip #1: Use Classic White Pieces for a Neutral Foundation
---
I have always preferred to fill my kitchen with classic white serving pieces and dinnerware. A clean white is the perfect carte blanche for creating a variety of different looks with the same pieces, simply by incorporating different colors and textures with flowers, textiles and more.
One of my favorite recent purchases are the Better Homes and Gardens square appetizer plates. They are just the right size for guests to easily tote with them as they enjoy small finger foods, and their porcelain construction makes them stylishly durable. Love them!
Another of my go-to pieces for gatherings is this Better Homes and Gardens square cheese tray. The wood tray at the center can be removed to turn this into a standard serving tray for any number of appetizer options, or the tray can be used in its conventional sense for cheese and crackers.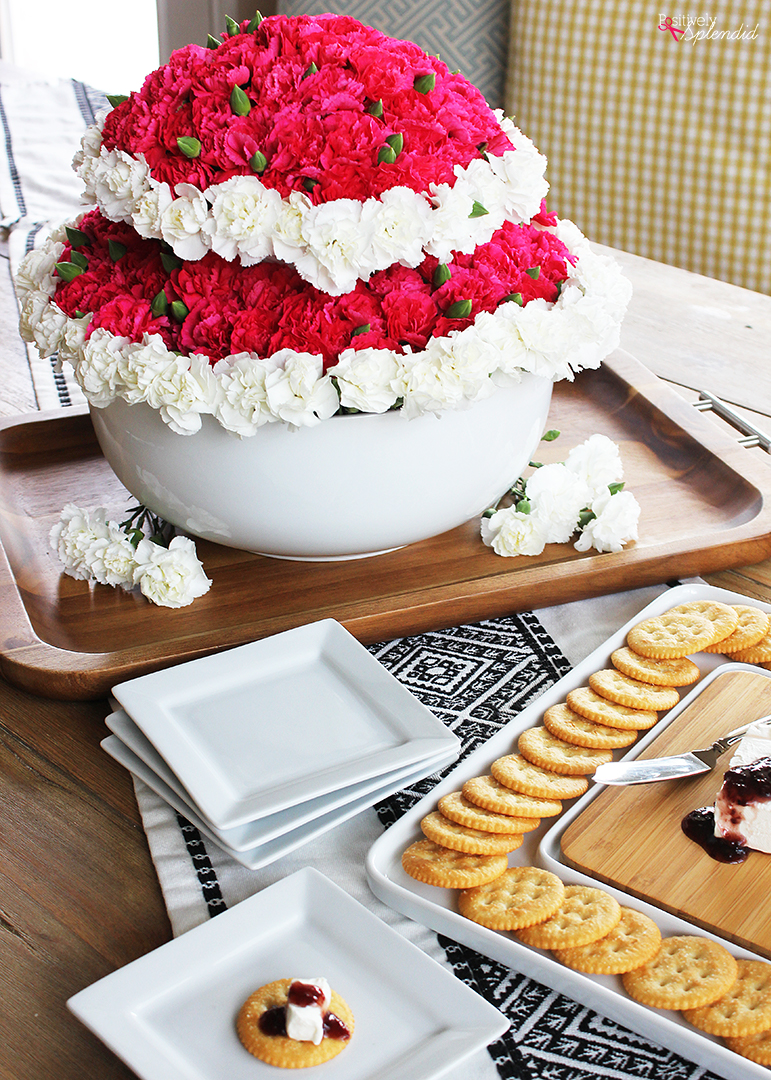 Sleek & Festive Party Table Tip #2: Add Height and Texture with Linens, Trays and Other Elements
---
Linens are a must for creating a table that has a welcoming vibe. Table runners, placemats and even dish towels are perfect for adding an element of softness to a table. I love that textiles can completely change the feel of a table depending on their color and pattern, and when paired with neutral white serving pieces, there really is no limit to the number of looks you can create simply by swapping out and mixing and matching different fabrics and materials.
Displaying serving and food items at varying heights with trays, cake pedestals and more is a great way to effortlessly add visual interest to a table. This Better Homes and Gardens acacia tray makes very frequent appearances at nearly all of my parties and gatherings!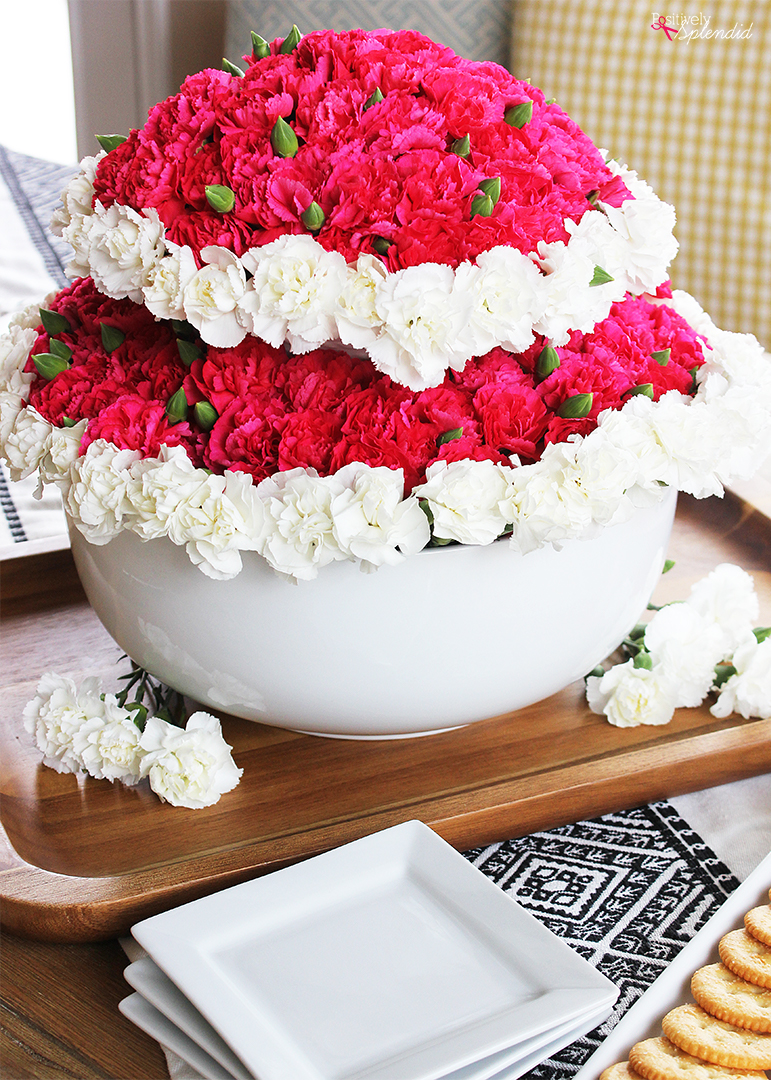 Sleek & Festive Party Table Tip #3: Use Natural Elements for a Show-Stopping Centerpiece
---
Of all of the DIY centerpieces I put together for parties and other gatherings, there are few I love quite as much as this tiered bowl floral centerpiece. It has an abundance of eye-catching color, and since it is put together with some classic white serving pieces, the bowls and other elements in the centerpiece can be used for their practical purposes later on. Smart!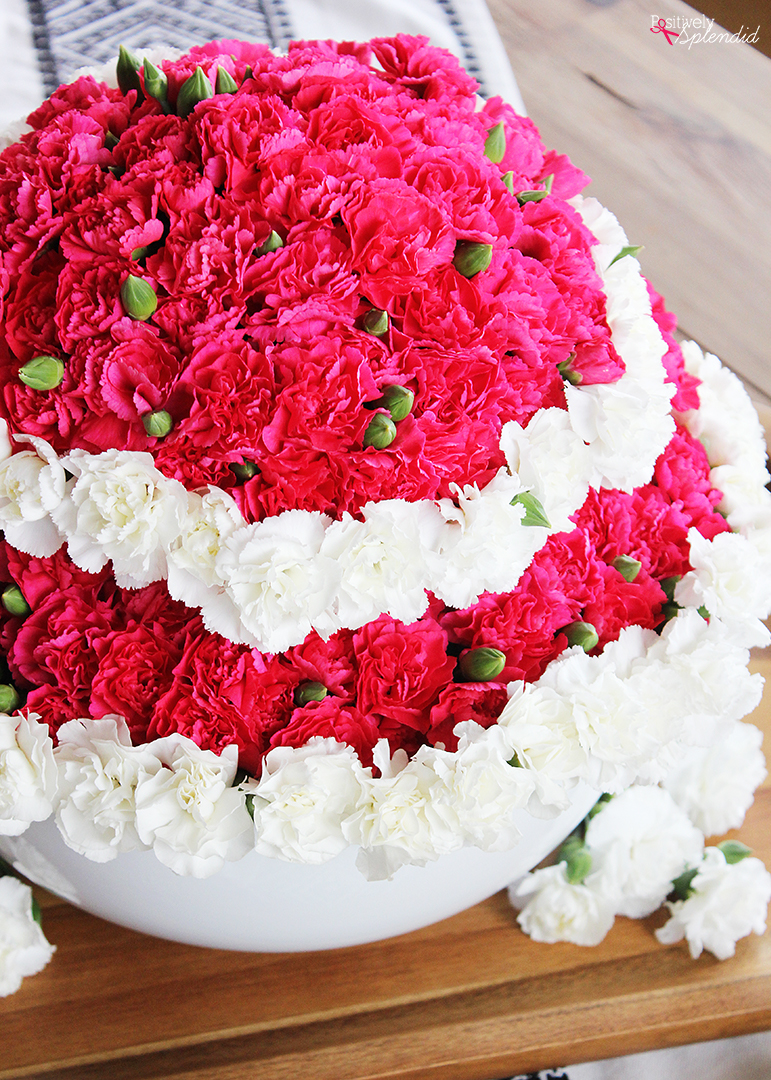 Tiered Bowl Floral Centerpiece How-To
---
Supplies:
Floral Foam
Carnations or Other Flowers and/or Greenery
Tools: Scissors, Serrated Knife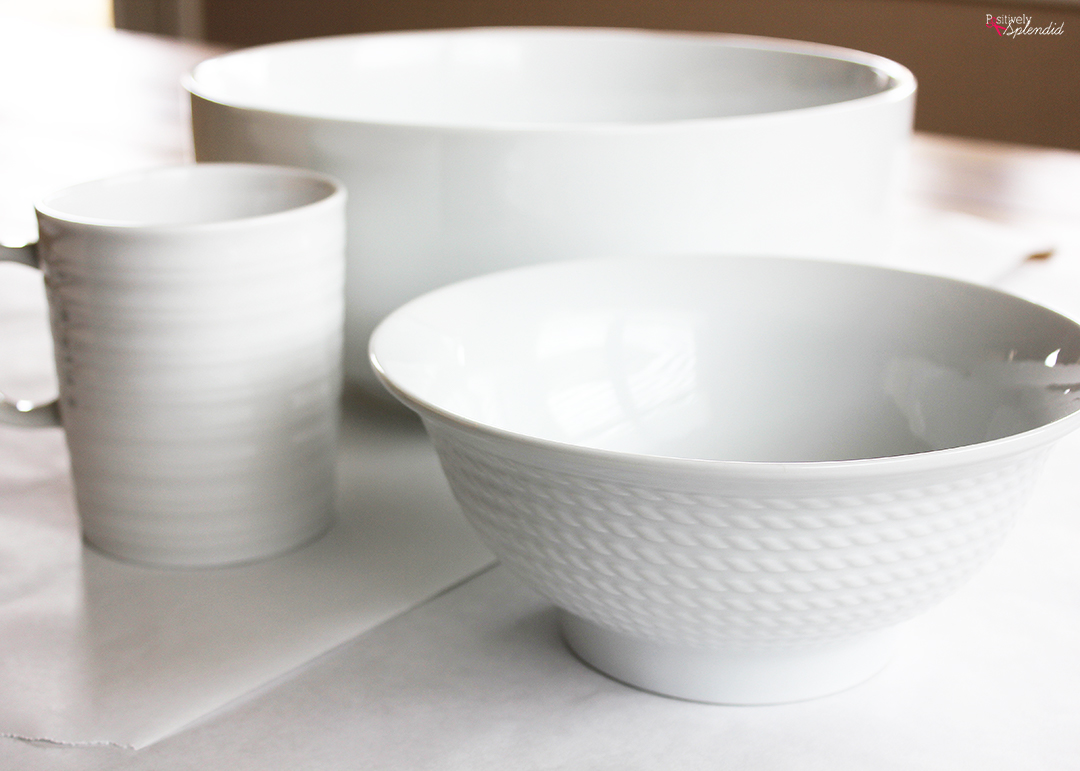 This centerpiece is cleverly assembled by creating a tiered stand with the larger serving bowl on the bottom, the mug in the middle and the smaller serving bowl on top.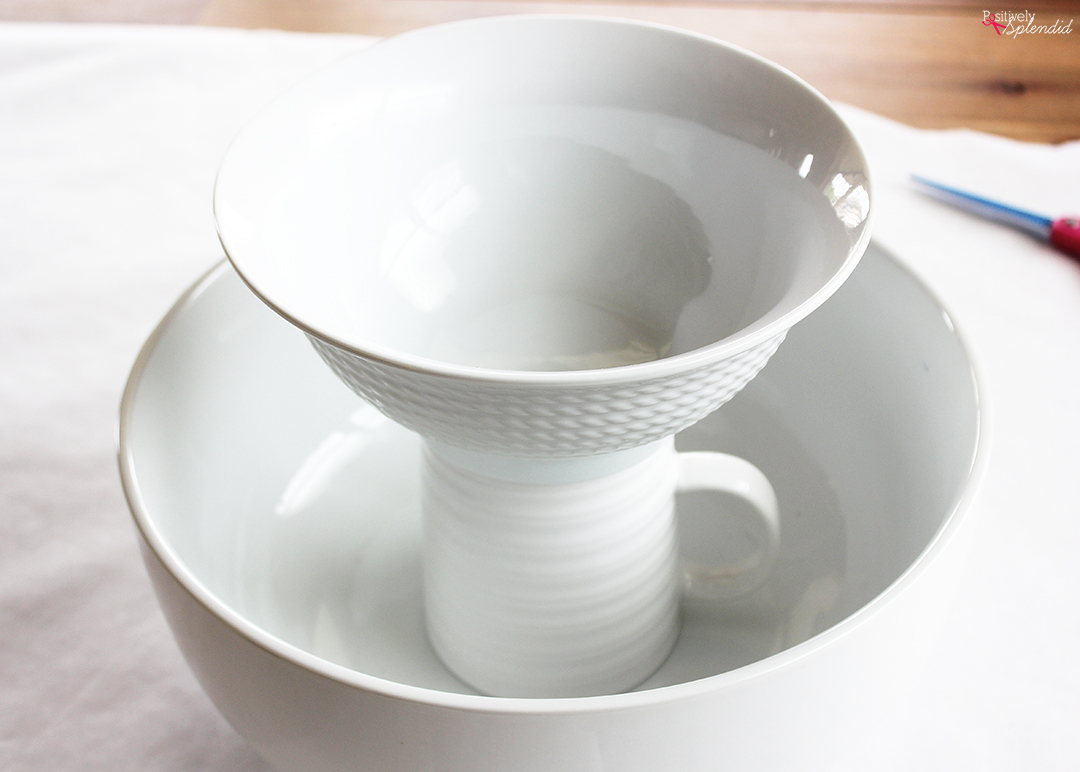 Using the serrated knife, cut the foam into sections that snugly fit in both tiers of the stand.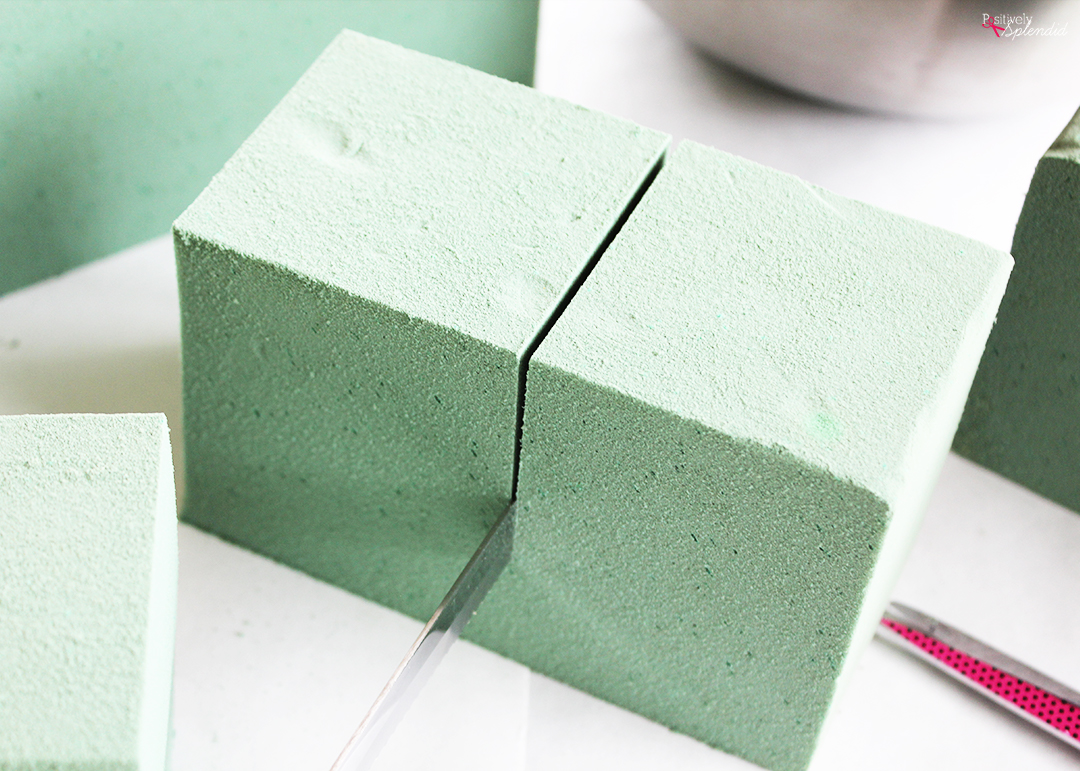 On the lower tier, you will need to cut the pieces into varying sizes to fit, as shown.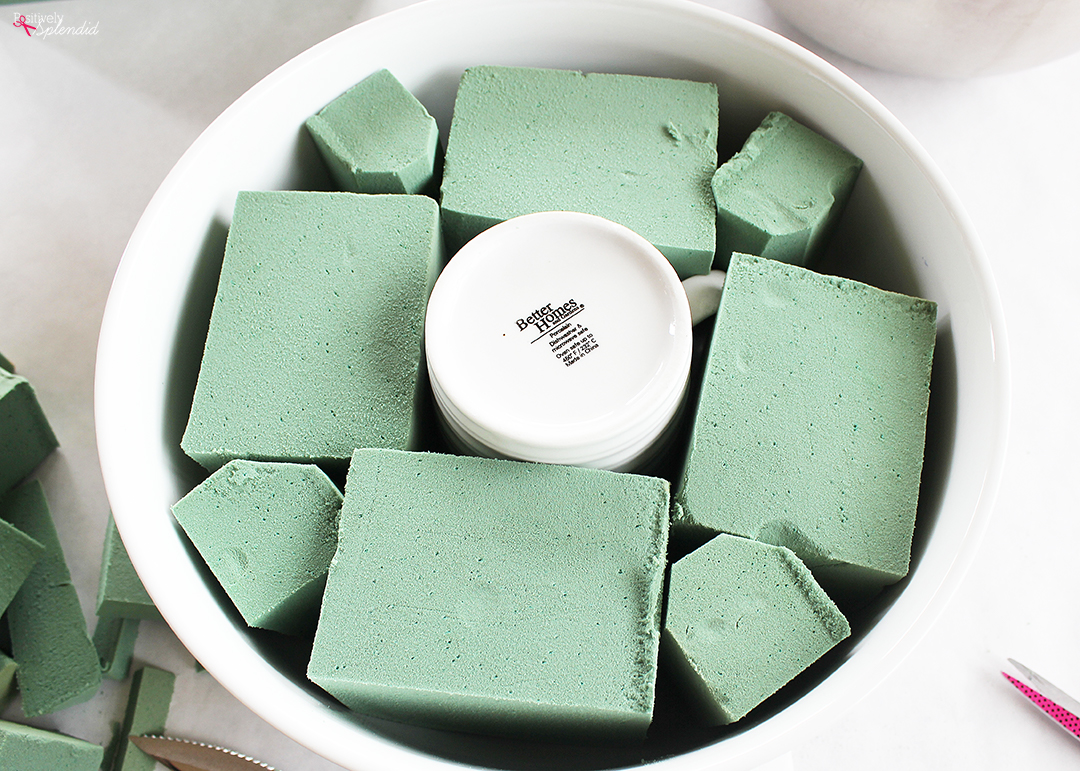 Soak the pieces of the foam in very large bowl of cool water until each piece is completely saturated in the water. Important: Don't push the pieces down as they soak, as this can cause air bubbles to form inside the foam piece. Simply place them in the water and let me become saturated in the water until they sink to the bottom. Place the saturated foam pieces into the top and bottom tiers of the stand.
Using scissors, trim the flower stems at an angle.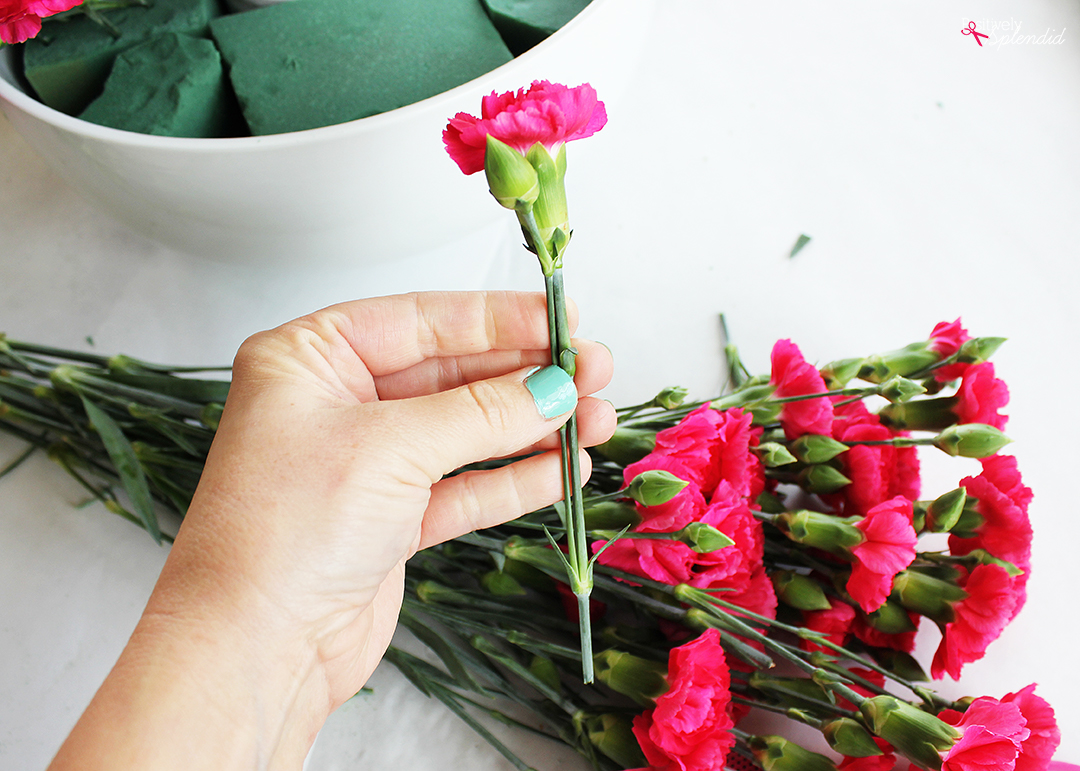 Tuck the stems gently down into the foam.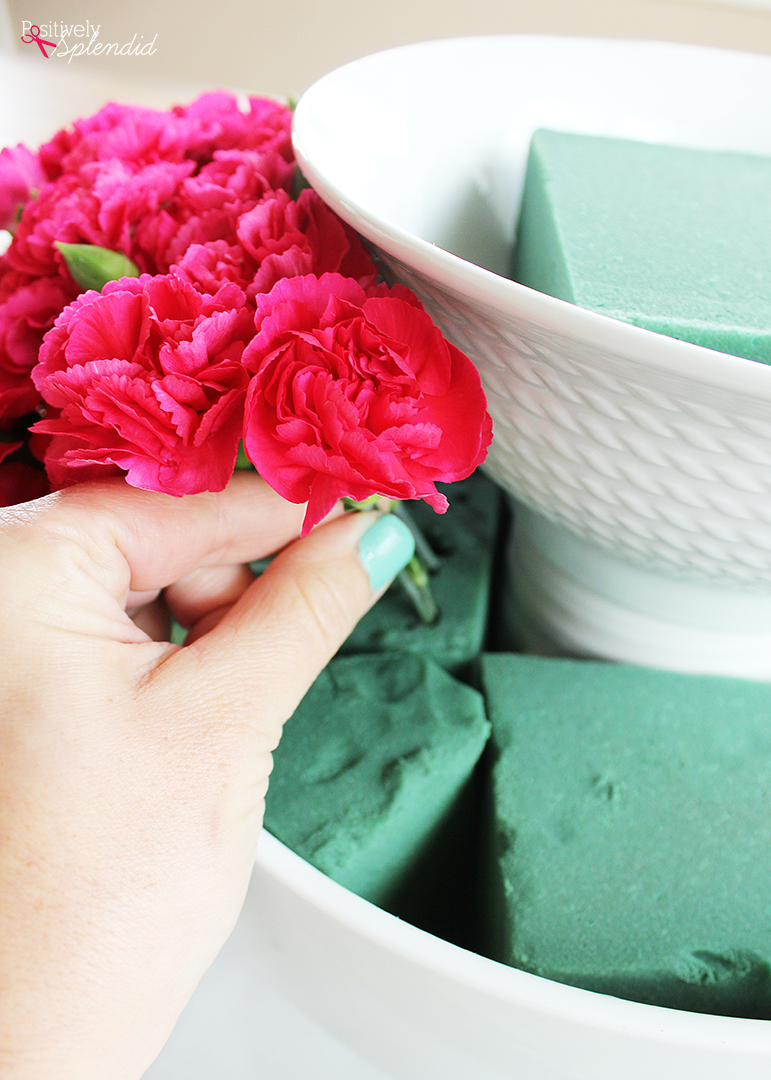 Work around the entire perimeter of the lower tier, filling in flowers so that no foam is visible.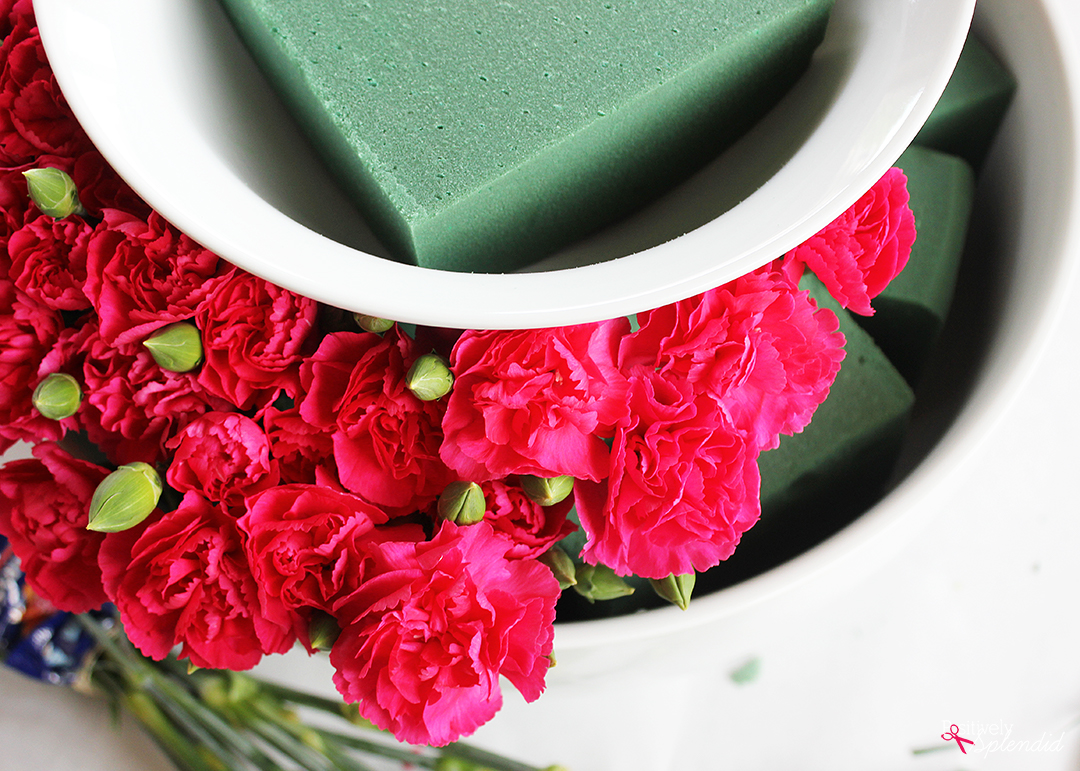 When the bottom tier is done, fill in flowers in the foam piece in the top tier in a similar fashion.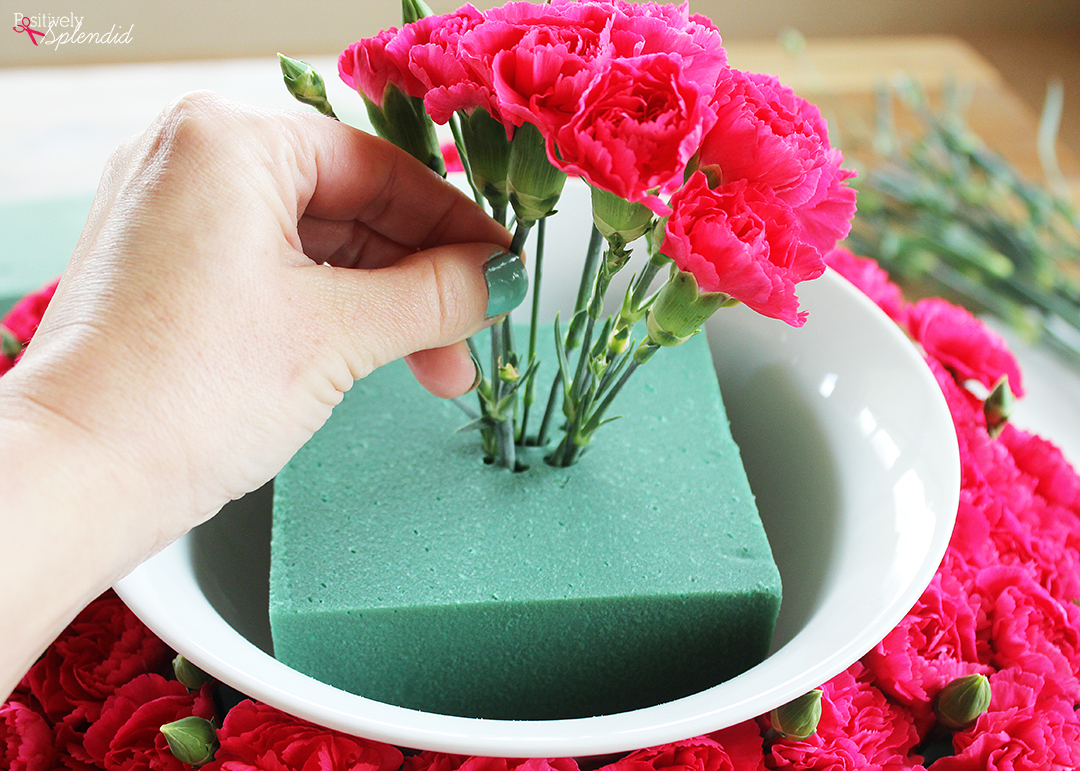 If desired, add a ring of flowers in a contrasting color around the outer edge of the top and bottom tiers of the centerpiece, as shown.
In no time at all, you've got a gorgeous tiered floral centerpiece that makes a lovely statement on your party table!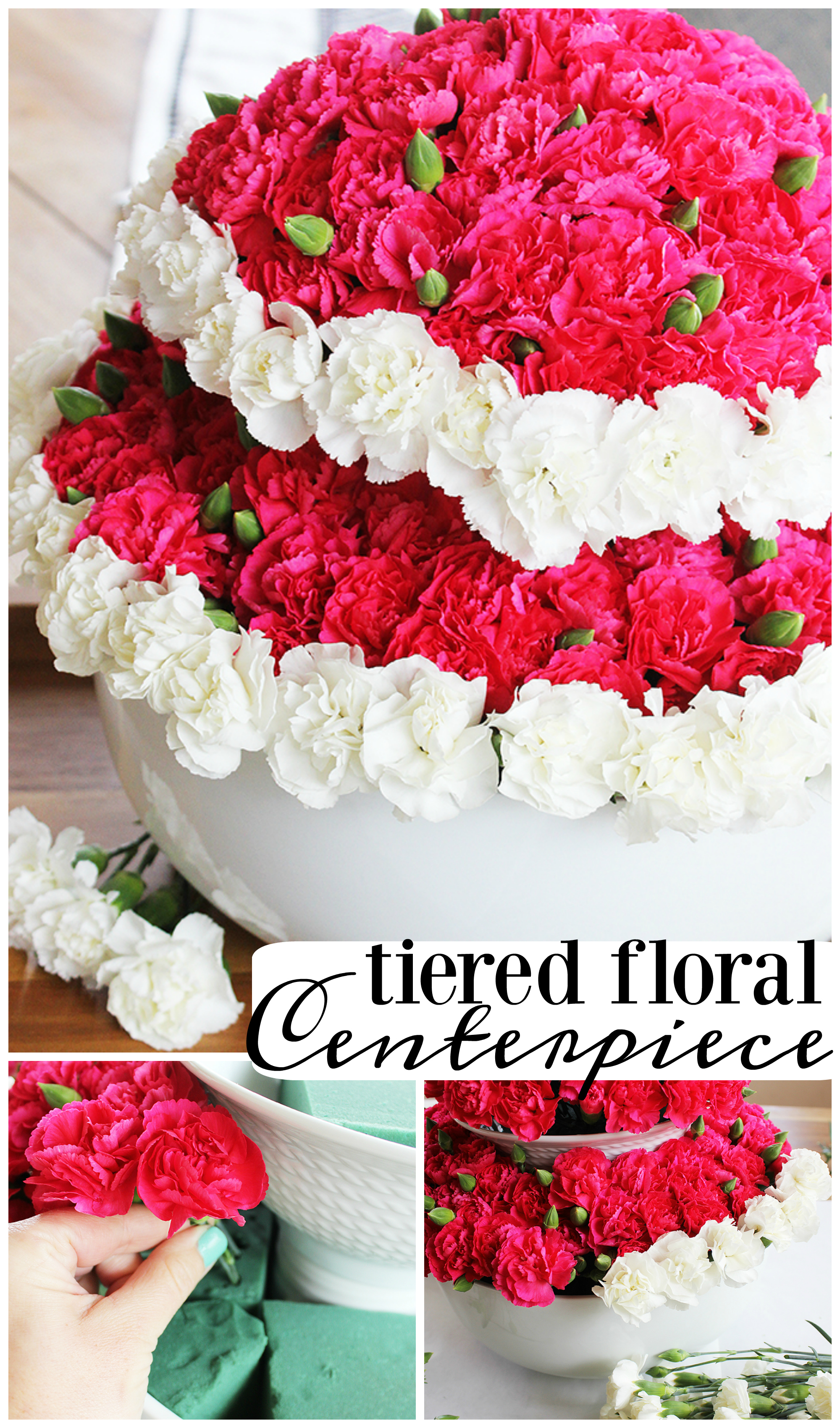 I opted to keep in the un-bloomed buds of the carnations since they added such a fun pop of lime green, but you can definitely trim those away if you want the centerpiece to look more uniform. The choice is up to you!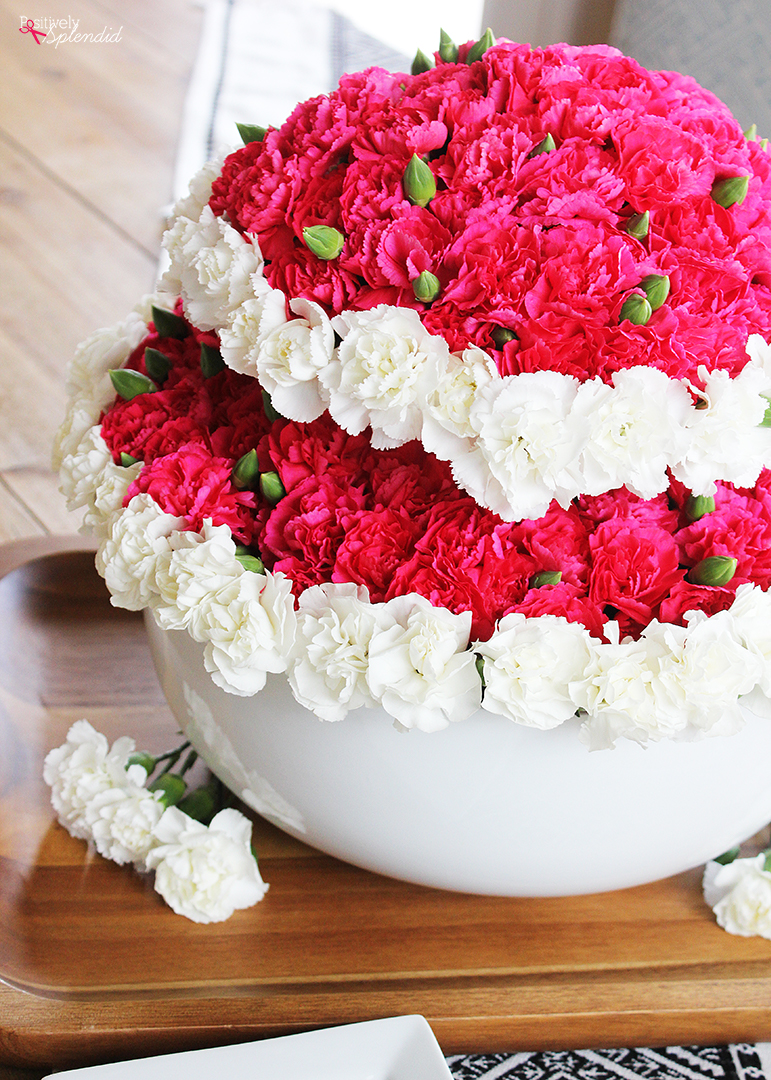 And once the festivities have come to an end and the flowers are no longer fresh, this centerpiece can be taken apart so that the serving pieces can be used at your next gathering. I love that!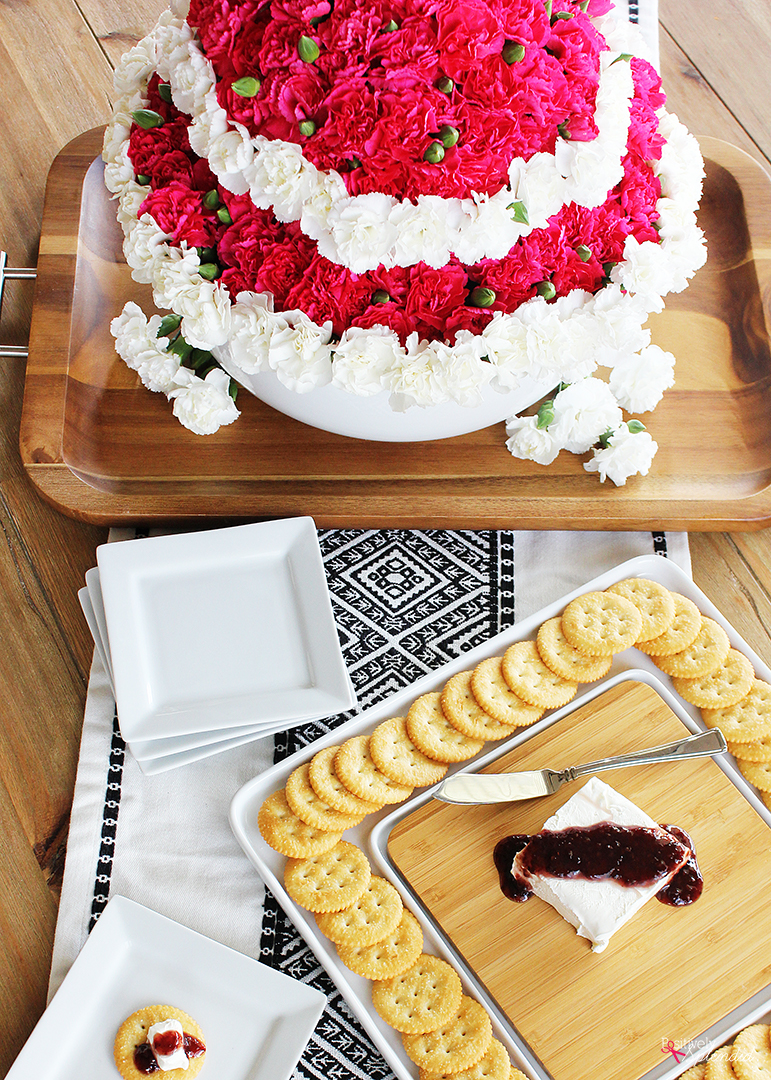 Shop this post!
---
All of the fabulous Better Homes and Gardens products featured in this post are available exclusively at Walmart, both in stores and online, and you can find a terrific assortment of other products online by visiting Walmart.com/BetterHomesandGardens. With just a click, the styles, colors and sizes you need are right at your fingertips!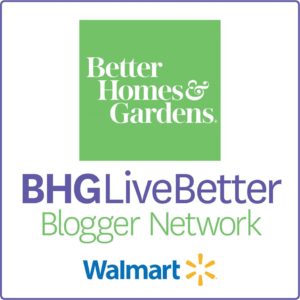 FOR MORE INSPIRATION, VISIT BETTER HOMES AND GARDENS LIVE BETTER ON FACEBOOK, TWITTER, INSTAGRAM AND PINTEREST!
Having grown up in a home brimming with sewing notions and paintbrushes, Amy has a deep love for all things creative. On any given day, you'll find her knee-deep in her latest creative endeavor, with projects ranging from sewing and crafts to home decor and kid-friendly ideas. Amy believes that everyone, regardless of skill level or experience, possesses the ability to create something beautiful, and Positively Splendid was born of her passion for helping others harness their innate creative potential.