Matt and I watched Food, Inc. this weekend. Wow.
I had been hearing buzz for a while now about this documentary exposing some of the less-than-savory aspects of the food industry here in the United States, but I was reticent to add it to our Netflix queue for the simple reason that I feared it would be a gratuitous display of images intended merely to gross the viewer out. When we finally sat down to watch the movie, however, I was truly impressed with how well made the film was.
In the food system as it now exists, it is cheaper to buy a McDonald's cheeseburger than it is to buy a head of broccoli. Or really any type of produce, for that matter. As a result, we are on the brink of a country crippled by type 2 diabetes. It is not just adults, but young children who are now commonly afflicted with this disease. Rising obesity rates among children are astounding, and the rate among minority children is enough to make your head spin.
I know movies like this can elicit some very politically charged feelings, and that is not my intent here. This, to me, isn't political. It is just some food for thought on a Monday afternoon. There is something wrong with a system that makes it more cost-effective to feed your family fast food than it is to prepare wholesome, healthy meals at home. I really urge you to check out this film. It has prompted Matt and me to commit ourselves to doing what we can to make even the smallest difference. We've located an online community that connects local growers in the Little Rock area with those who wish to buy their products. We are working on plans for a more extensive garden. We are already looking forward to farmers' markets opening this spring.
Every little bit counts.
PSA over. Now, onto our menu for the week. 😉
Monday – Barley Stew with Leeks, Mushrooms and Greens
Tuesday – Braised Venison with Sun-Dried Tomatoes
Wednesday – Asparagus Risotto
Thursday – Pecan-Crusted Chicken Breasts with Green Chile Cream Sauce over Farfalle
Friday – Pizza
Saturday – Lentil Soup with Italian Sausage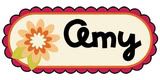 Having grown up in a home brimming with sewing notions and paintbrushes, Amy has a deep love for all things creative. On any given day, you'll find her knee-deep in her latest creative endeavor, with projects ranging from sewing and crafts to home decor and kid-friendly ideas. Amy believes that everyone, regardless of skill level or experience, possesses the ability to create something beautiful, and Positively Splendid was born of her passion for helping others harness their innate creative potential.