So yesterday's (rather sappy) post got me thinking. What do I love most about my children, about Matt right now? What are the little things I never want to let slip my mind?
Jack, age 4
I love that he is still so enthralled with music, that he will listen so intently, no matter the style. Ask him his favorite bands, and his response is priceless: Alice "and" Chains (apparently he thinks this is a 2-man band…one of his daddy's favorites), Guns & Roses, Josh Groban, Hannah Montana. Quite the well-rounded little chap, eh?
I love that he is doing so well with his early reading skills. He is flying through the Bob books, devouring the easy readers Sharon brought during a recent visit. No matter where we are, he is pointing out signs and either attempting to read them himself or asking me to decipher.
I love that he is able to get himself dressed in the morning. And go to the bathroom on his own. And clean up his room. And help me with the girls. This boy is just so with it, and so willing to help out when I need him to.
I love that he loves to set a chair on the curb in the front and wait for the ice cream truck to come, even in the dead of winter. The eternal optimist. 🙂
I love that even at the tender age of four, he fits seamlessly into the neighborhood posse. That his little friends can come over just about every afternoon after school to play. That we live in a neighborhood filled with such great people that I can feel comfortable when he hops on his bike to go play at their house.
I love that he loves to be outdoors, hitting golf balls, riding his bike, digging up worms. I love that he knows when he's been outside making a mess that he needs to take his shoes off the second he hits the door.
I love that he is so spiritual. That he loves to talk about Jesus. That he loves to go to church and Sunday School.
I love that he still calls me Mama. That he still lets me smother him in kisses. That he looks so much like his daddy.
I love that no matter how big he gets, he's still my baby boy.
Charlotte, age 2 1/2
I love that she is such a master communicator. That she can speak in 20 (plus!)-word sentences at such a young age. That she says adorable things like "let me feel you better."
I love that she is fully potty trained, wearing big-girl panties both day and night. I love that it only took a week to get her to that point!
I love the funny face she makes that earned her the nickname Boo.
I love it that she makes us laugh by taking her baby dolls' temperature…the old-fashioned way. 😉
I love it that she never looks totally together. That her hair is always a mess, that her dress is always a bit rumpled. That she is just as comfortable in Jack's old pajamas as she is in a frilly tutu skirt.
I love it that she makes the entire church congregation chuckle when Pastor says the word "charlatan" during a service, and she exclaims, "Pastor is talking about me!"
I love how she says "giggly, giggly, giggly" when I tickle her tummy, how she says "Fancy Fancy" instead of Fancy Nancy.
I love that she is our little pistol, our fearless, fiery little hurricane. I love it that she thinks being a cheerleader will be be the best thing ever, simply for the reason she will get to kick without being reprimanded. 😉
This girl – she is really something. And I wholly, absolutely love her for it. 🙂
Cecily, age 5 months
I love that she is making such strides after going through so much so early on.
I love that she loves to sleep in her crib, and goes down happily for naps and bedtime. That she loves to nurse. That I get to wake up with her in the wee hours for a midnight snack and snuggle.
I love that she looks simultaneously like Matt and like me. That she quiets at the sound of music. That she is full of glee when her daddy comes home each evening.
I love her giggle when I undress her every evening at bedtime. Her intent look of concentration when she's playing in her exersaucer. Her recent mastery of the art of blowing raspberries. 😉
I love that she is so content to be held and snuggled. That she is so able to handle the craziness around her with nary a whimper. That she is the first of my children who will take a bottle.
I love the way she wrinkles her nose when she smiles. The way she keeps me on my toes by never failing to stop smiling the moment I can (finally!) locate my camera.
I love that with her, I can finally enjoy every single bit of the baby experience. That I'm not obsessive over her every single milestone.
I love that she is a precious miracle, a beautiful reminder of the blessings from God that come when we least expect them.
Matt, age 29
I love that he still gives me butterflies. That I can tell people we actually "met" in Mothers' Day Out all those years ago.
I love that he was my high school sweetheart. That we overcame so many miles and roadblocks to get to where we are today. That he in undoubtedly the best, most cherished friend I have ever had.
I love how he has so fully embraced fatherhood. That he isn't afraid to wipe bottoms. Or bathe the children. Or change nasty diapers. I love that he plays funny games with the kids at bedtime. That he gets down on his knees to pray with them before he gently tucks them in.
I love it that this man can cook. Really, really well. I love that he never flinches when it's his turn to do dishes.
I love that he knows me even better than I know myself. That we can break into peals of laughter with nary a word being said between us. That he makes the best green chile cheeseburger ever, hands down.
I love that he takes such pride in his work. I love that he almost never brings it home with him.
I love that in all my life, I could never have possibly written a more perfect love story than the one I'm living with him, right here, right now.
Blessings,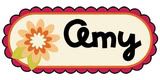 Having grown up in a home brimming with sewing notions and paintbrushes, Amy has a deep love for all things creative. On any given day, you'll find her knee-deep in her latest creative endeavor, with projects ranging from sewing and crafts to home decor and kid-friendly ideas. Amy believes that everyone, regardless of skill level or experience, possesses the ability to create something beautiful, and Positively Splendid was born of her passion for helping others harness their innate creative potential.