I know the Halloween candy has yet to be divvied out (unless you count the Snickers I've been surreptitiously enjoying after the kiddos are deposited in bed each night ;), but I thought now might be a marvelous time to share this fun Thanksgiving project in case you want to make plans to put some together with your kiddos in the next few weeks. Paper plates, construction paper and markers are all that you need to make fun turkey hats that are sure to delight!

***
(Originally posted on November 18, 2009)

Many of you already know how much I love to create. Honestly, if a day goes by that I don't get to flex my creative muscles, I feel a little off. I love to sit down with the kiddos and do little projects, and when I found this idea for turkey hats on Parents.com the other night, I couldn't wait to work on it with Jack and Charlotte. Today was cloudy and cold, a perfect day for pulling out our art supplies and getting to work!

I am always so amazed at what little sponges these kiddos are. It is so fun to teach them new things and watch their excitement when they get to share their new knowledge with Matt when he gets home each evening. We've been talking a lot lately about Thanksgiving-themed things like turkey, pilgrims and the Mayflower. You should hear Jack and Charlotte try to say "religious persecution." 😉

So what have you created today?
***
Looking back at those photos makes my heart swell. It is amazing how much they grow and change in just one trip around the sun. 
I have much to be thankful for, indeed!
Blessings,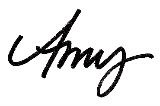 If you enjoyed this post, subscribe to Positively Splendid 
to receive updates, and join us on Facebook and Twitter!





Having grown up in a home brimming with sewing notions and paintbrushes, Amy has a deep love for all things creative. On any given day, you'll find her knee-deep in her latest creative endeavor, with projects ranging from sewing and crafts to home decor and kid-friendly ideas. Amy believes that everyone, regardless of skill level or experience, possesses the ability to create something beautiful, and Positively Splendid was born of her passion for helping others harness their innate creative potential.