Kids and bubble wrap go together like peas and carrots, so any children's craft project the utilizes bubble wrap as a central supply is sure to be a hit! These Bubble Wrap Crazy Crocs are a fantastic kids' craft to do to while away an afternoon. And the end result is too adorable to resist! Read on for all of the details.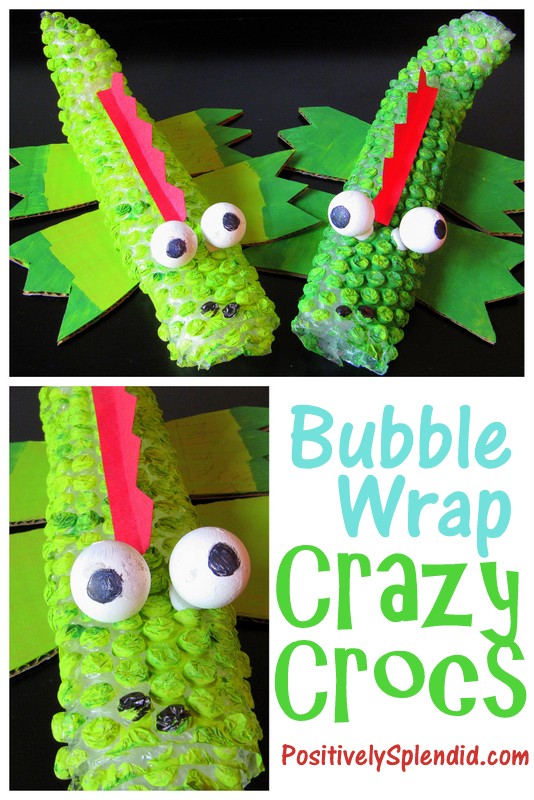 For this project, you will need…
Sheet of bubble wrap, approximately 12″ x 24″
Scotch tape
Aluminum floral wire
Cardboard
Red construction paper
Scissors
Acrylic paint and foam brushes
Cotton balls
1-inch styrofoam or wood balls
Black paint pen
Craft glue
Foam adhesive dots
Directions:
Roll your sheet of bubble wrap into a tube and secure sides with tape. Tuck your piece of floral wire down through one end.
Making sure the wire is tucked well within the bubble wrap, bend wired end up to form a tail.
Paint the crocodile body with acrylic paint. If desired, create spots of a different paint color using a cotton ball. Allow paint to dry completely.
Cut out 4 cardboard feet, and paint with acrylic paint. Allow to dry completely.
From red construction paper, cut out a frill. Fold over the bottom edge. Adhere the frill to the back of the body with craft glue.
Paint 2 Styrofoam balls with white acrylic paint and allow to dry. With the black paint pen, draw 2 circles at the center of each ball to create the crocodiles eyes. Adhere eyes to the body with foam dots.
All finished!
Sanity-saving plan-ahead tips for busy parents:
The night before…
…gather all supplies and place in one location.
…cut out the bubble wrap rectangles and the cardboard feet.
…trace the frill shape onto the red construction paper for your child to cut out. Or, for younger children, cut out the frills yourself for easy assembly.
…consider painting the white balls to eliminate the need to let them dry the day of the craft.
Having grown up in a home brimming with sewing notions and paintbrushes, Amy has a deep love for all things creative. On any given day, you'll find her knee-deep in her latest creative endeavor, with projects ranging from sewing and crafts to home decor and kid-friendly ideas. Amy believes that everyone, regardless of skill level or experience, possesses the ability to create something beautiful, and Positively Splendid was born of her passion for helping others harness their innate creative potential.