The Swell Noel series continues today with two quick-and-easy topiary tutorials to kickstart your holiday decorating! Catch up on all of the projects from the series by visiting the photo guide of all of the ideas shared by the talented Swell Noel contributors, and follow along as things happen on Twitter, Facebook, Google+, Pinterest and Instagram by using the hashtag #SwellNoel.
After long seeming tired and outdated, one look at any shelter magazine or catalog proves that gold is quickly coming back in vogue. I have to say that I am totally on board with that trend, and especially when it comes to Christmas decor! There are ways to incorporate gold tones into Christmas displays without having things become too gaudy, and today I am sharing two very easy, inexpensive ways to do just that. From start to finish, both of these Gold Christmas Topiaries took me less than one hour, and I love the richness they impart to my sewing room displayed on top of my storage cabinet. Ready to see how I put these together? Let's get started!
For this project, you will need…
2 Paper mache topiary trees (mine are 23″ and 17″)
Gold and white craft paint
Foam brush
Gold tassel trim (3 yards was just the right amount to cover my larger topiary)
Hot glue
To begin, use the foam brush to paint each of your topiaries with gold paint, and allow them to dry completely.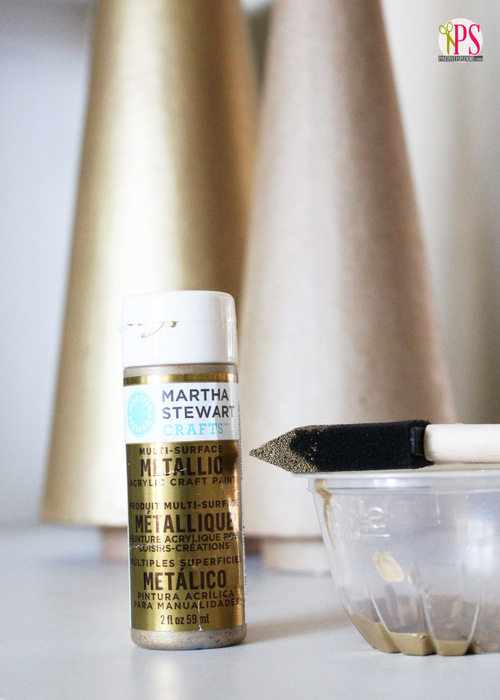 At first I wondered if the gold paint would make much of a difference in the appearance of the trees, since the original color of the paper mache is a goldish-brown, but after finishing painting the first tree, it was very clear that the sheen of the gold paint really pops here!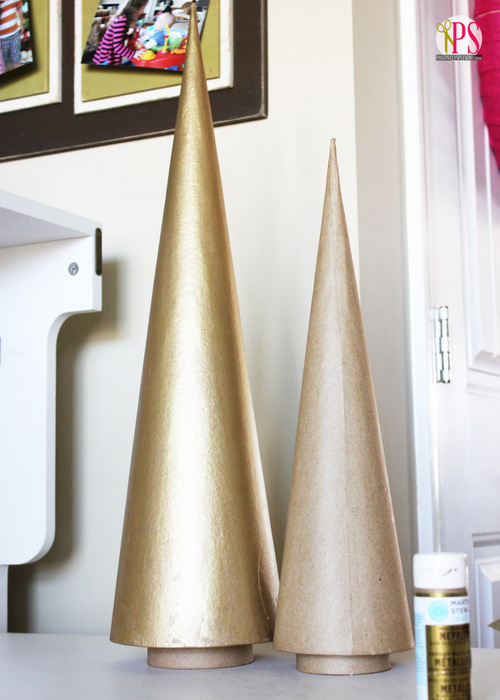 For the polka-dotted tree, use your round foam pouncer to dab the white craft paint onto the smaller tree, making sure to distribute the dots as evenly as possible across the surface of the topiary. Set this tree aside and allow it to dry completely. You are halfway finished creating your set of topiaries! I told you this was easy. 🙂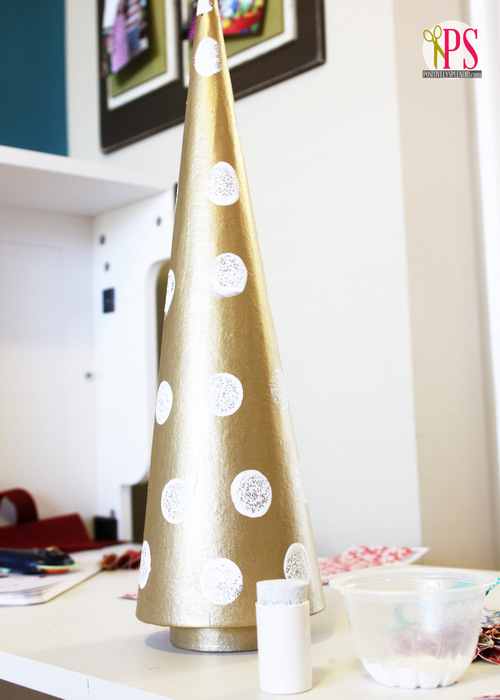 Now, grab your tassel trim and the larger topiary. Note: I recommend using a trim with stretch, so that it will lie evenly against the surface of the topiary when you adhere it.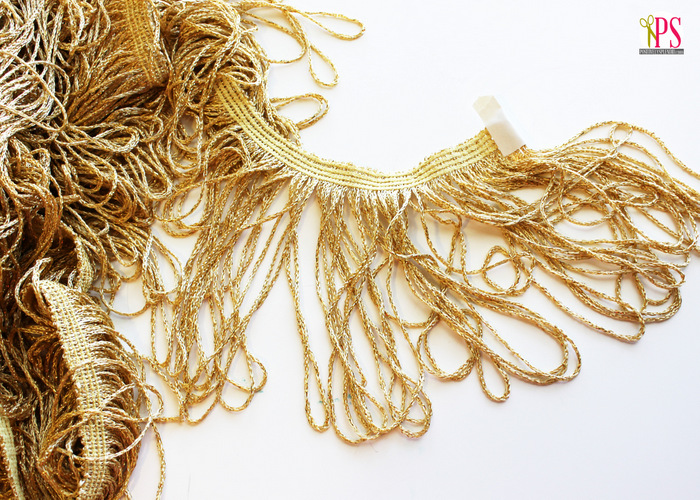 Starting at the bottom of the topiary, adhere the trim with hot glue so that 1-2″ of the fringe pools at the base of the tree, as shown.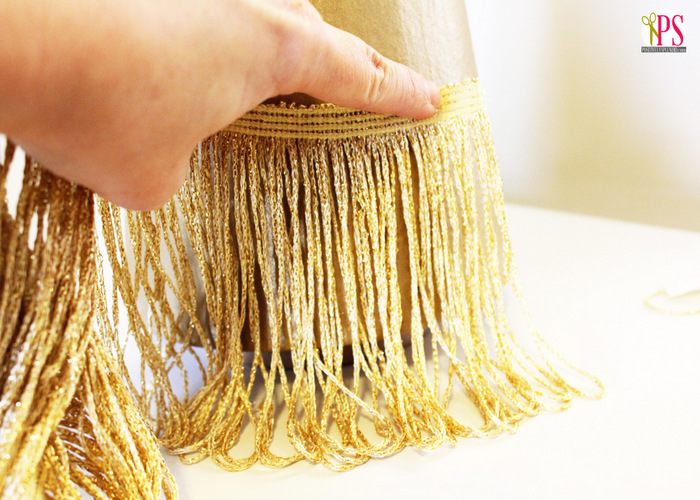 When you have worked all the way around the topiary, carefully snip the trim so that the end overlaps the beginning point, and secure with a dab of hot glue.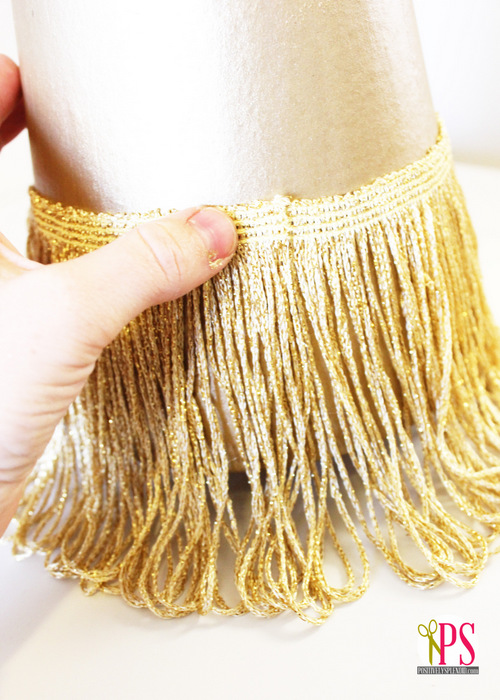 Continue adhering rows of trim in a similar fashion every 1.5 to 2″, working all the way to the top of your tree.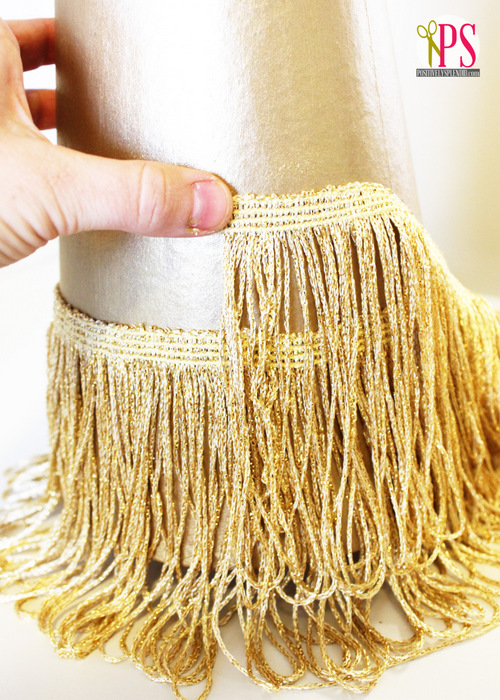 Your gold topiary tree set is complete!
The luster of the gold gives these such a rich, warm look!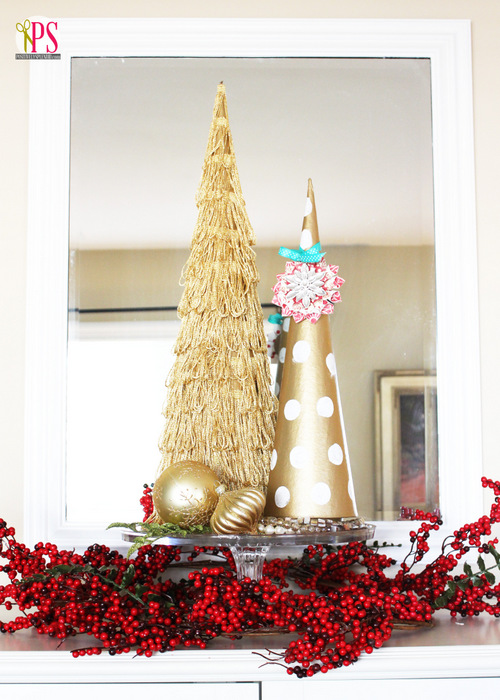 I created a vignette on top of the storage cabinet in my sewing room by displaying my finished topiaries on top of a crystal cake stand, along with a red berry garland and some pretty gold Christmas ornaments.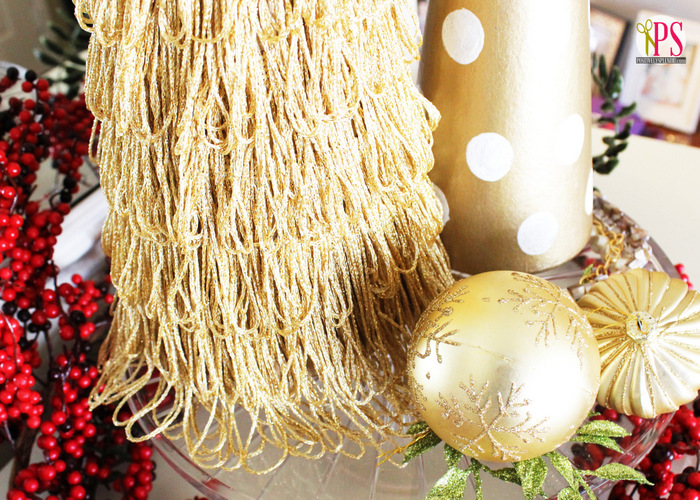 I also added a touch of glamour to the scene by displaying a pretty necklace bottom from the Styled by Tori Spelling line of jewelry along with the other elements. Those pieces are great for so many uses!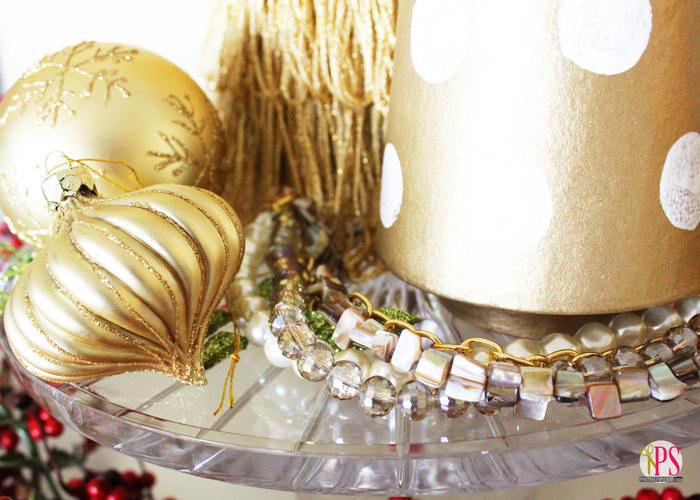 I completed the display with a pretty handmade paper ornament, which features a Styled by Tori Spelling pendant as its anchor. (I'm sharing the tutorial for this ornament today at I Heart Naptime, so I hope you'll venture over to say hello!)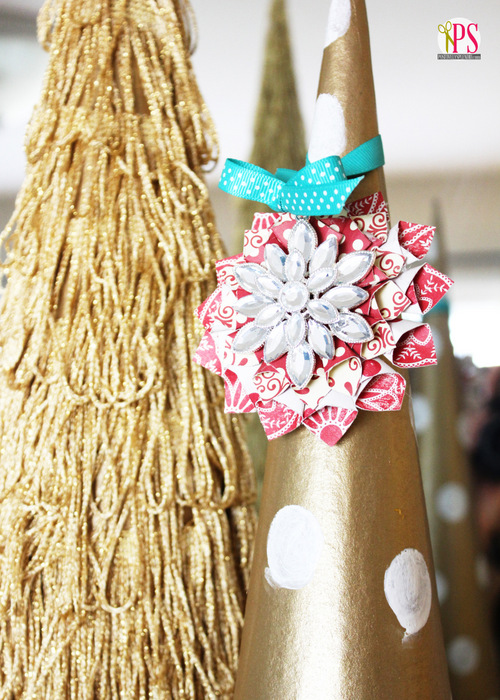 The cascading fringe trim on the large tree is so elegant that no one would ever guess it took just a few minutes to make!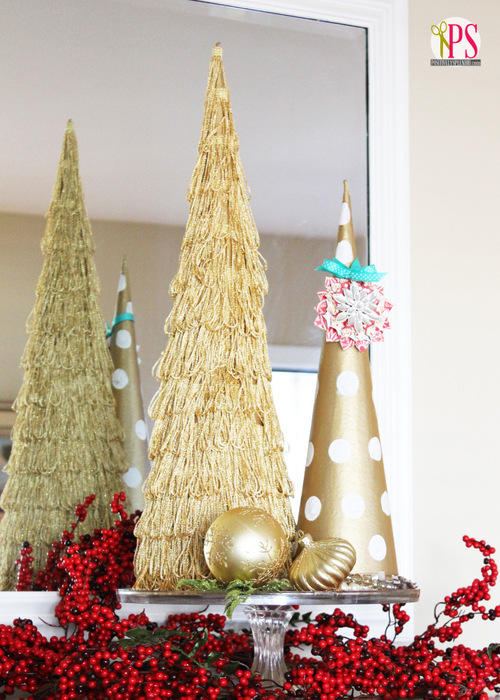 Be sure to check out these trees' cameo in my Red, Gold and Lime Christmas Mantel!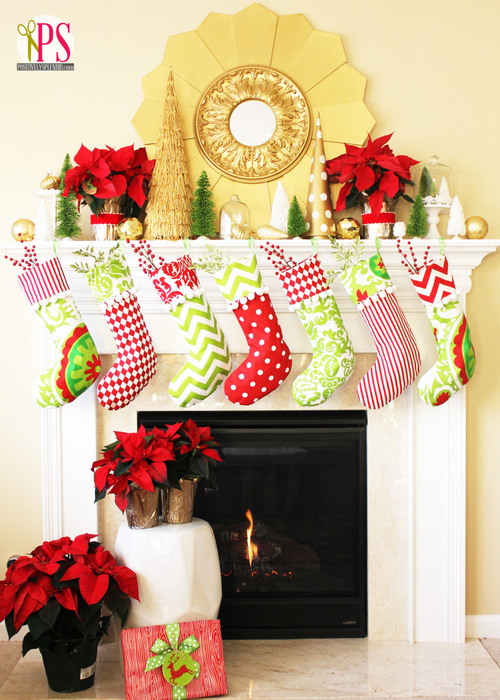 Feeling inspired to create? Check out these other topiary ideas from the PS vault:
Topiary Christmas Tree Roundup
***
By the way…
The PS Handmade Holiday Gift Idea Swap kicks off this morning! I hope you'll head over to add your best handmade holiday gift ideas to the guide. All the details on the event, which will run throughout November and December, can be found on the event page, either by clicking on the link above or the button below.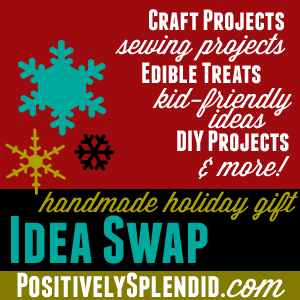 Thanks so much for making PS a part of your day.
This is a sponsored post written be my on behalf of Styled by Tori Spelling and Darice. Rest assured that all opinions expressed here are entirely my own, and I am committed to sharing only products that I feel my readers will benefit from and enjoy.
Having grown up in a home brimming with sewing notions and paintbrushes, Amy has a deep love for all things creative. On any given day, you'll find her knee-deep in her latest creative endeavor, with projects ranging from sewing and crafts to home decor and kid-friendly ideas. Amy believes that everyone, regardless of skill level or experience, possesses the ability to create something beautiful, and Positively Splendid was born of her passion for helping others harness their innate creative potential.