via
So – ahem. I am going to admit something that is really bothering me, even though I know it shouldn't be. 
Really.
Bothering.
Me.
It started with a stray grey right on the crown of my head.
And then I found another.
And another.
And (seriously?) another.
Girls and boys, I am losing this battle. 
I am starting on the road to grey-ville.
I feel like such a hypocrite to be bothered by this, since my hubby started going grey in his mid-twenties (right around the time we married. Hmmmm….), and I have been assuring and reassuring him ever since that he looks terrific. (Which, he really does.) But something about him walking over the other morning as we were getting ready next to one another to pluck a grey hair that was sticking out of my freshly coiffed 'do was downright demoralizing. 
I'm turning the big 3-0 in less than two months. What I need to remind myself is that in those thirty trips around the sun, I have earned these greys. 
A fair share can be attributed to the day the phone cut out while I was talking to Matt, the last words I heard from his mouth being, "Oh no!" as he was hit by a drunk driver on his way home from working out of town. (By God's hand, he walked away from that accident with nary a scratch.)
One comes from the afternoon I discovered that my budding preschool Picasso Jack had chosen to practice his art on his bedroom wall. With a Sharpie.
Another few come from the nights I walked the floors with a colicky newborn Charlotte, praying to God above to give me patience to love my daughter through those maddening screams.
A cluster was undoubtedly prompted by the round-the-clock breathing treatments 3-month-old Cecily received when she was struggling for every breath with RSV and pertussis.
I have earned one (or ten) for being pregnant for the majority of the last 6 years.
One for the low point I hit the other night when my current pregnancy-induced sciatica nearly forced me to ask Matt for help because I honestly didn't think I could sit up to get out of bed. 
One for every time I've been startled awake in the dead of night to a little face mere inches from mine: "Mama, are you awake?"
One for every floor I've swept, to find it covered moments later with cheerios, goldfish, teddy grahams, or any combination thereof.
One for each night I've stayed up till the wee hours playing assistant to the Tooth Fairy, the Easter Bunny or Santa Claus.
One for each box I've unpacked as we've embarked on the adventure of two interstate moves.
One for each time I've peered down at my sleeping children, my heart bursting with joy at the beautiful little people they are becoming and more than a hint of sadness at how quickly the time is passing us by.
That list, my friends, constitutes a lot of greys. But, in a beautifully ironic way, that is also the stuff that a life fully lived consists of.
I don't think I'll ever really come to terms with going grey. I will probably start dyeing my hair before it becomes too noticeable. (My secret is safe with you, right?) But as I ponder what it means to grow older, I hope I never lose sight of how blessed I've been so far in my life. 
And I pray that I am someday content on that day when I look in the mirror to see a face framed entirely in grey, my head dancing with all of the memories and moments represented by each and every one.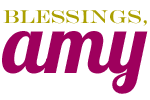 Having grown up in a home brimming with sewing notions and paintbrushes, Amy has a deep love for all things creative. On any given day, you'll find her knee-deep in her latest creative endeavor, with projects ranging from sewing and crafts to home decor and kid-friendly ideas. Amy believes that everyone, regardless of skill level or experience, possesses the ability to create something beautiful, and Positively Splendid was born of her passion for helping others harness their innate creative potential.