When it comes to crafts, I am totally smitten with Mason jars. Empty jars are the perfect carte blanche for sprucing up for each and every season (including Valentine's Day and Easter), and today, I'm sharing how to make a fun Halloween Mason jar in three different designs with my free templates. These Halloween Mason jars are perfect for packaging up to give as a quick gift, but they are also adorable enough to use to decorate your home. Continue reading for all the details!
I've teamed up with Plaid to share this fun Halloween Mason jar idea with you today. This post contains affiliate links.
Halloween Mason Jar Supplies
---
Quart-sized Mason jars
Pen or marker
FolkArt Home Decor Chalk – White Adirondack, Vintage Mustard, Seaside Villa, Rich Black
Paper plate
Coordinating fabric
Candy for filling (I used purple Sixlets for the bat jar, white Sixlets for the ghost jar, and orange Sixlets for the pumpkin jar)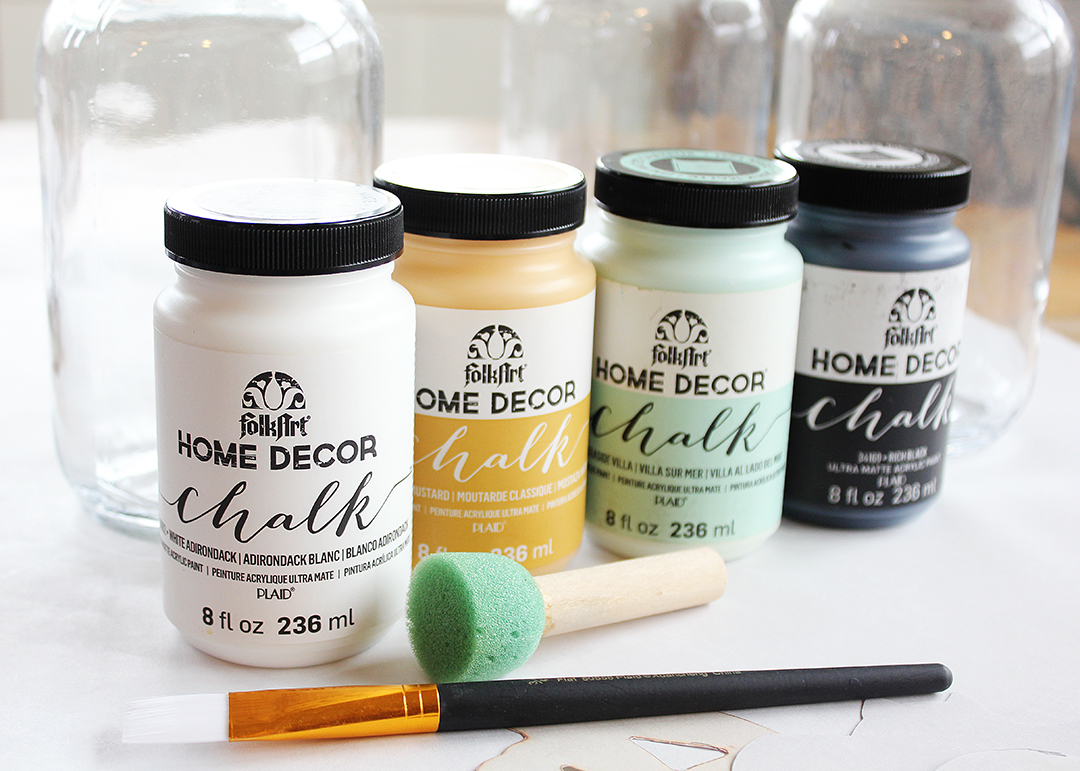 Halloween Mason Jar Directions
---
Print off the Halloween Mason Jar Templates, and cut out each one. Trace the pieces onto the contact paper, and cut carefully around each one with scissors. Affix the bat, ghost and pumpkin pieces to the front of a Mason jar. Cover your work surface with a piece of freezer paper to keep things nice and tidy as you work in the next step.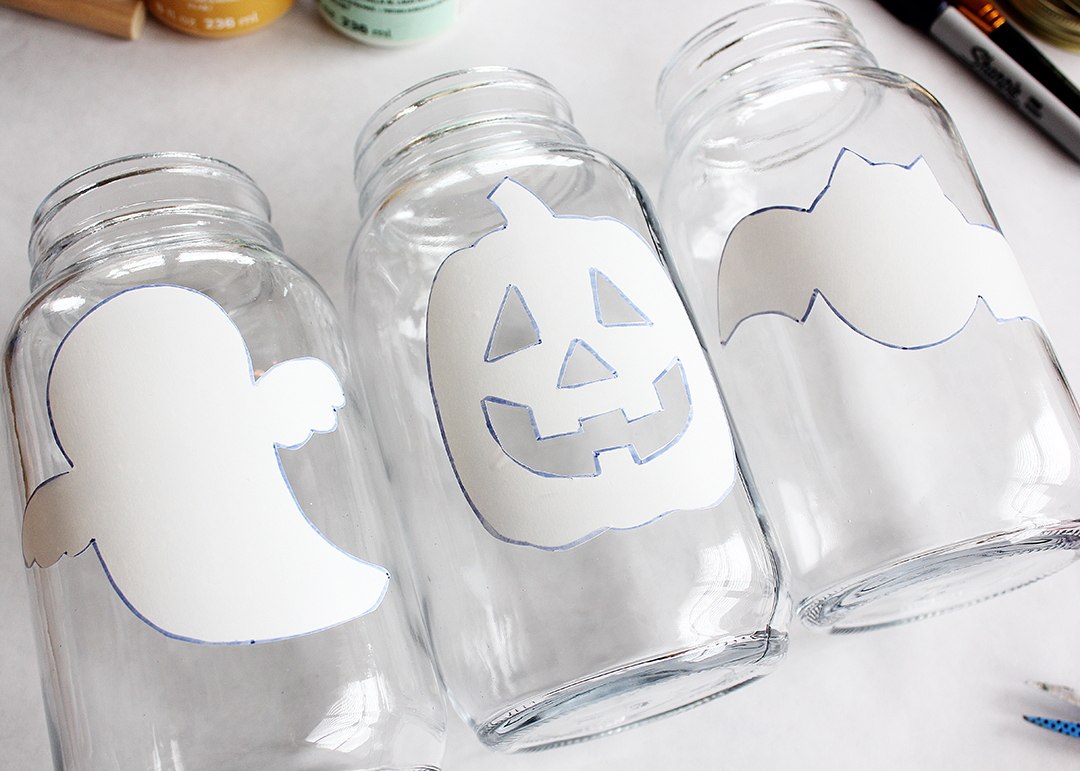 Using a paint brush, apply a thin coat of the Home Decor Chalk to the entire surface of each of the jars, painting directly over the contact paper piece below.Allow the paint to dry completely before applying another coat. (I found two coats to be plenty to achieve great coverage.) Set the jars aside to dry to the touch, about 30 minutes.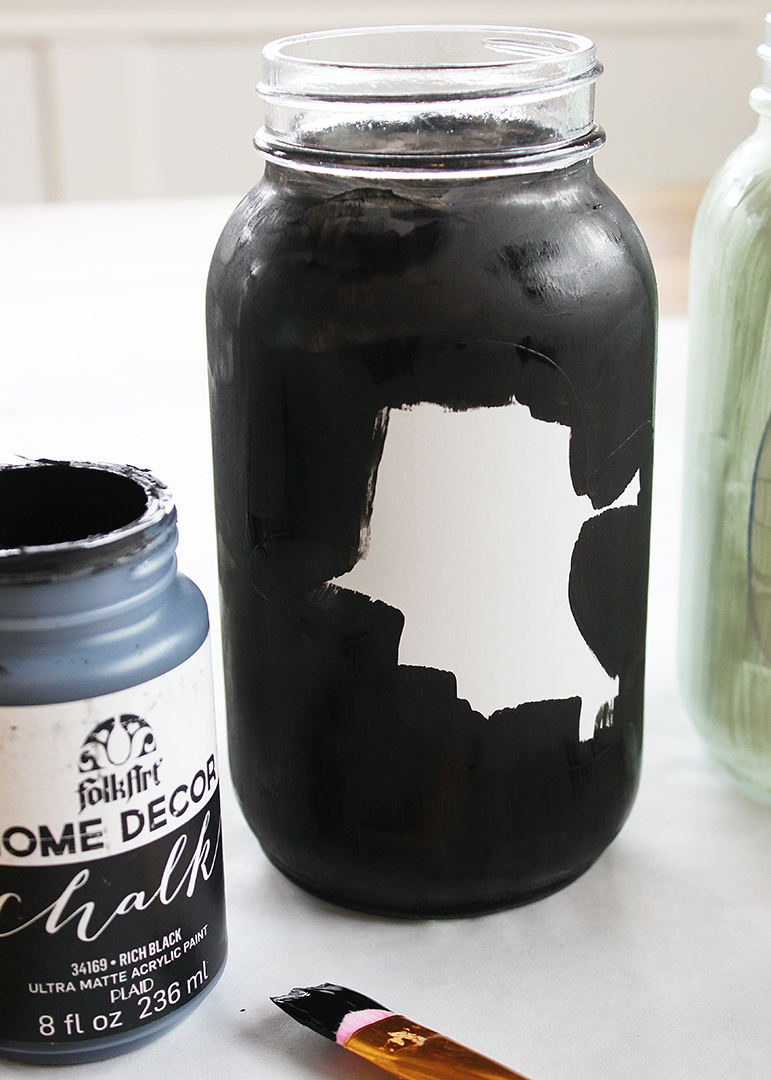 Note: In order for the colors to contrast nicely with the color of the candy filler for each one, I chose to paint the bat jar with the White Adirondack, the ghost jar with the Rich Black, and the pumpkin jar with the Seaside Villa for the jar surface and Rich black for filling in the pumpkin's facial features.
I've shared many times how much I absolutely adore the FolkArt Home Decor Chalk. The coverage of this paint is unparalleled, and it does an amazing job covering a variety of surfaces that just aren't possible with other paint, like the glass jars for this project. I also love how quickly the paint dries, making it easy to complete a project like this one even when I don't have a ton of time on my hands (which, let's face it, is pretty much always!).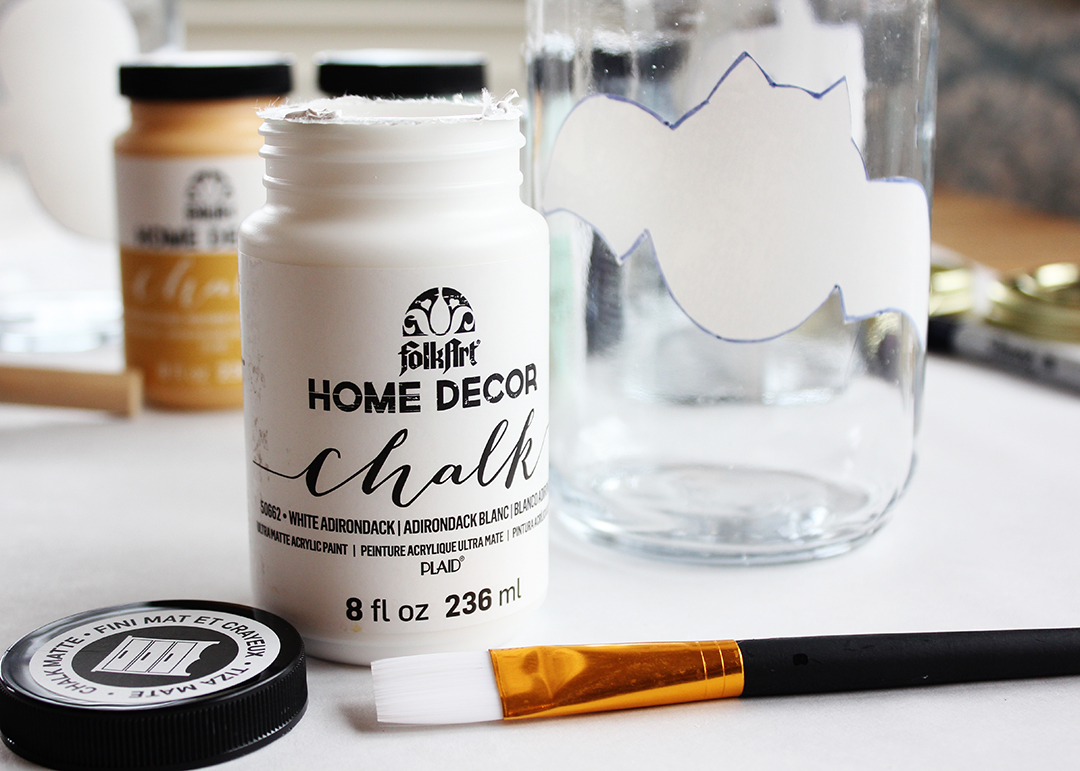 When the base coat is dry, pour a small amount of paint in a contrasting color onto a paper plate. Dip the foam spouncer into the paint, and then tap the foam end of the spouncer on the dry portion of the plate to get rid of any excess paint. Use the spouncer to create a polka-dot design over the entire surface of the jar, making sure to get rid of any excess paint each time you re-load the spouncer. Once the polka dot design is painted on each jar, set the jars aside to dry completely.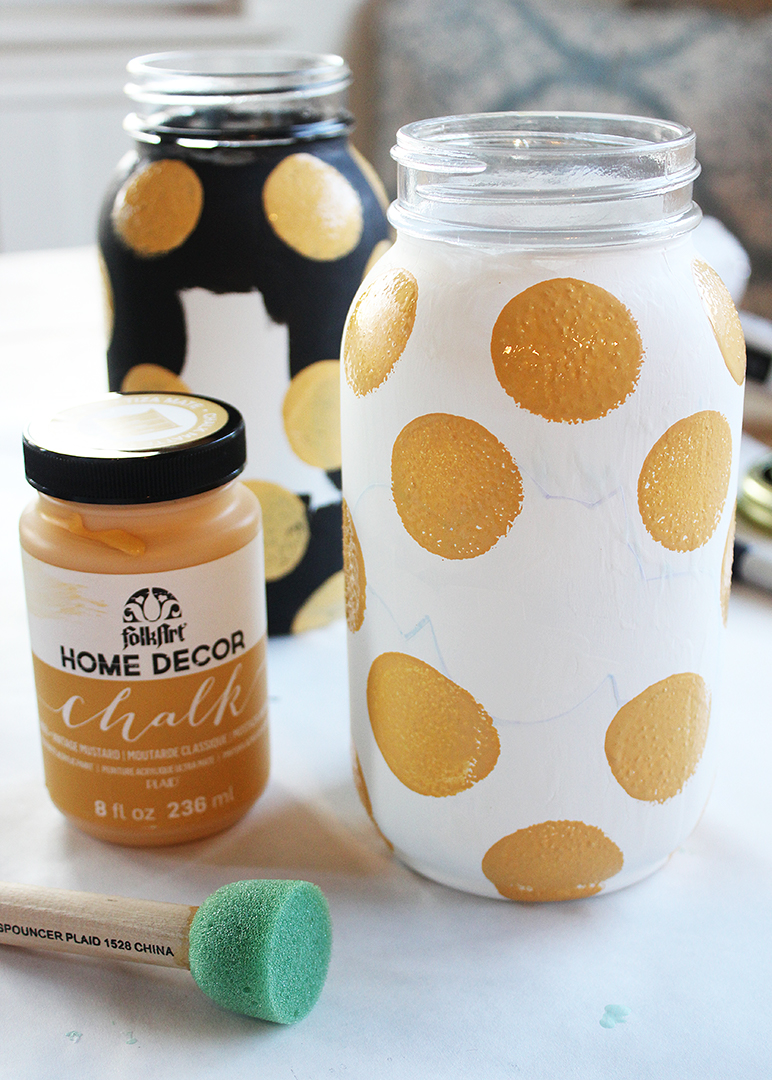 Note: For my jars, I used the Vintage Mustard for polka dots on the white (bat) jar and the black (ghost) jar, and White Adirondack for the polka dots on the turquoise (pumpkin) jar.
When the paint is completely dry, remove each of the contact paper decals to reveal a clear "window" on each jar. The Home Decor Chalk is great to use for this project, because it doesn't tend to peel away like other multi-surface paints often do.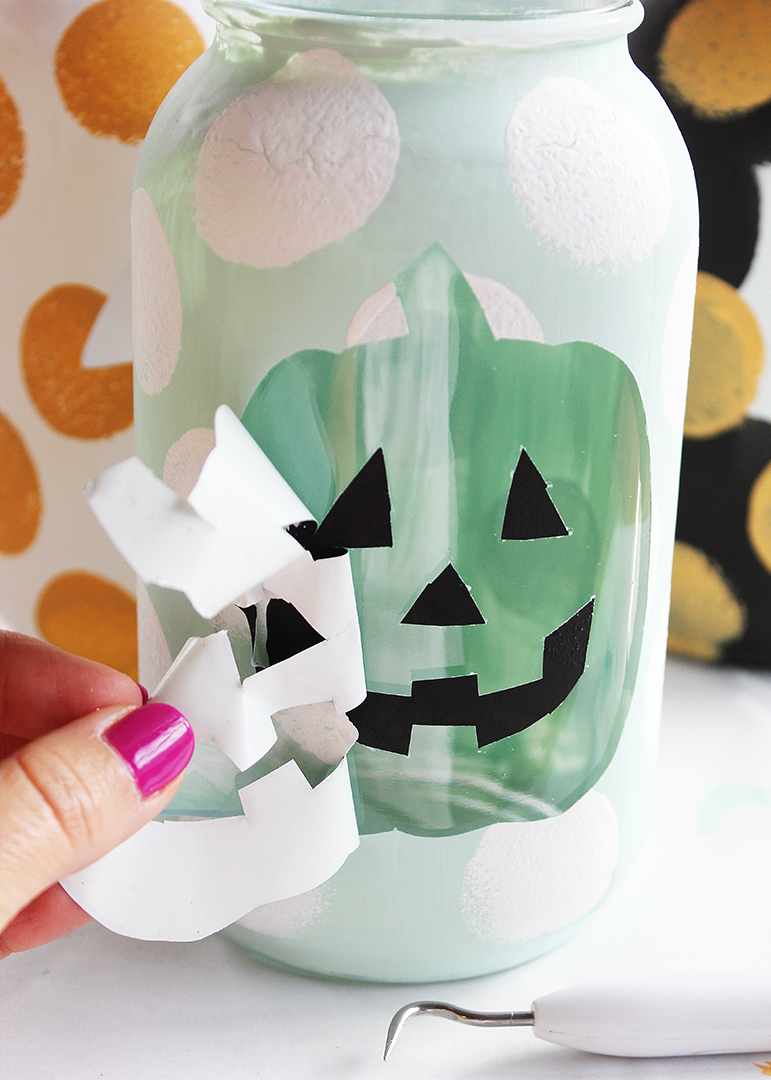 Fill each jar with candy. Cut a 6″ circle piece of fabric using pinking or regular sewing shears, and center the fabric piece between the lid ring the circle ring insert before screwing the lid onto the jar.
Now, you've got an adorable bat, ghost and pumpkin Halloween Mason jar to give to someone special, or even to use to decorate around your home!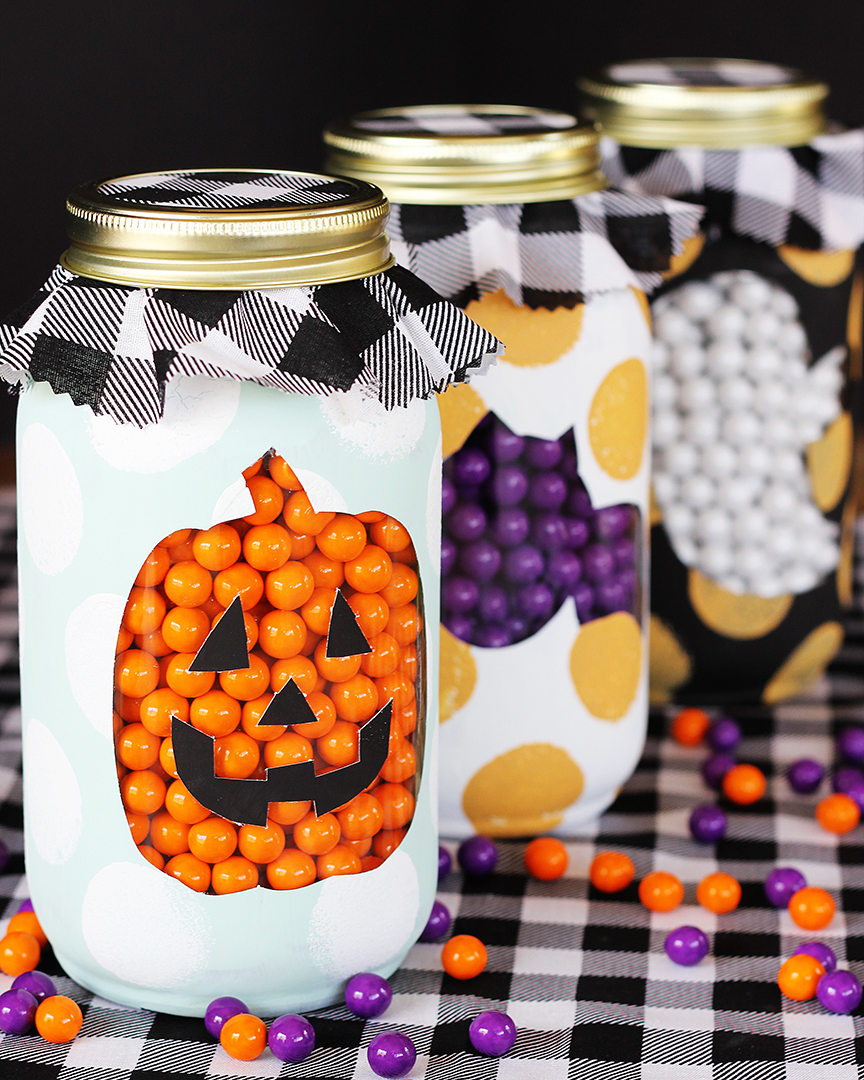 Wanting to make smaller jars? Scale down the size of the templates when printing in the first step to create jars of any size!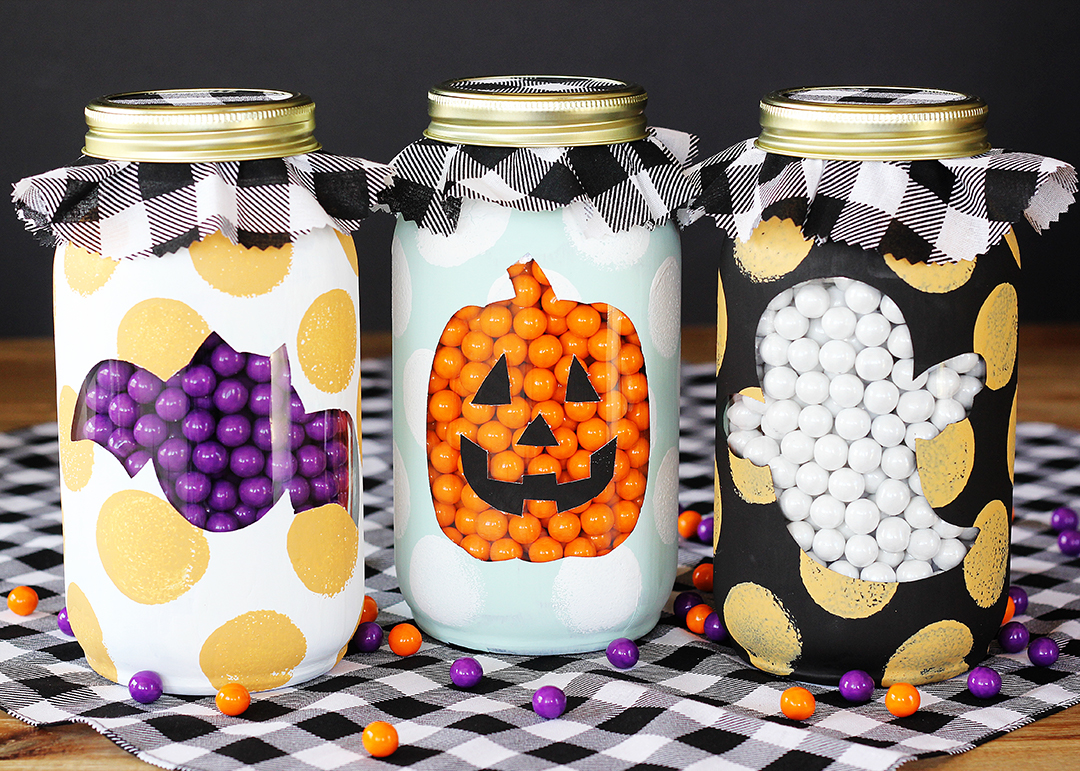 Other candy options for filling the jars are bulk M&M's or jelly beans, or anything that you can find in a solid color.
I created these Halloween Mason jars as part of a fun Halloween decor and costume challenge with the Plaid Creators team. Be sure to stop by each of my friends' blogs below to check out their fun Halloween ideas!
DON'T FORGET TO FOLLOW PLAID ON PINTEREST, FACEBOOK, INSTAGRAM AND YOUTUBE FOR PLENTY OF OTHER CREATIVE IDEAS TO KEEP YOU CRAFTING!
And if you're looking for even more clever Halloween craft ideas, be sure to pop over to the post below!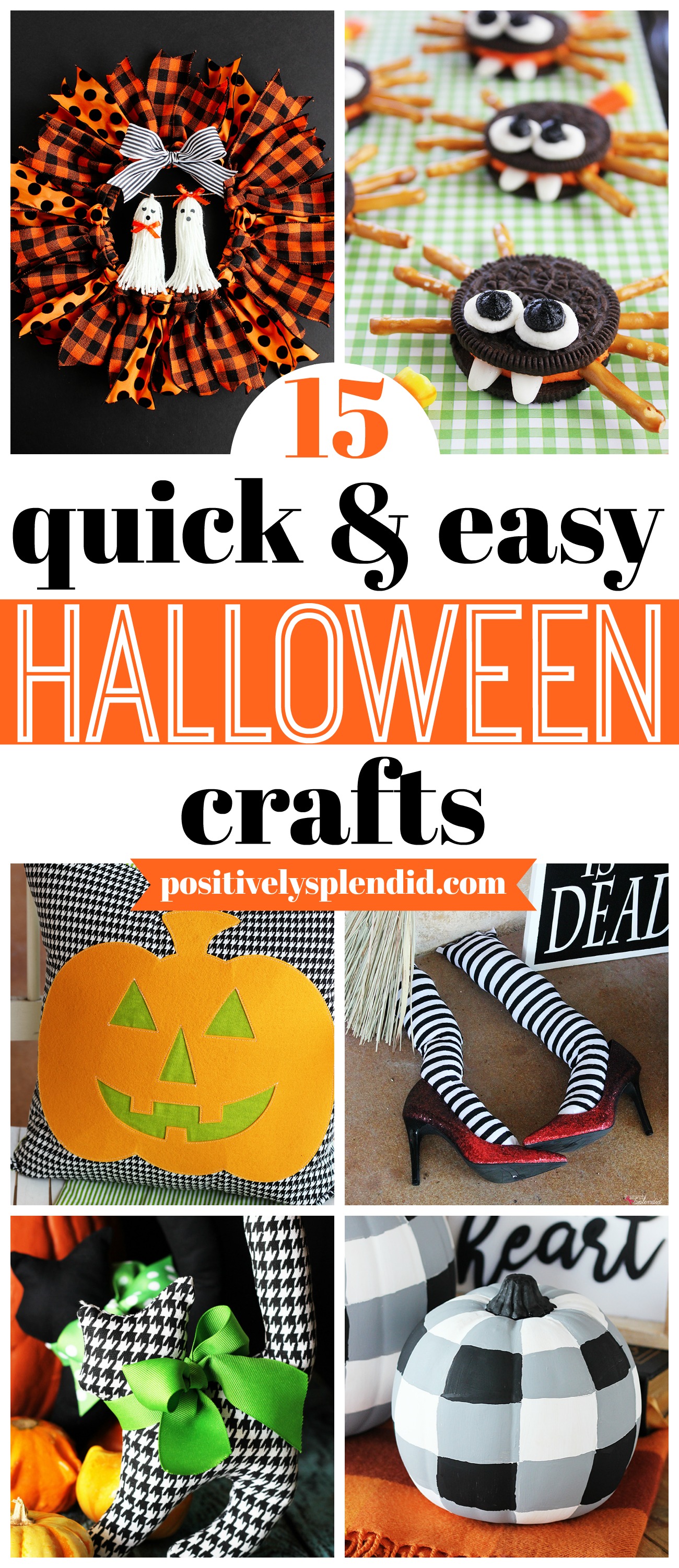 Having grown up in a home brimming with sewing notions and paintbrushes, Amy has a deep love for all things creative. On any given day, you'll find her knee-deep in her latest creative endeavor, with projects ranging from sewing and crafts to home decor and kid-friendly ideas. Amy believes that everyone, regardless of skill level or experience, possesses the ability to create something beautiful, and Positively Splendid was born of her passion for helping others harness their innate creative potential.