Make a valentine mason jar with marbled paint for a Valentine's Day gift or decoration. Fill with candy or display with a tea light for unique valentine decor!
I absolutely love a great mason jar project! This pretty valentine mason jar with marbled paint is a great way to spruce up a plain jar for Valentine's Day. These make such great gifts when filled with candy, or even a jar cookie mix. If you're like me and love to have a mason jar craft idea for every season and holiday, this Valentine's Day mason jar is sure to be added to your list of must-try projects. These jars are made with a marbled paint technique that is so easy and fun. You are going to love it!
Valentine Mason Jar Supplies
---
Mason jar (I like to use the Anchor brand for this project, since the surface of their jars is completely smooth)
Martha Stewart Marbling Medium
Martha Stewart Satin Acrylic Craft Paint in three contrasting colors
Plastic cups
Disposable pan
Disposable gloves
Candy or a tea candle
*List contains affiliate links.
Cut a heart from the contact paper with the scissors, and affix it to the front of the jar, pressing firmly around the edges of the shape to make sure there aren't any bubbles. This is very important so that paint doesn't seep under in the next few steps!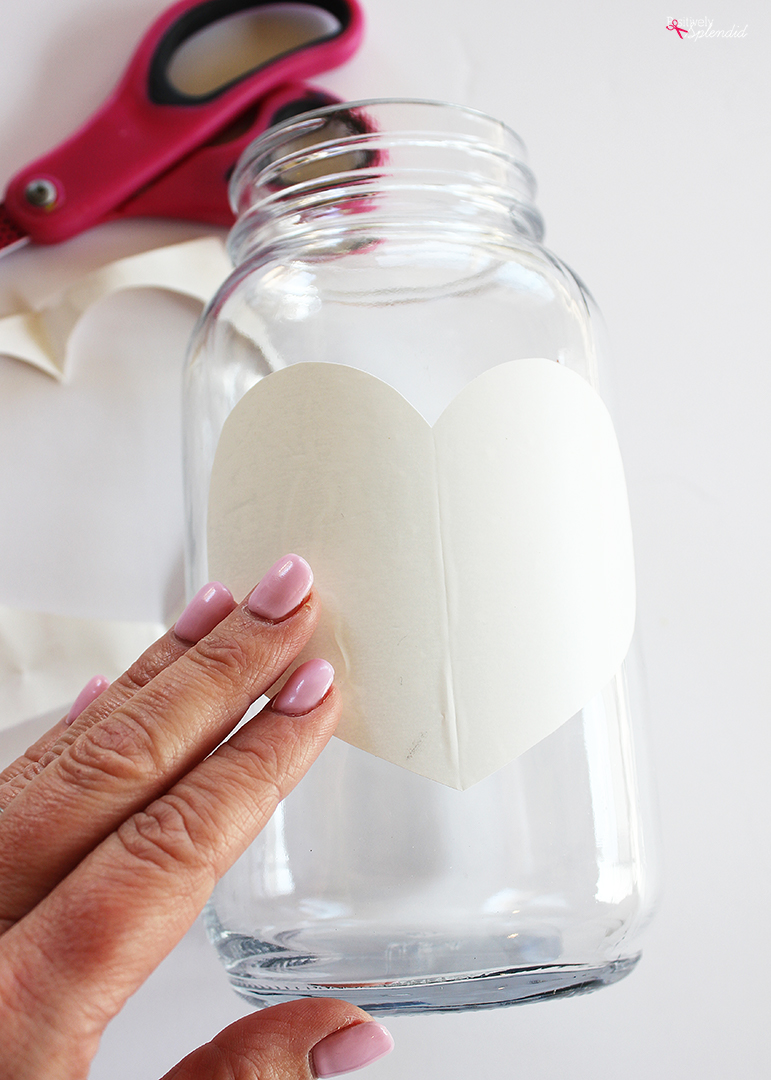 Now, prep your area. This marbled paint technique is a blast, but it is very messy! I recommend covering your entire work surface with freezer paper. A disposable aluminum tray does great for catching drips as you work, and if you don't want to wind up with not just a pretty marbled mason jar, but also pretty marbled hands, some disposable gloves are a good idea, too!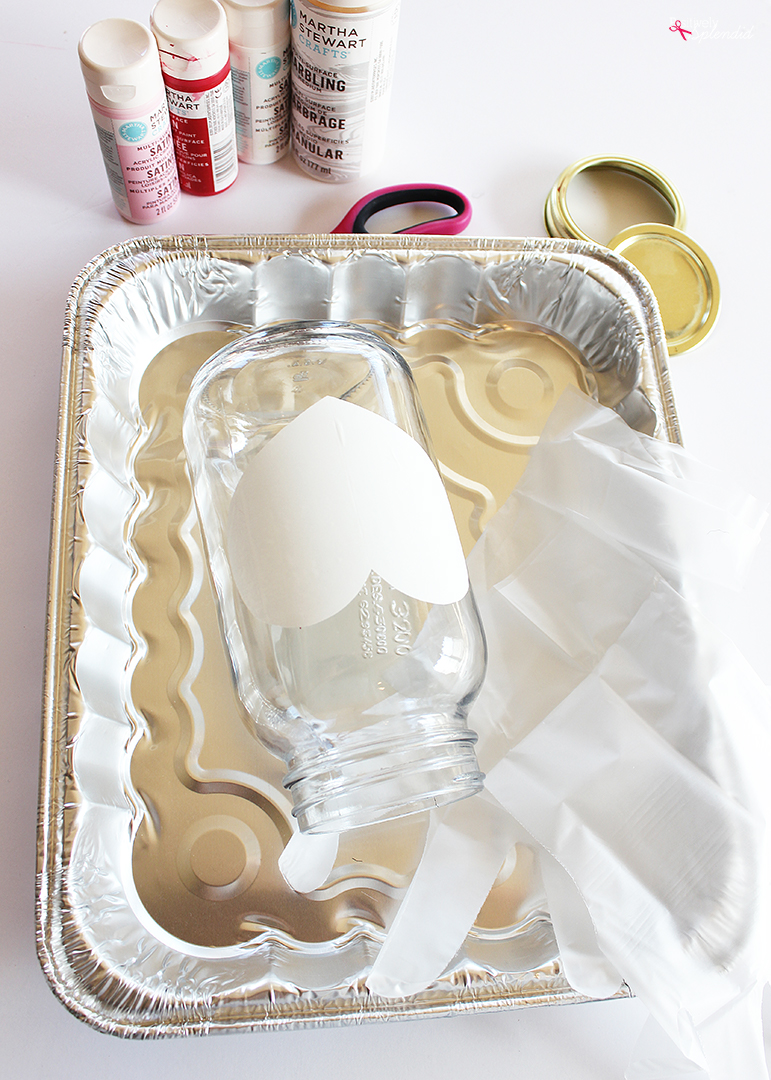 The secret ingredient for the gorgeous marbled look of these jars is a product I am absolutely obsessed with right now: Martha Steward Marbling Medium. Mixed with acrylic paint, this medium allows you to created a marbled effect with different colors without them becoming mixed or muddied. It is awesome stuff! When I decided to make a valentine mason jar, I knew immediately that I wanted to use the marbling medium to make them extra special.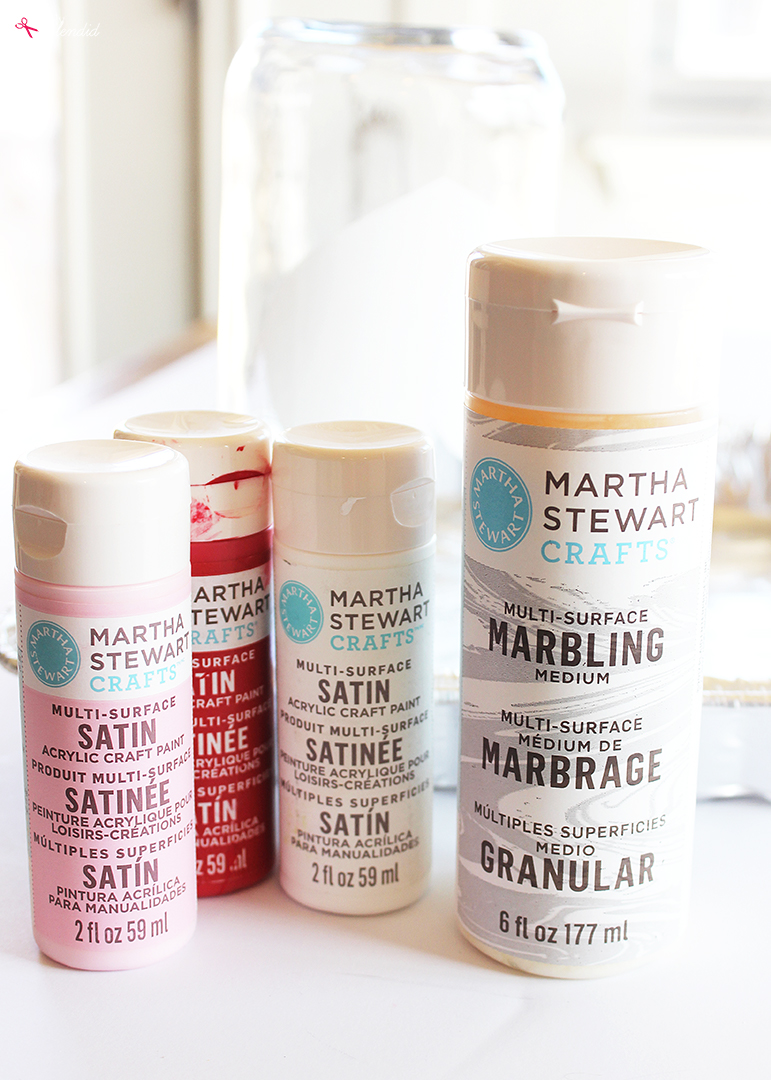 For color, mix 2 parts Marbling Medium to 1 part paint in a plastic cup, stirring to blend with a wood craft stick. The paint should be easily pourable, but not too thin. If you think it needs to be thicker, add more paint. To thin it out a bit, add more medium. It takes a bit of experimenting, but you'll get the hang of it is no time!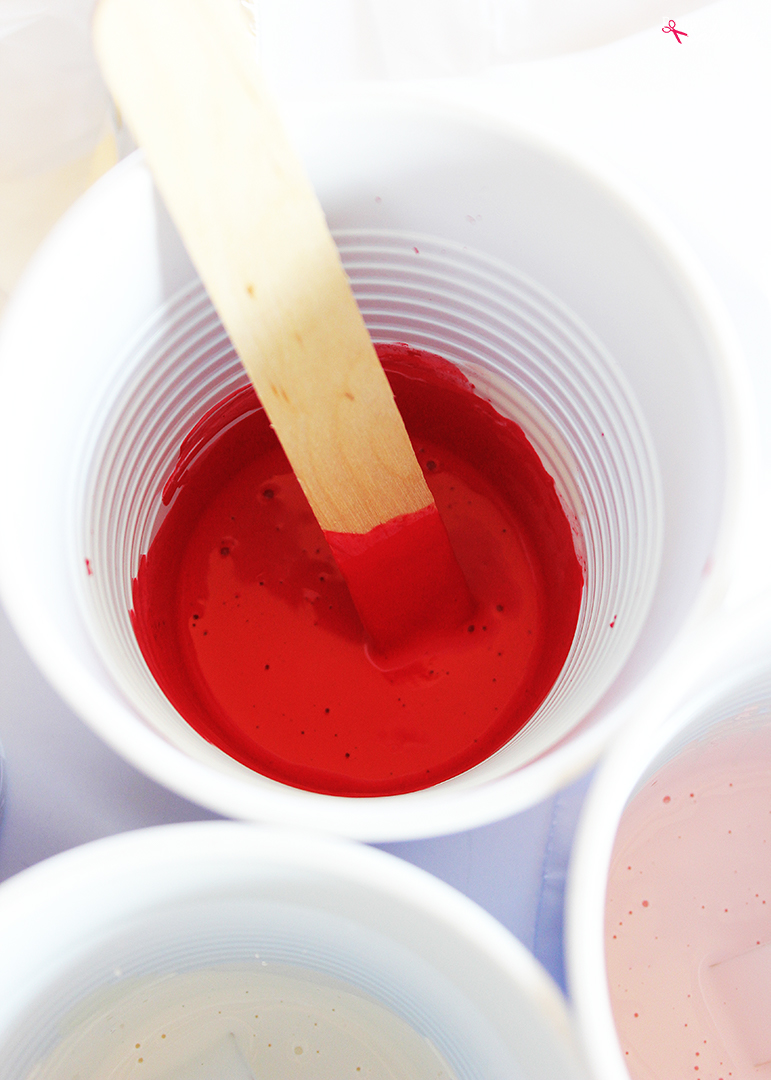 And now, let the fun begin! Put on your gloves, and then, while holding the jar over the metal tray, pour a small amount of each paint color directly onto the surface of the jar. Doesn't that look awesome?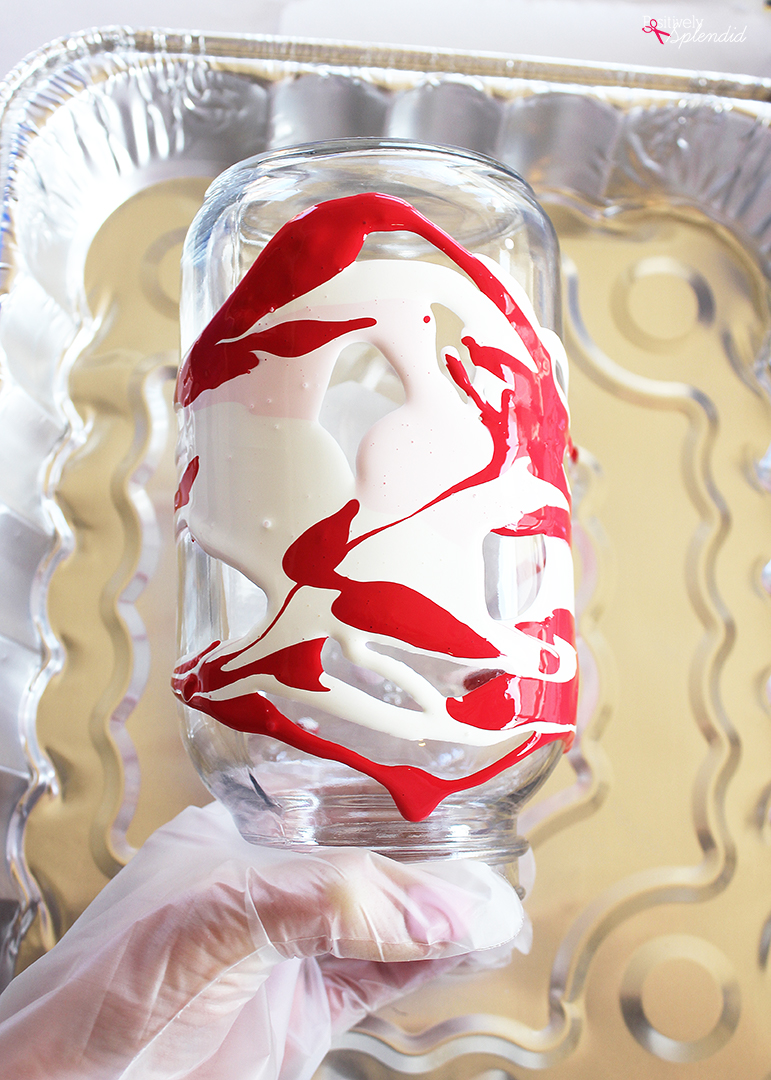 Helpful hint: when choosing your paint colors, make sure you pick three colors that really contrast. In the jar above, the light pink color I chose was too close to the white, so the marbling effect doesn't really have as much pop. But look how different the effect is on the jar below, which uses turquoise, white and red!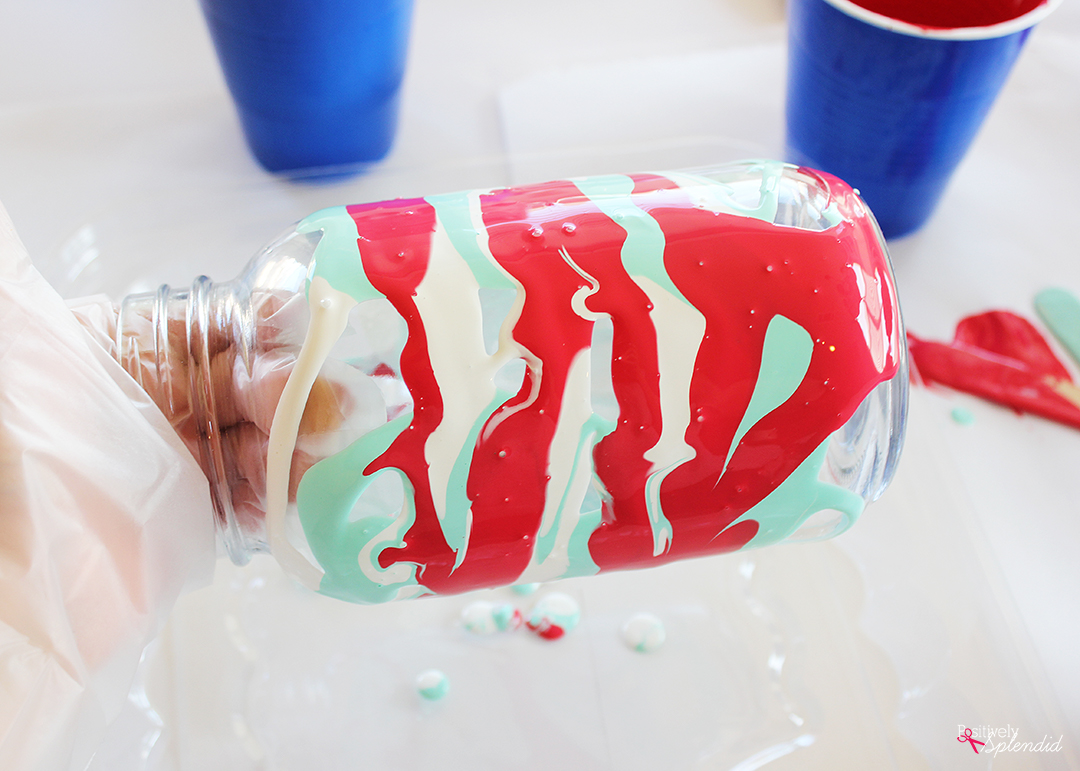 Swirl and twirl the paint over the surface of the jar by angling it in different directions. Add more paint as needed, a dollop of each color at a time, until the entire surface is completely covered, including the heart decal you added in the first step. Invert a plastic cup inside your metal tray, and then place the mason jar upside down over the lip of the cup to keep it elevated and allow excess paint to drip off as it dries. Elevating the jar for drying is essential, so don't skip that step!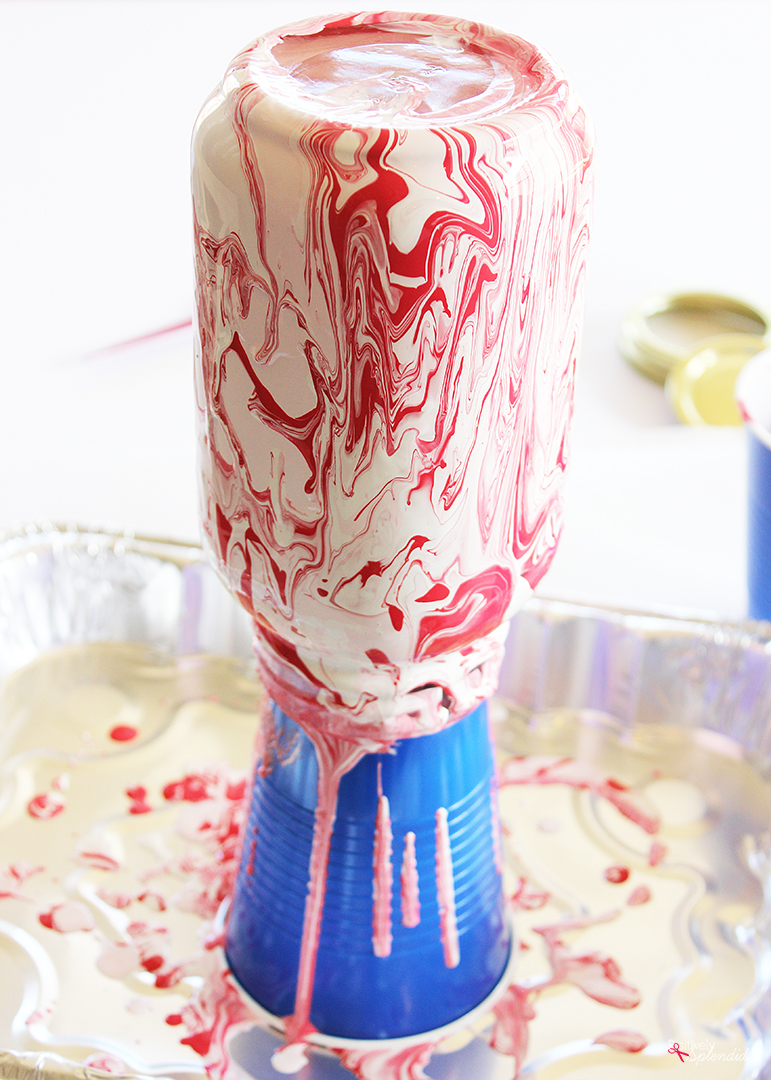 Now, set the project in a safe place to dry overnight. Giving the paint ample time to cure is really important!
When the paint has dried overnight, use and craft knife to carefully cut around the edge of the heart decal. This will ensure that only the decal peels off when you remove the heart and not all of the marbled paint on your jar. Peel away the decal to reveal a sweet heart window on the front of your marbled valentine mason jar!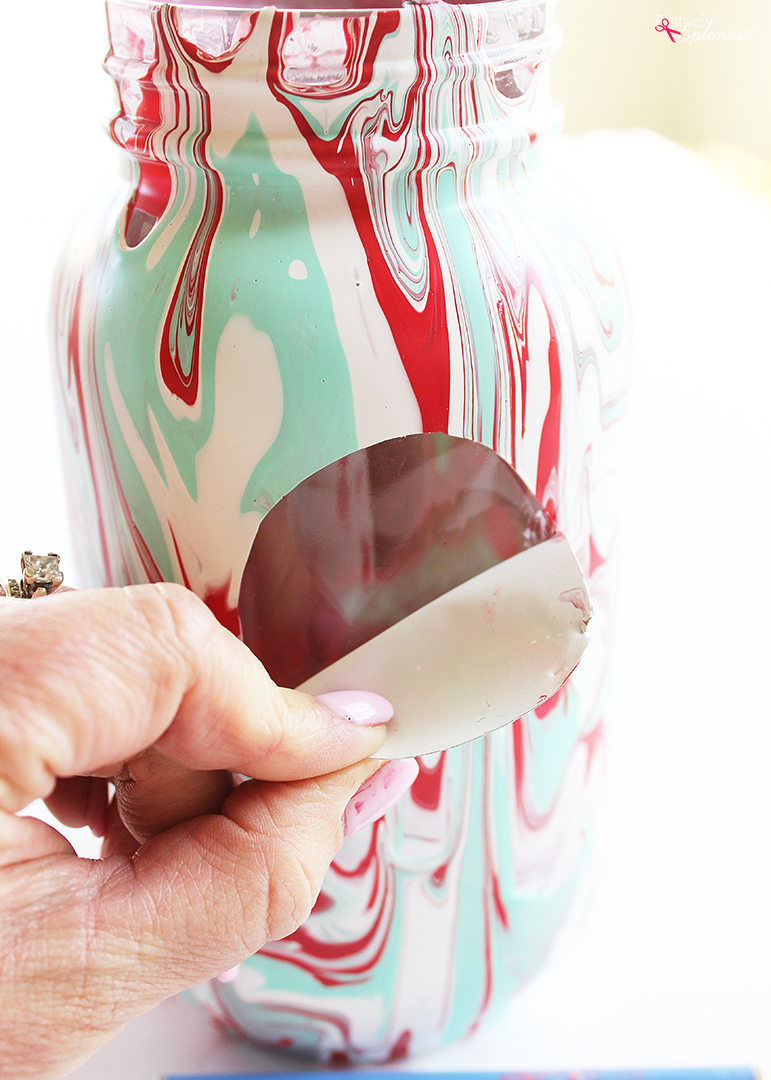 Use the craft knife to trim all the way around the paint on the upper rim of the jar, and then carefully peel the paint away to remove to enable the jar lid to screw on tightly.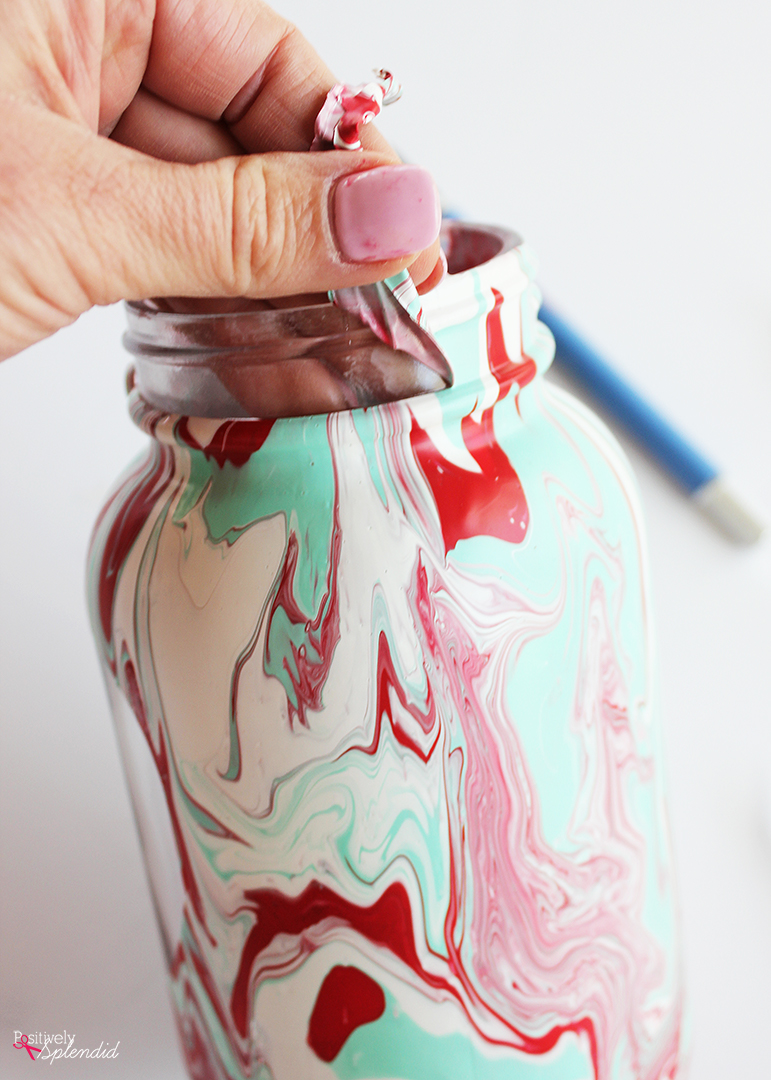 Now, fill your pretty new Valentine's Day mason jar with candy, a yummy cookie mix, or even a tea candle! You're all finished!
The marbled paint on these jars is so beautiful, and it really is easy to do with the marbling medium. I just love it!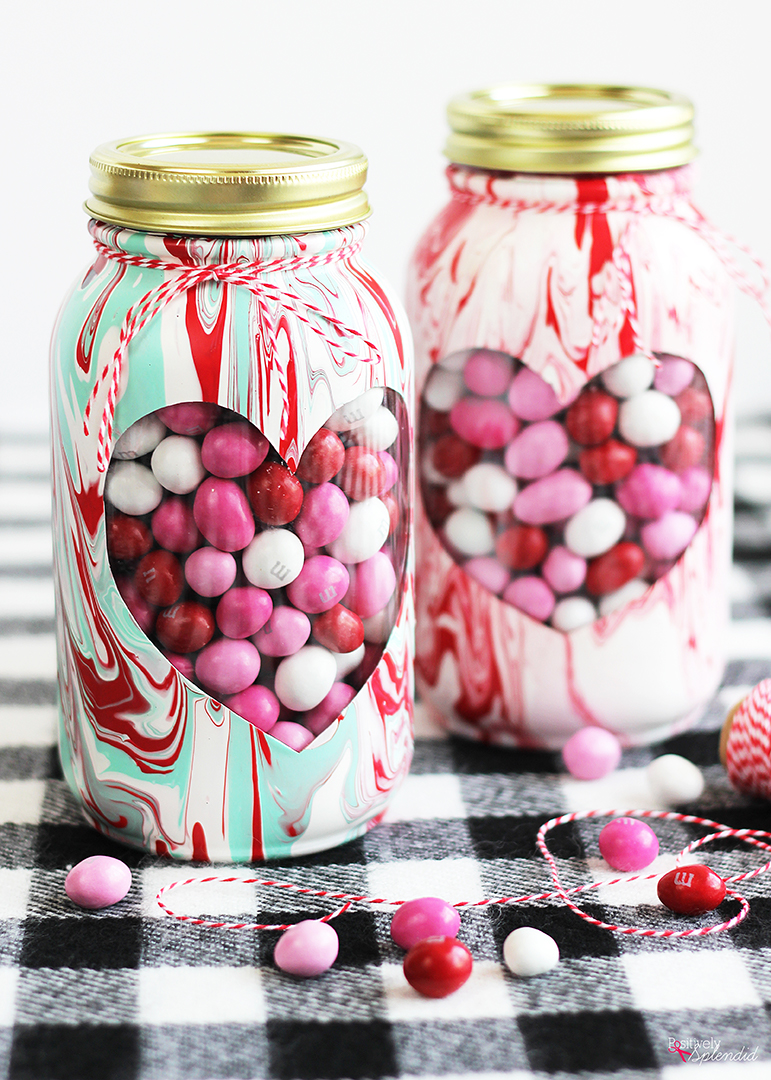 I love the little window that allows you to have a peek at the contents inside the jar, but you can also make these marbled mason jars without the window if you prefer.
Mason jar gifts like these are so great to give to teachers and friends, or really anyone special on your list!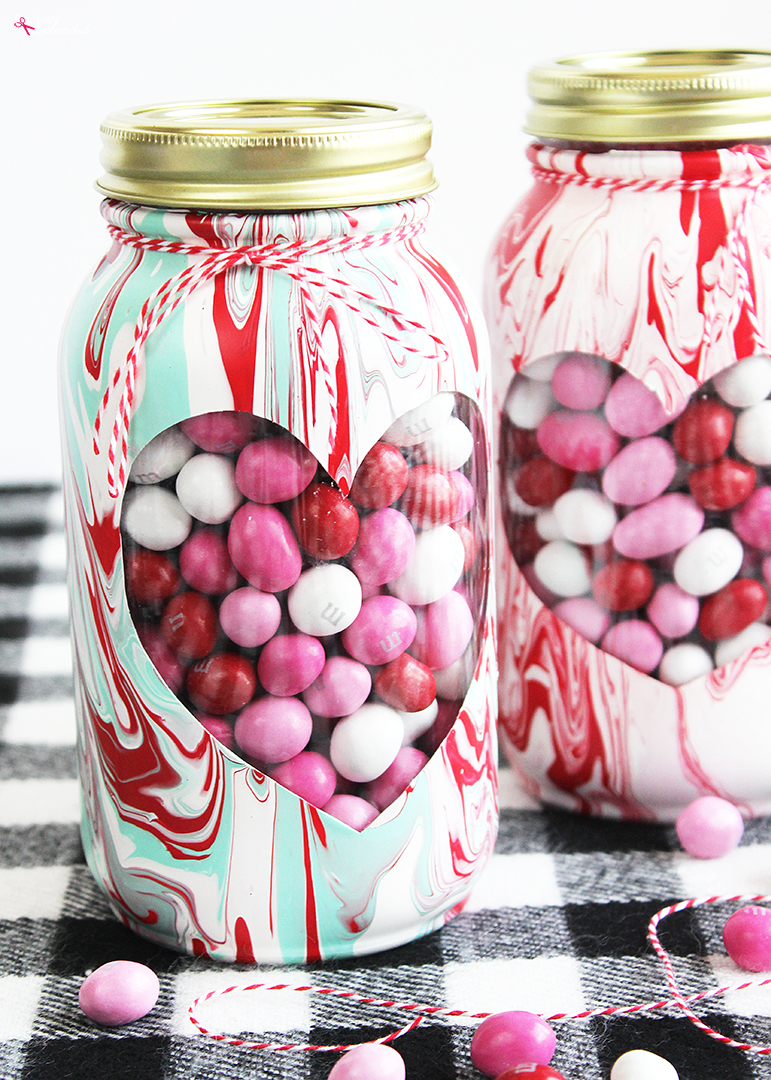 PS–Looking for another fun seasonal mason jar craft project to try out? Be sure to check out my Mason Jar Carrots, too! And if you're still itching to put your mason jars to good use, check out this lineup of 50 great mason jar ideas.
Having grown up in a home brimming with sewing notions and paintbrushes, Amy has a deep love for all things creative. On any given day, you'll find her knee-deep in her latest creative endeavor, with projects ranging from sewing and crafts to home decor and kid-friendly ideas. Amy believes that everyone, regardless of skill level or experience, possesses the ability to create something beautiful, and Positively Splendid was born of her passion for helping others harness their innate creative potential.