We live halfway across the country from both sets of parents, so I really like to keep them connected with our children's progress as much as possible. I love to make meaningful gifts for Mothers' and Fathers' Day when I can, and so I came up with the idea for this Handprint Memory Book for our moms this year. There is nothing sweeter than looking back years down the road at handprints from when children were small, and this sweet little book celebrates that. 
The outside cover reads…
"These are the hands you used to hold…"
…while the pages within the book read…
 "…when I was — years old."
Don't you just love it? This special sentiment coupled with photos of the children and a list of their current favorite activities and objects makes this a project that is sure to be an instant keepsake!
I put my new Epic Letterpress machine to work on this project, using the Blossoms Printing Plates for the bold background on the front and back covers, as well as the accent pages and embellishments within the book. The heavy weight of the Letterpress paper is perfect for making small books like this one! Using other items for my stash, I was able to put this book together in the span of a morning. 
Interested in putting together one of your own? Let's get started!
For this project, you will need…
An Epic Letterpress machine
A2 Letterpress paper, 4.25 x 5.5
Coordinating cardstock and/or patterned paper
An old-school label maker (optional)
Letter stickers
Scrapbooking adhesive roller
Photo corners, ribbon, and other embellishments
Crayola Color Wonder paper and markers
Laminating sheets
(Note: The instructions below are for a book for 3 children.)
step

1

/  Letterpress a pattern onto four of your Letterpress paper sheets, and allow the ink to dry completely. (Alternatively, you can use patterned scrapbooking paper – preferably of a heavy weight – for this purpose.) If desired, use your Letterpress machine to create some small embellishments (I created flowers) to use on the inside of your book.
step

2

/ On one of your letterpressed sheets, embellish as desired with the wording, "These are the hands you used to hold." Refer below to what I did with mine. This is the front cover of your book, and the back side of this page should be left blank for now.  I used my label maker for the majority of the wording, but you could easily handwrite or use your computer for the wording. Use your imagination!
step

3

/ Trim two of your letterpress sheets in half widthwise, so that you are left with a 2.75 x 4.25 rectangle. On three of these rectangles, adhere the wording, "When I was — years old," using each child's respective age. Refer below for how I arranged mine.
step

4

/ Create your child(ren)'s handprints. Looking for a no-mess way to do this? Color the palm of your child's hand with a Color Wonder marker, and then press their hand onto a sheet of Color Wonder paper. This method is so much easier than trying to manage paint! Once the handprints have dried completely, laminate each print with your laminating sheets, trimming away the excess plastic from around the perimeter of each one.
step

5

/ Arrange the pages of your book as you will want them to be in the final version of your project, and embellish your pages.
For my book, the basic layout of the book went like this:
1 letterpressed front cover page
1 letterpressed half page insert
1 blank page
1 letterpressed half page insert
1 blank page
1 letterpressed half page insert
1 letterpressed back cover page
When you open the front cover of your book, you should see a blank left page, followed by an embossed half page insert, followed by a blank right page. On the left page of my book, I placed the child's handprint. On the front (embossed) side of half page insert, I placed the wording with their age, and on the back of the insert, I jotted down a few of the things he or she likes to do at their age right now. Trust me: you will thank yourself later on for writing down these little quirks and habits that you think right now you could never possibly forget. (You will.) On the right page, I placed the child's photo and their name and age. This might sound complicated, but this little book comes together very easily because of how repetitive it is. Each set of facing pages for my three children is laid out identically, making putting everything together a breeze!
step

6

/ Bind your book as you desire, making sure the embossed sides of both of the covers are facing out as you work. I used my Bind-It-All machine, but if you don't have access to something like that, 3 large jump rings fed through punched holes on the side of each page will work just as well. Note: When binding your pages, make sure the lower left corners of the half page inserts are lined up with the lower left corners of the covers and other pages. This keeps everything nice and tidy! If desired, place a Mothers' Day sentiment with the date on the back cover. 
You are finished!
If you have any questions, please don't hesitate to let me know! 
And, if you haven't already, don't forget to head over to get yourself entered to win a Letterpress machine of your very own! The contest ends at 11:59 p.m. tonight!
Giveaway now closed.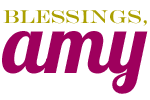 Linking this to…
Somewhat Simple
Skip to My Lou
Having grown up in a home brimming with sewing notions and paintbrushes, Amy has a deep love for all things creative. On any given day, you'll find her knee-deep in her latest creative endeavor, with projects ranging from sewing and crafts to home decor and kid-friendly ideas. Amy believes that everyone, regardless of skill level or experience, possesses the ability to create something beautiful, and Positively Splendid was born of her passion for helping others harness their innate creative potential.