Sweet Tidings!
I'm Jenn ~ the crafter, baker and glitter shaker behind the creative nesting place, Rook No. 17 where I share my original recipes, vintage inspired crafts and cake decorating tips and tutorials. 
I'm delighted to be taking part in decking the halls here at Positively Splendid for the fun, creative, and inspiration filled "A Swell Noel"!
There are two things I often find myself short on during the holidays — time and money.  Because the holiday season brings with it a flurry of parties, get-togethers, and other festive social events, I find it helpful to have a few tricks up my sleeve for putting together last-minute hostess gifts brimming with joyful tidings and good cheer, but easy on the budget.
I'm as happy as a kid on Santa's knee to share with you my quick, easy and budget-friendly tutorial for making two different types of colored sugars to rim the glasses of holiday cocktails!  The best part about this project is that it can be quickly made from items you probably already have in your pantry!
Poinsettia Red
 Cocktail Sugar
Ingredients
Tools & Such
Sieve or sifter (optional)
Cupcake liner, doily, or round of fabric
Ribbon or silver pipecleaner
(I made some for you to download HERE)
Step 1:  Select a jar.  I like to use the 8oz. Crystal Quilted Jelly Jars from Ball.  Measure out sugar by filling jar.  Pour sugar in to a Ziploc bag.  
Step 2:  Smear red gel food coloring on the inside of the bag.  I use four large drops to make this shade of red.
Step 3:  Seal bag and alternate between massaging the sugar and shaking the bag to evenly distribute color.  This will take approx. 4 minutes.  Periodically check the seal on the bag.  
Step 4:  If you'd like, you can pour the colored sugar through a sifter or sieve  and in to a bowl to remove any remaining lumps of color.  Funnel or pour sugar back in to the jar.
Step 5:  Screw the lid on the jar.  Top with a cupcake liner, round of fabric, or a paper doily and tie off with ribbon.  Print label, cut and adhere with a glue stick.
While the poinsettia red sugar is strictly a sweet garnish, the Pink Lemonade sugar is both
SWEET & TART!
Pink Lemonade
 Cocktail Sugar
Ingredients
Citric Acid or "Fruit Fresh"
Citric Acid is inexpensive and can be purchased in some health food stores, large pharmacies, 
and online. If you don't have access to Citric Acid, you can buy a produce preserver like "Fruit Fresh" which is commonly found in the canning section of most grocery stores. 
When using Citric Acid, you'll want a 1 to 3 ratio of citric acid to sugar.
Because it already contains sugar, Fruit Fresh should be used in a 1 to 2 ratio.
Put sugar and sour granules in a Ziploc bag and follow the same instructions for the cocktail sugar above, substituting pink gel food color for the red.
The pink lemonade sugar makes a great hostess gift for summer BBQs too!  Just garnish with some kitchy cocktail stirrers and you're ready to go!
I hope you've enjoyed this sweet and easy holiday craft, and will be inspired
Amy, wishing you and your family the warmest of congratulations on your new addition!
Thank you so much for having me here!
***
Thank you so much, Jenn, for stopping by to share your recipes with us! I cannot wait to try out the poinsettia sugar!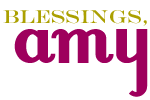 Having grown up in a home brimming with sewing notions and paintbrushes, Amy has a deep love for all things creative. On any given day, you'll find her knee-deep in her latest creative endeavor, with projects ranging from sewing and crafts to home decor and kid-friendly ideas. Amy believes that everyone, regardless of skill level or experience, possesses the ability to create something beautiful, and Positively Splendid was born of her passion for helping others harness their innate creative potential.