Nothing nurtures the body and soul more on a dreary, cold winter's day than a delicious homemade soup recipe. This hearty vegetable soup nourishes the body with an abundance of vitamins and nutrients, and its rich, velvety texture will have you wondering how something this delicious could possibly contain a mere 150 calories per serving!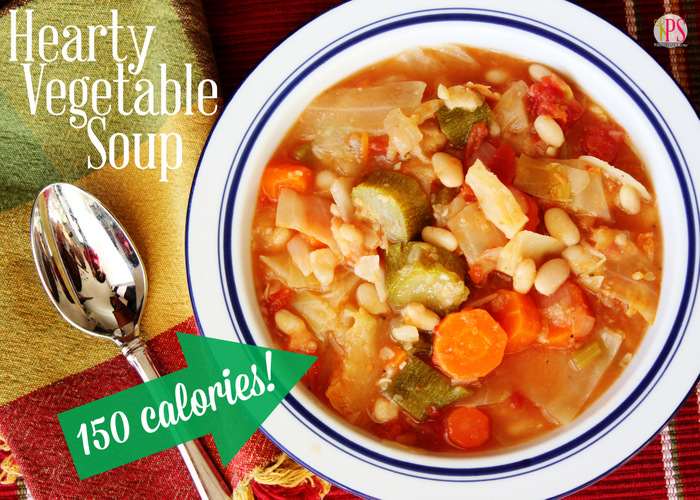 Hearty Vegetable Soup

Print recipe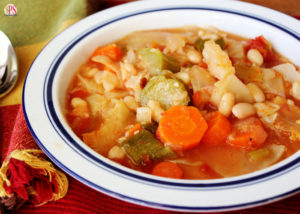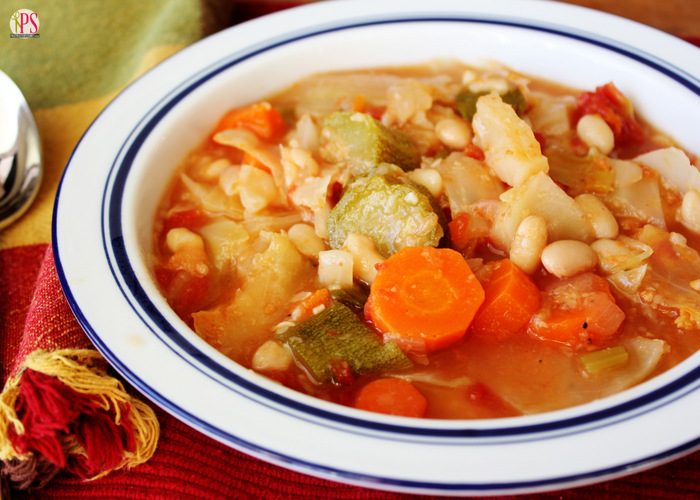 | | |
| --- | --- |
| Serves | 10-12 |
| Prep time | 30 minutes |
| Cook time | 5 hours |
| Total time | 5 hours, 30 minutes |
| Dietary | Vegetarian |
| Meal type | Soup |
| Misc | Freezable |
Ingredients
1lb cannelini (white beans)
2 cloves garlic
1/2 teaspoon ground sage
4 tablespoons olive oil
2 Medium onions (chopped)
6 Medium carrots (chopped)
4 stalks celery (chopped)
1 Small head green cabbage (chopped)
2 Medium zucchini (cut in half lengthwise, sliced into half moons)
1 28-ounce can whole tomatoes (chopped)
4 cups chicken broth
3-4 teaspoons salt
1/2-1 teaspoon pepper
water
Note
You'll hardly believe from the rich, velvety taste of this soup that it contains a mere 150 calories per serving! Serve with a bit of grated parmesan, if desired. Count on plenty of leftovers when preparing this recipe, as it makes a huge amount. I think you'll be pleased to discover that it tastes even better on the second (or third) day!
Directions
Step 1
Place beans in a Dutch oven; cover with cold water by 1 inch. Bring to a rolling boil and cook for 5 minutes. Cover, remove from heat, and let stand for one hour, or until beans are softened. Drain water. Return beans to Dutch oven, and cover with 10 cups cold water. Smash the two cloves of garlic under the side of a knife, and toss them into the water with the beans, along with the 1/2 teaspoon of sage. Season the water with 1/2 teaspoon of salt and a 1/4 teaspoon or so of pepper. Bring to a boil, then reduce heat and simmer for 1 hour, stirring occasionally.
Step 2
While the beans cook, start the rest of the soup. In a very large stock pot, heat the olive oil over medium heat. Place the onions, carrots and celery into the pot; season with a pinch of salt. Saute, stirring often, until the onions are golden and the veggies are softened, about 10 minutes. Add the zucchini and broth, and bring to a simmer over medium-high heat. Stir in the cabbage and the tomatoes and their juices. Cover the pot and simmer gently for 1 hour, stirring occasionally. (Don't be alarmed if it appears there isn't enough liquid in the pot at this point. The vegetables give off quite a bit of liquid as they cook, and you'll be adding the water from the beans to the pot in a later step.)
Step 3
After 1 hour, add the beans and their liquid to the pot with the veggies. Season to taste with additional salt and pepper (I typically add another 1-2 teaspoons of salt and 1/4 teaspoon of pepper at this point). Bring to a very low simmer, and cook, stirring occasionally for another 1-2 hours, until the vegetables and beans are very tender.
This soup pairs beautifully with a crusty loaf of rustic bread or fresh-baked cornbread!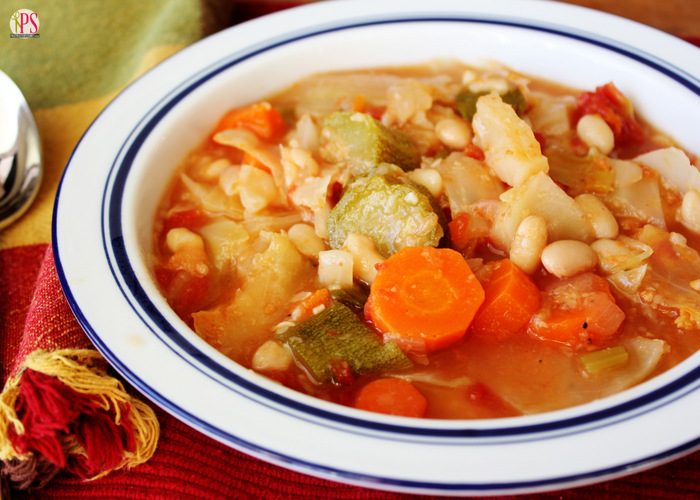 Note: For a totally vegetarian meal option, use vegetable broth in lieu of chicken broth.
Thanks so much for stopping by!
Having grown up in a home brimming with sewing notions and paintbrushes, Amy has a deep love for all things creative. On any given day, you'll find her knee-deep in her latest creative endeavor, with projects ranging from sewing and crafts to home decor and kid-friendly ideas. Amy believes that everyone, regardless of skill level or experience, possesses the ability to create something beautiful, and Positively Splendid was born of her passion for helping others harness their innate creative potential.