Last week, I shared the full reveal of my newly updated kitchen dining area. Without a doubt, the item in the space I heard the most compliments on were my striped drapes, and today I'm going to share with you exactly how I put them together.
This project really is as simple as can be. By purchasing pre-made drapes and then stitching the contrasting stripes on top, you can save a ton of time and effort!
Remember the drapes I made for my son's nursery from earlier this year? These striped drapes were done using almost exactly the same method. Here's how it's done:
Step 1
Take your pre-made drapery panels, and measure their length and width. Write these numbers down. Note: This is also probably printed on the product packaging your drapes come in, but please take the time to measure yourself instead of relying on those dimensions. It is rare that a product ever truly comes out to measure exactly to the dimensions listed on the product label. 
After measuring each of my drapery panels, I noted that they were each 85″ long and 42″ wide.
Step 2
Next, decide how many stripes you want your curtain to have. For a standard-length drapery panel, I found seven to be just the right number. You need to have an odd number, so your drapes will begin and end with stripes of the same color. I recommend beginning and ending with a stripe of the darkest color, which in my case happened to be a black stripe. This will give your curtains a more grounded, balanced look.
Step 3
Divide the length dimension of your drapery panel (the measurement from top to bottom) by your desired number of stripes, and write this number down.
For instance, my panel was 85″ long from top to bottom, and I wanted 7 stripes. Thus:
85″ divided by 7 = 12.14″
Armed with the width measurement from step 1 and the number you calculated in step 3, cut 8 pieces of your contrasting fabric (4 for each curtain) that are .5″ more than each of those.
For instance, my width measurement was 42″ and my number from step 3 was 12.14″. To calculate the length and width of my stripe pieces, I needed to add .5″ to each of those measurements.
42″ + .5″ = 42.5″
and
12.14″ + .5″ = 12.64″ (I rounded this number down to .625 [5/8] for simplicity's sake)
So…
I cut 8 black stripes that were each 42.5″ x 12.625″.
Fold the short edges of your stripe pieces under 1/4″; press. Now, fold under the long edges of the pieces 1/4″ and press again. Set each of the stripe pieces aside for now.
Lay one of your drapery panels face up on a large work surface. (I did this on the floor.) Line the top and side edges of one of your stripe pieces up with the top edge and adjoining side of the drapery panel; pin into place. Edgestitch 1/8″ from the outer edges of this all the way around the outer perimeter of the stripe piece to affix it to the panel. 
Helpful hint: When stitching, be sure your bobbin thread color matches the color of your drapery panel so that the stitching isn't visible from the back of the drapes.
Now, stitch another stripe piece to the bottom edge of the same panel, making sure all of the edges are precisely aligned. You should now have a drapery panel with a stripe along the top and bottom edges.
Using the measurement you calculated in step 3, measure down that distance from the bottom edge of your upper stripe, marking the placement with a washable ink pen. Align the long edge of one of your stripe pieces with these markings. Pin and stitch this stripe as you did the previous stripes in step 6.
Now, measure up from the top edge of the bottom stripe in a similar fashion, marking the placement with your washable pen. Align one of the long edges of one of your stripe pieces with these markings, and pin and stitch this stripe into place.
Refer to the diagram below for how to calculate the stripe placement.
Repeat steps 6 & 7 to complete your remaining drapery panel. 
You are finished!
For a terrific no-sew striped drape variation, visit Sarah over at The Yellow Cape Cod. Hers were actually the inspiration for my own drapes!
Thanks so much for stopping by!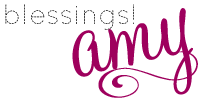 Having grown up in a home brimming with sewing notions and paintbrushes, Amy has a deep love for all things creative. On any given day, you'll find her knee-deep in her latest creative endeavor, with projects ranging from sewing and crafts to home decor and kid-friendly ideas. Amy believes that everyone, regardless of skill level or experience, possesses the ability to create something beautiful, and Positively Splendid was born of her passion for helping others harness their innate creative potential.