F

irst and foremost, let it be known that I am not being paid to endorse HP (if only!). I just cannot help but share this insanely cute commercial with y'all. Every single time this gem comes on television, my kiddos ask me to rewind to watch it over again at least a dozen times. Jack keeps asking why Cecily's seat doesn't do this. 😉
Curious about the song here? It's called Brand New Key by a folk singer called Melanie. I dare you not to be humming it all day long!
**Correction: This song was written by the late great Janis Joplin, but she never recorded it before she died in 1970. The official song title is indeed the Roller Skate Song, although I have seen it listed in a number of different places as Brand New Key as well. Melanie, the artist I mentioned earlier, recorded the song in 1972. (I found this information in the forum on Joplin's official website.)
Thanks so much to to the commenter who let me in on this little piece of Friday afternoon music trivia! 🙂
Smile!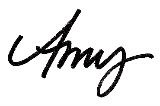 If you enjoyed this post, subscribe to Positively Splendid 
to receive updates, and join us on Facebook and Twitter!





Having grown up in a home brimming with sewing notions and paintbrushes, Amy has a deep love for all things creative. On any given day, you'll find her knee-deep in her latest creative endeavor, with projects ranging from sewing and crafts to home decor and kid-friendly ideas. Amy believes that everyone, regardless of skill level or experience, possesses the ability to create something beautiful, and Positively Splendid was born of her passion for helping others harness their innate creative potential.