Today's post is brought to you by Jo-Ann, who believe in creatively celebrating the season.
With Thanksgiving just around the corner, plan ahead to keep kiddos entertained on the big day with this silly turkey craft. These little guys are oh so cute, and when coupled with my free printables, they can double as darling place cards to add a bit of whimsy to the kids' table this year.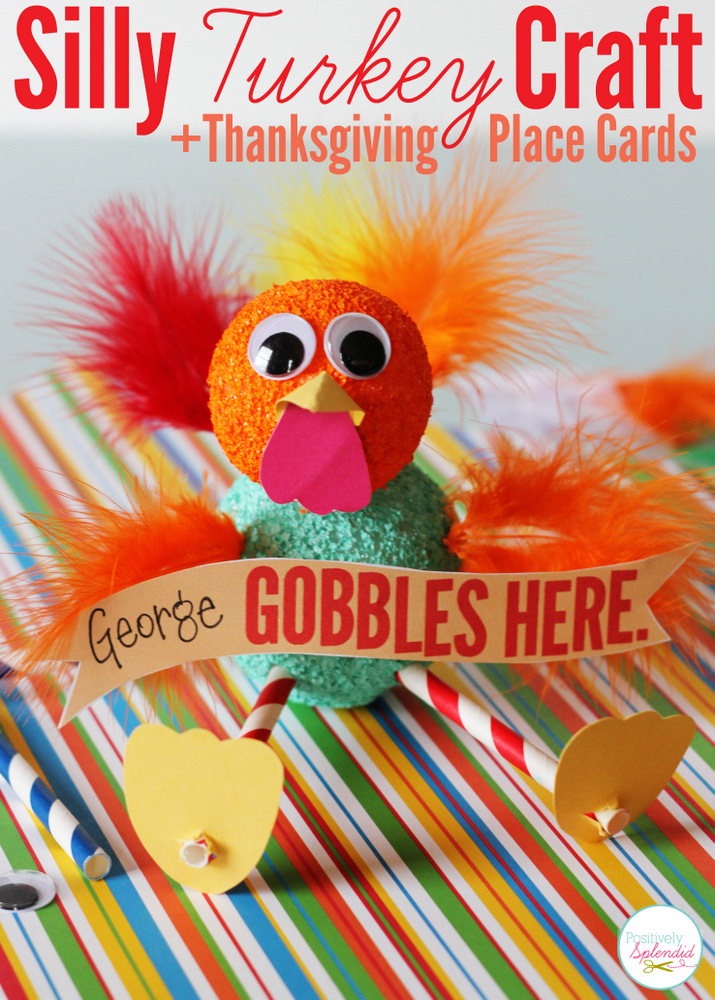 For this project, you will need…
1 2.5″ Styrofoam ball
1 2″ Styrofoam ball
Acrylic paint
Foam brush
Toothpick
1 paper straw
5 craft feathers
2 googly eyes
Yellow cardstock
Red cardstock
Scissors
Craft glue
Foam adhesive dots
Directions:
Using the foam brush, paint the surface of the Styrofoam balls with the acrylic paint. Use a paper towel to blot away any excess paint, and set the balls aside to allow to dry completely. Note: The drying process can take some time, so this might be a good step for adults to complete in advance.
Use the toothpick to attach the small Styrofoam ball to the large ball.
Tuck 3-4 feathers into the top of the back of the larger ball (the turkey's body) to form the tail of the turkey.
Cut the paper straw in half, and poke each half into the front of the turkey's body to form legs. Tuck a feather at either side of the turkey's body to form wings.
Use scissors to cut a triangle from the yellow cardstock for the turkey's beak. Fold the triangle in half, and make a small snip along the bottom edge along the center line. Fold the side edges over so they overlap at the snipped edge and adhere with glue.
Using craft glue, attach the beak and googly eyes to the turkey's face. Use scissors to cut a waddle from the red cardstock, and adhere it below the beak with craft glue.
Cut 2 feet from the yellow cardstock, and make an opening at the bottom of each large enough to slip over the paper straw legs.
If using the turkeys as place cards, print out the file (linked above) onto white cardstock, and cut each one out. Write a child's name on one of the place cards, and affix it to the front of the turkey with a stack of 4-5 foam adhesive dots. (Stacking the dots will give the illusion that the turkey wings are holding the little sign.)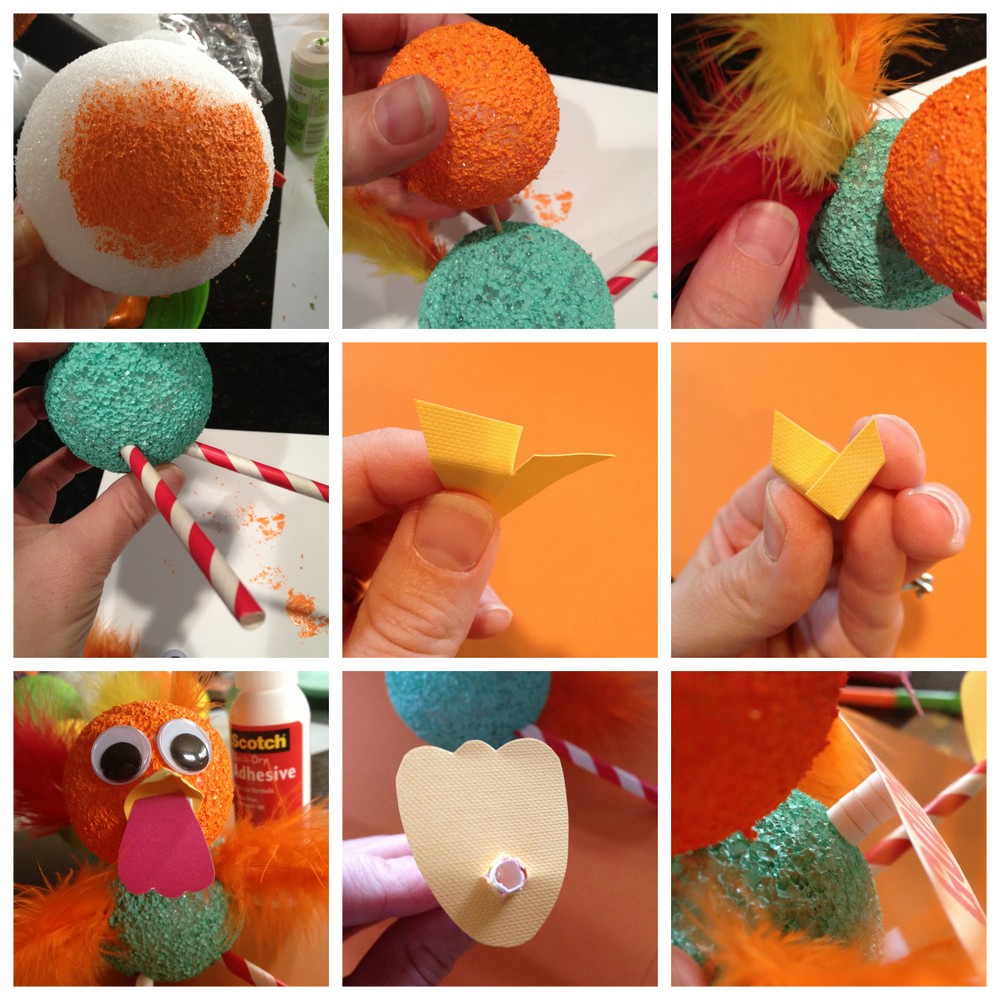 All finished!
Bright, whimsical and fun, these little guys will be a hit at your Thanksgiving gathering this year!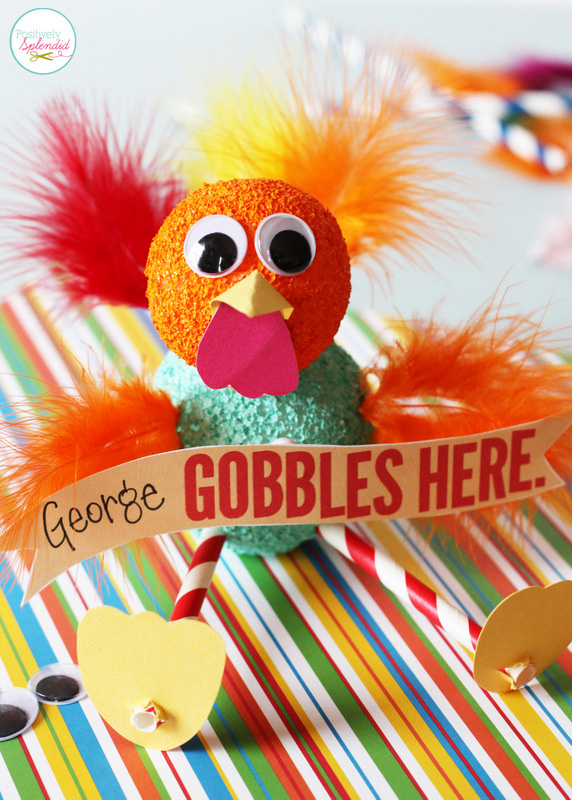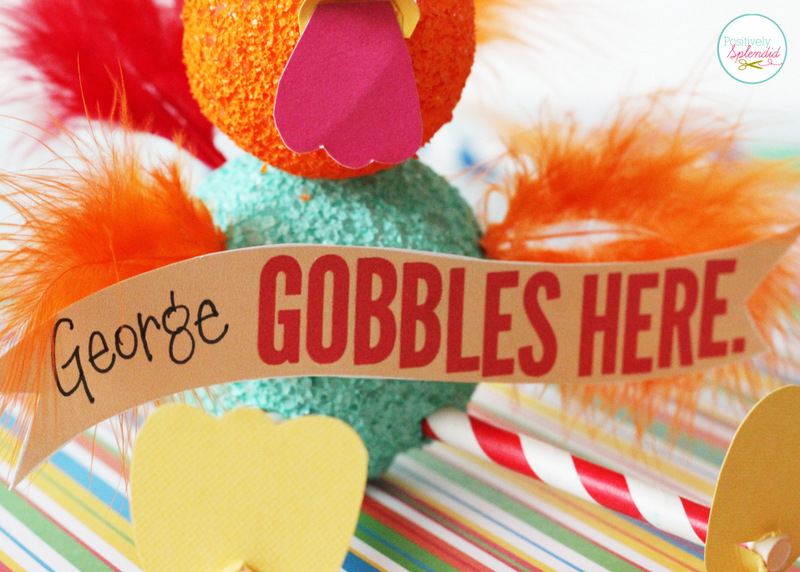 Feeling inspired to do some shopping this weekend? I've got you covered with a great Jo-Ann coupon!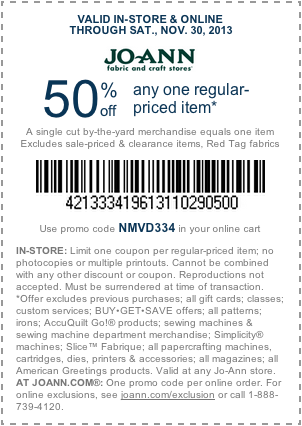 And for another fun kids' Thanksgiving craft, be sure to check out my washi tape turkeys.