Learn how to use Mod Podge Stiffy to make a lace doily bowl. Lace doily bowls are perfect for using as votive holders, jewelry bowls and more, and they are so easy to make!
Lace doilies are so lovely and delicate, and I love to use them in craft projects! This doily bowl craft project turns pretty lace doilies into little vessels perfect for using as votive holders, catch-alls for jewelry and other small items, or even for holding wrapped pieces of candy. You won't believe how super easy it is to make a lace doily bowl of your own with Mod Podge Stiffy, Mod Podge's handy fabric stiffener formula. Let me fill you in on all the details!
I've teamed up with Plaid to bring today's idea to you. All opinions are entirely my own. This post contains affiliate links.
Lace Doily Bowl Supplies
---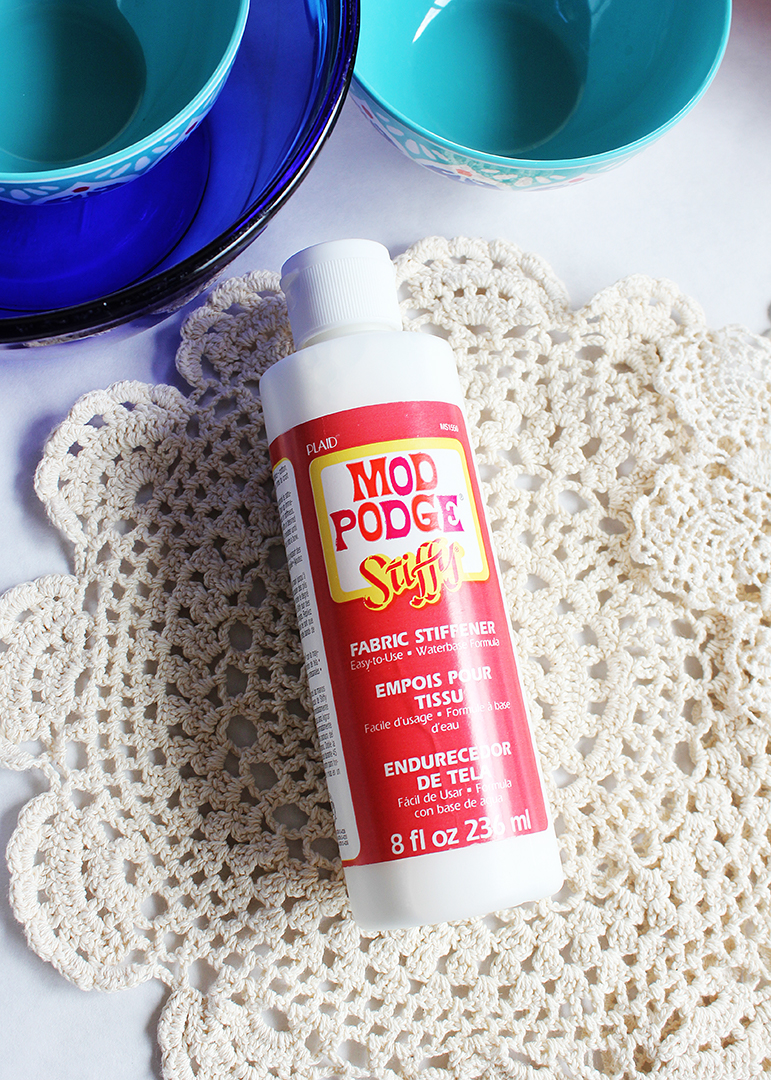 First things first: cover your work surface with a large piece of freezer paper. Although this project is super easy, it can get messy, so prepping your table or desk really is a must!
Wrap the bowl you will use as the form for your doily bowl with aluminum foil. This will protect the bowl's surface from the Mod Podge Stiffy medium, and it will help the finished bowl release from the bowl easily once it's dry. I recommend using a bowl for this that allows the doily to drape over the entire surface of the inverted bowl so that the edges of the doily almost reach the rim of the bowl.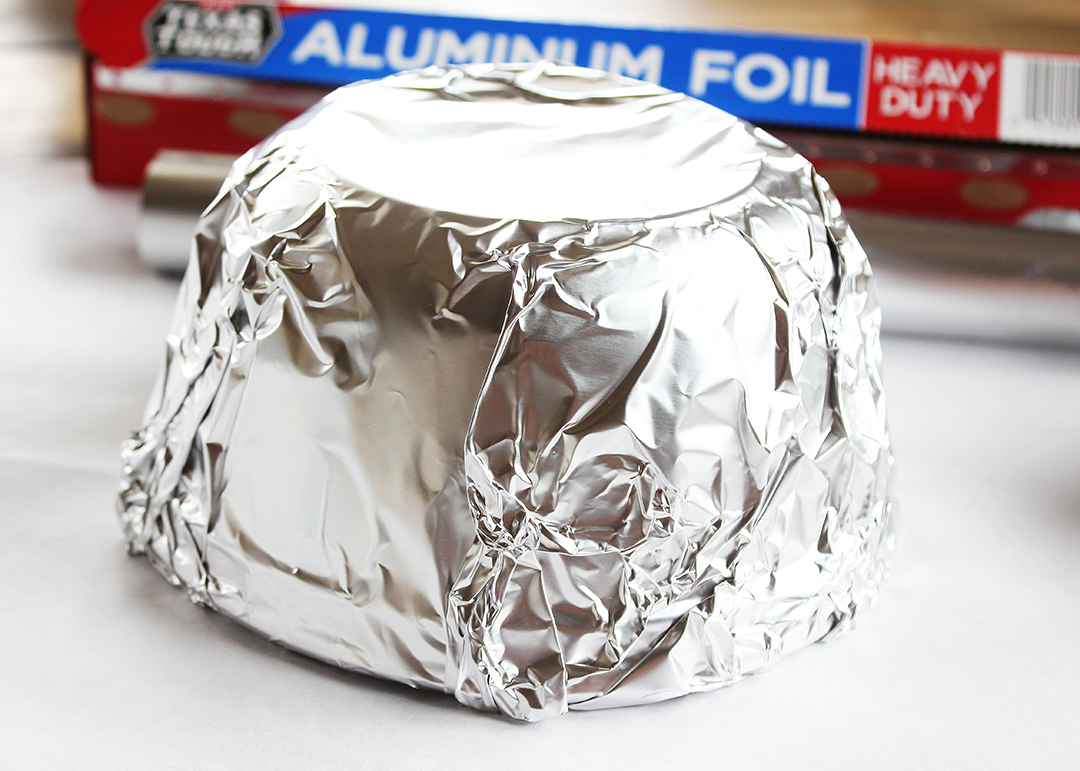 Pour the Mod Podge Stiffy into the remaining bowl, pouring out enough of the medium to completely saturate the doily. (You can pour any unused medium back into the bottle once you're done to prevent waste.)
Mod Podge Stiffy works to stiffen fabric to make it useful for so many unique projects. This Mod Podge formula is the original fabric stiffener, and it is not only great for these doily bowls, but also for making unique fabric bows, flowers, and so much more. I really like the fact that it is water-based, which makes cleanup easy, and there is no mixing required. Straight out of the bottle, it is ready to go!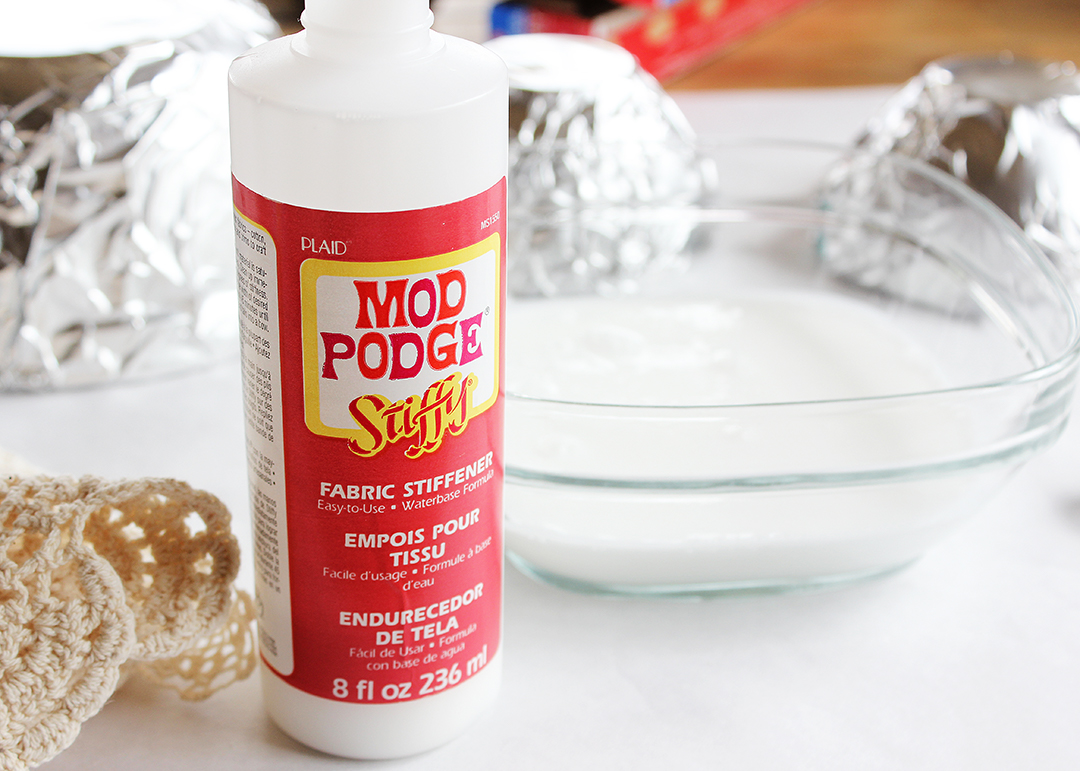 Now is the time to put on your gloves, because the messy fun is about to begin! Dip the doily into the Mod Podge Stiffy, soaking the doily so it is completely saturated in the medium. Use your fingers to gently squeeze out any excess medium back into the bowl.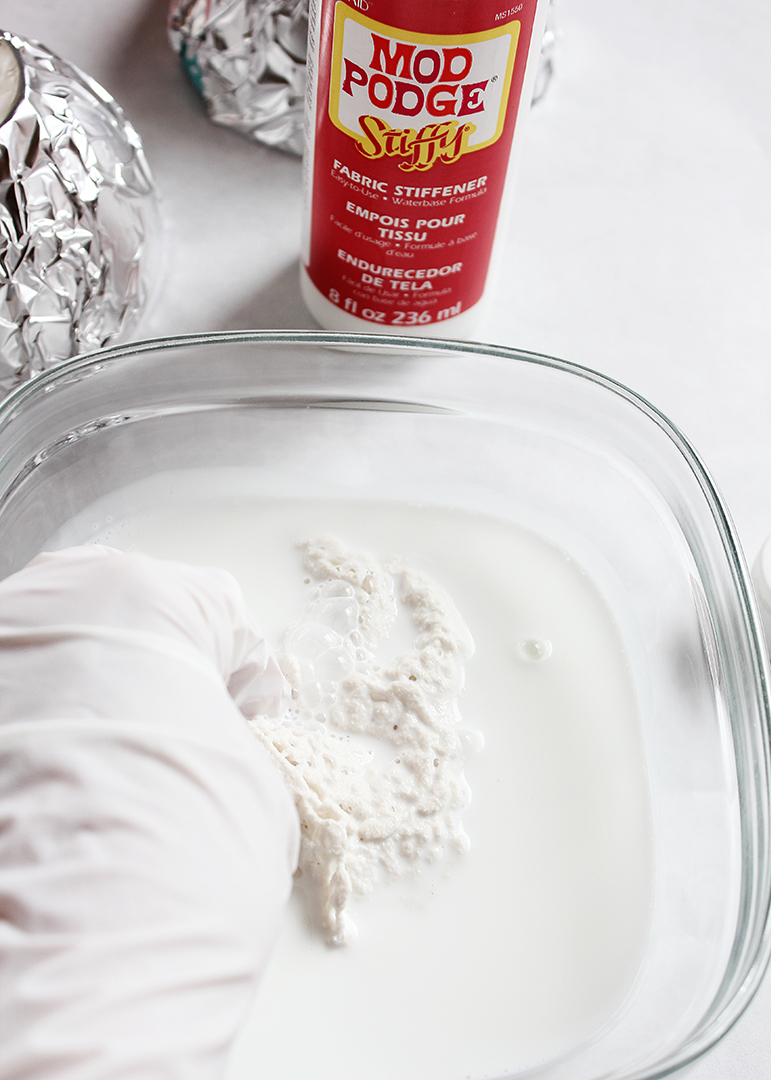 Now, drape the moistened doily over the foil-wrapped bowl, making sure the doily is centered and that all of the edges are smooth without any puckers or folds. Set the bowl aside to dry completely, at least overnight. Smaller doilies will take less time to dry and harden than larger, thicker ones.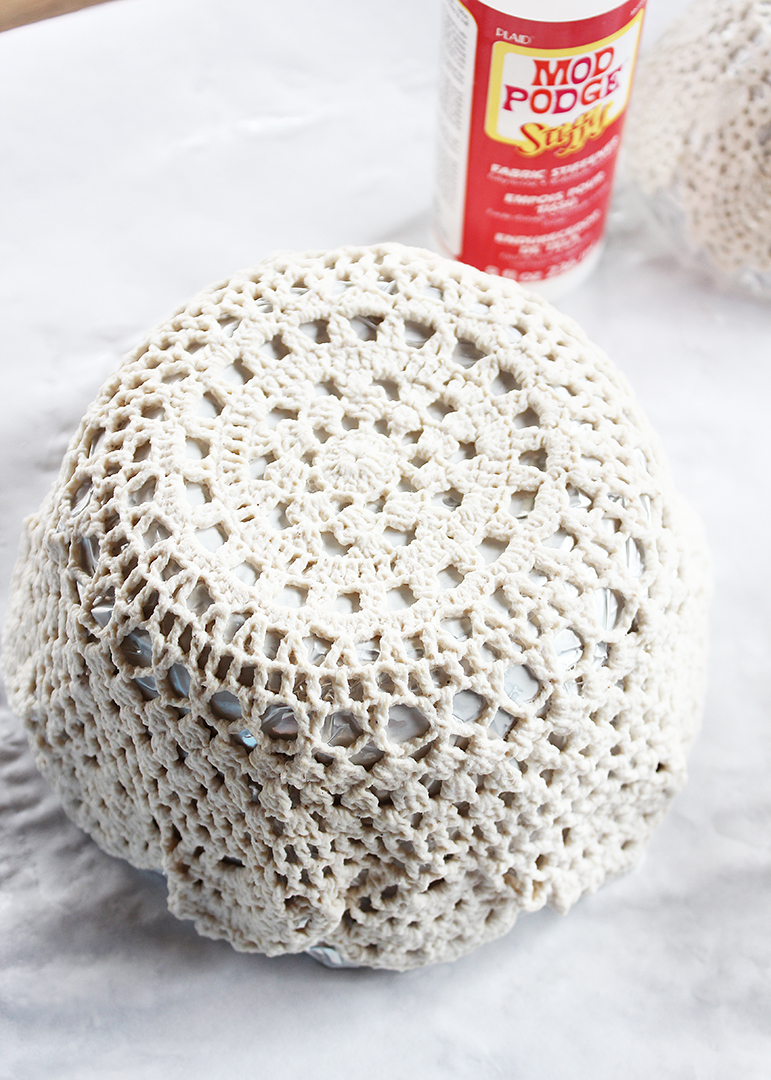 When the drying time is complete, carefully remove the doily from the foil-lined bowl underneath to reveal a pretty lace doily bowl! So pretty!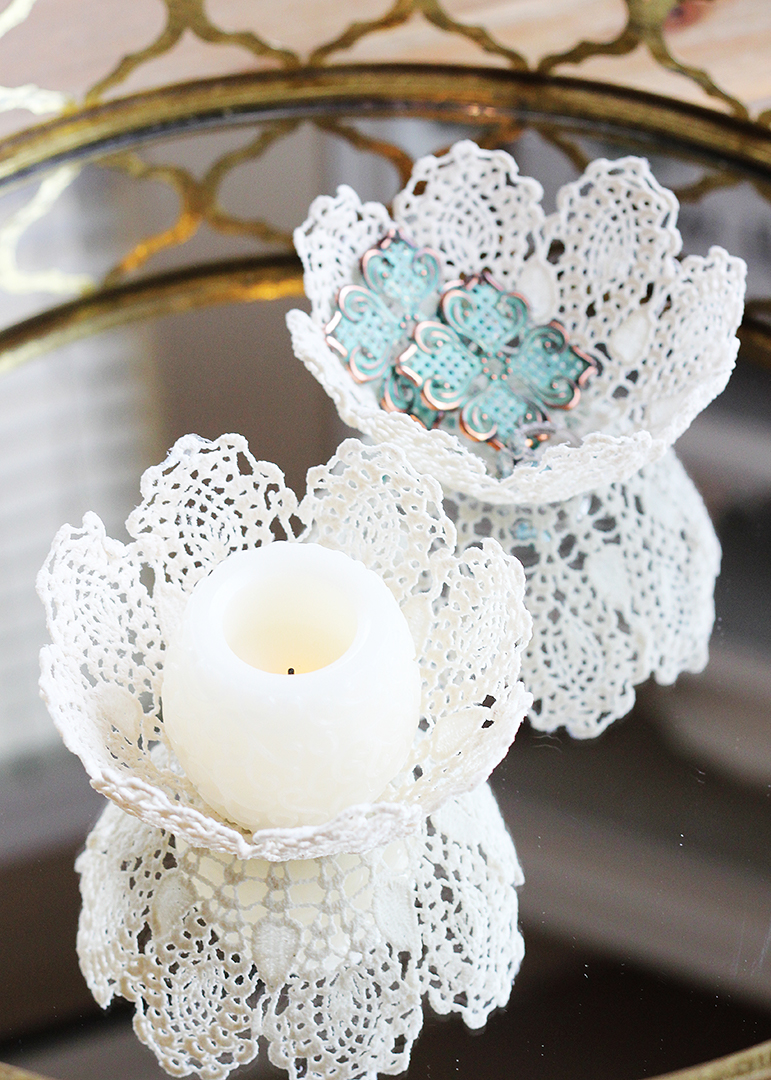 The Mod Podge Stiffy really does an amazing job hardening the doily without leaving a weird film. It honestly looks like the doily is magically standing up by itself. So neat!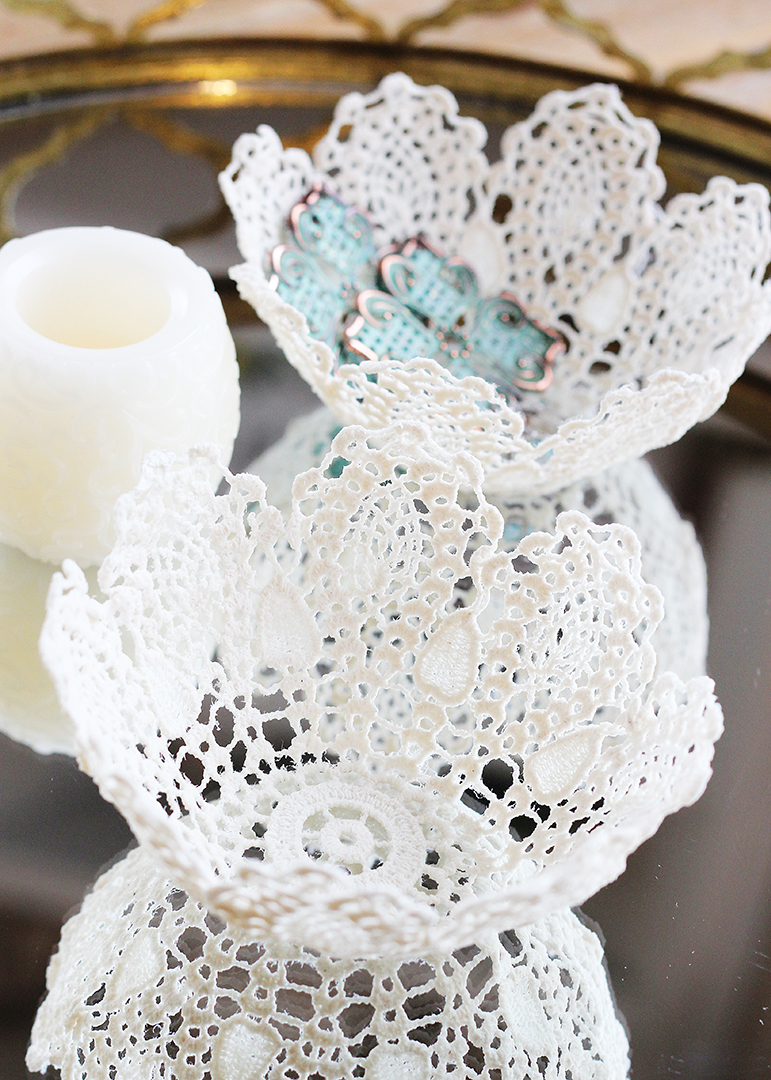 Used as a votive holder, these doily bowls would be so great for a DIY wedding centerpiece idea.
Friday, May 18th is National Mod Podge Day! Yay! We're celebrating all things Mod Podge, and we would love for you to join the fun! Share your favorite Mod Podge creations as a public Instagram feed post with #NationalModPodgeDay throughout the month of May for a chance to win weekly Mod Podge prize packs from Plaid. Check out this post for more info! Plaid will also feature live streams leading up to National Mod Podge Day, so be sure to follow them on social. I'm going to be sharing a LIVE demo of today's project as part of the event, so be sure to tune in at 1 PM Eastern on May 8th!
If you're not familiar with Mod Podge, it's America's Favorite Decoupage Medium™. Over the past 50 years, Mod Podge has expanded from the original Matte and Gloss formulas and is now available in 21 unique finishes in a wide range of sizes, from 2 oz. to classroom size gallons. I used the Mod Podge Stiffy formula today, but my fellow Plaid Creators have used some other fun formulas to create the awesome projects below. I know they would love for y'all to pop over to their blogs for a visit!
Mod Podge Herb Planter from The Cards We Drew
Painted Cat Mugs from Flamingo Toes
DIY Monogram Keychain from Erin Spain
Fabric-Embellished Succulent Planters from Made to Be a Momma
How to Use Mod Podge on Fabric and Furniture from Petticoat Junktion
Personalized Mod Podge Pendants from Amy Latta Creations
Faux Concrete Vase from Cherished Bliss
Having grown up in a home brimming with sewing notions and paintbrushes, Amy has a deep love for all things creative. On any given day, you'll find her knee-deep in her latest creative endeavor, with projects ranging from sewing and crafts to home decor and kid-friendly ideas. Amy believes that everyone, regardless of skill level or experience, possesses the ability to create something beautiful, and Positively Splendid was born of her passion for helping others harness their innate creative potential.