With four young children, I love to come up with fun Halloween decor ideas that strike a balance between spooky and charming. Today's idea, Spiderweb Embroidery Hoop Art, is one that has just the right amount of creepy-crawly cuteness to please everyone in your family! Let me show you how easily I put this together. No sewing required!
For this project, you will need…
1 embroidery hoop (mine measures 9 inches)
White fabric (I recommend a heavier material, such as twill)
Heat-set rhinestones (see notes below for additional lettering options)
Disappearing ink marker
Black lace (about 1/2 yard, depending on the size of your embroidery hoop)
Spray adhesive
Shears
Spider embellishment (I made mine using this beaded spider tutorial)
Ribbon
To begin, cut a square of white fabric that is a few inches larger than your embroidery hoop.
Affix heat-set rhinestones with your chosen sentiment at the center of your fabric piece. I used my Silhouette to simplify this step by using some of their rhinestone designs (the letters e and k, and a flourish), but if you don't have a machine like that at your disposal, don't be discouraged! There are plenty of ready-made adhesive rhinestone decals in Halloween motifs available this time of year, or hand-embroidered lettering or iron-on letter decals would work great, too. You could even hand-write your message with a Sharpie or fabric marker.
Next, trace around the middle ring of your embroidery hoop with your disappearing ink marker. (This will help you with the placement of the lace in the next step.) Set the embroidery hoop pieces aside for now.
Arrange your lace on top of your fabric piece as desired. When you are satisfied with the placement, affix the lace to the fabric by lightly spritzing the lace with spray adhesive. Set this piece aside for now.
Now, gussy up your embroidery hoop by wrapping the outer ring with ribbon, securing it with hot glue as you  work.
Slip the fabric piece into your embroidery hoop, lining up the inner ring with the circle you traced before. Make sure to pull everything nice and taut!
Trim away the excess fabric, leaving about 1/2″ of fabric all the way around the hoop.
Wrap the excess fabric around the hoop and affix it to the inside edge with hot glue. Carefully trim away any lace that extends beyond the edge of your hoop.
Use hot glue to affix your spider embellishment to your project…
…and then finish everything off with a peppy bow!
I love how the lace imparts a vintage feel to this project, and it really does mimic the look of a spiderweb, don't you think?
I hope your week is off to a great start!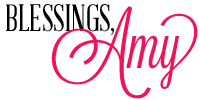 Linking this to…
Skip to My Lou
Serenity Now
Home Stories A to Z
Tidy Mom
Tatertots and Jello
Flamingo Toes
A Glimpse Inside
If You Liked This, You Might Also Be Interested In: