Last week, I received an envelope in the mail (the tangible, 3D mail!) that was such a precious surprise: a hand-written note from my grandpa, whom I call Pop, with a folded card tucked inside from what seems like a lifetime ago.
At first glance, this card might seem to most to be something of little consequence: Five brightly colored balloons drawn in colored pencil alongside letter stickers with wishes for a happy birthday, displayed on folded ream paper from my family's old dot matrix printer. (Remember having to tear off all of those perforated edges?) Inside the card, a hand-written note, in the somewhat haphazard penmanship of my elementary school days:
We love you!
Best wishes for your birthday!
How old are you again?
My attempt at sarcasm at the tender age of 9. 😉
Love ya!
Amy
As I sat staring at the little card the other day, I have to admit that I felt tears streaming down my face. Not out of sadness, mind you, but out of the profoundness of something that touched me to my core and struck me as immensely meaningful:
After twenty-some-odd years, my grandpa had kept that little note, tucked away as a memento of a time gone by.
I can picture him happening upon it every now and then throughout the passing years, the way his eyes would shine and a sparkle of a smile would spread over his face as he held a tangible connection to the the little girl who used to bound through his door, bow-head bobbing, ready for another adventure at Pop and Mammo's house. He would probably examine the handwriting, wondering how it could be possible that the little girl who had penned that note could now be raising children of her own.
Friends, I want to tell you something today, something very, very important: 
The things we make matter. 
Sure, not every one of our creative endeavors will stand the test of time. But be assured that there are some things we make – even things as seemingly insignificant as a handmade card – that will be kept, that will be cherished. 
No matter your medium – be it paper or fabric, wood or canvas, paint or ink – be proud that your craft, your talent, is something that will leave a legacy. Something that will make a mark.
Thank you, Pop, for teaching me yet another valuable lesson!
Pop and me, ca. 1983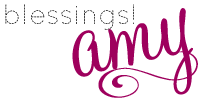 Having grown up in a home brimming with sewing notions and paintbrushes, Amy has a deep love for all things creative. On any given day, you'll find her knee-deep in her latest creative endeavor, with projects ranging from sewing and crafts to home decor and kid-friendly ideas. Amy believes that everyone, regardless of skill level or experience, possesses the ability to create something beautiful, and Positively Splendid was born of her passion for helping others harness their innate creative potential.