In one of my recent trips to Bed, Bath and Beyond, I stumbled upon some fun scalloped mini tart pans in various sizes that I absolutely had to have. I'll admit it: I had no idea what I would do with them, but they were too cute to pass up. Fast forward a week or two, when I was thumbing through my June issue of Southern Living. Lo and behold: a recipe requiring none other than my mini tart pans!
These Lemon-Mascarpone Mini Tarts are a snap to prepare, and they are a fresh take on one of my summer favorites, key lime pie. I made a few modifications to the original recipe based on what I had on hand, but overall, this is one of the best recipes from Southern Living I have tested in a long while. Cool and refreshing, these are the perfect way to cool off on a steamy summer afternoon. And best of all, preparing them in the mini tart pans makes them perfect for entertaining, as each guest can enjoy his or her very own hand-held dessert!
Lemon-Mascarpone Mini Tarts with Summer Berries
2 2/3 cups graham cracker crumbs
1/3 cup butter, melted
1/4 cup powdered sugar
1/2 teaspoon almond extract 
1/4 teaspoon salt
1 (14-oz.) can sweetened condensed milk
2 teaspoons lemon zest
1/2 cup fresh lemon juice
6 egg yolks
1 (8-ounce) container mascarpone cheese (a type of Italian cream cheese)
Preheat oven to 350°. 
Stir together first 5 ingredients; firmly press crumb mixture on bottom and up sides of 6 (3 3/4-inch) round tart pans, so that your crust is a scant 1/4″ thick and evenly distributed. Place tart pans on a baking sheet, and bake 10 to 12 minutes or until lightly browned. Cool completely. (Note: If using tart pans of varying sizes, prepare the crust as specified above, but reduce the baking time slightly for smaller pans to avoid overbrowning.)
In the bowl of a stand mixer fitted with a whisk attachment, whisk together sweetened condensed milk and next 3 ingredients until well blended; whisk in mascarpone cheese just until blended. There may be some small clumps of the cheese remaining after you are done whisking. Don't worry: these will become incorporated once the tarts are cooked. Spoon mixture into prepared tart shells, filling each nearly to the top.
For the 3 3/4-inch pans, bake for 12-14 minutes or until almost set. The centers of your tarts will not be completely firm when they are done cooking, which is okay. The chilling step will remedy that. (If using smaller pans, as well, reduce the cooking time by 3-4 minutes to avoid overbaking.)
Cool tarts completely on wire rack. Cover with plastic wrap and chill 4 hours.
Serve tarts with your favorite fresh summer berries.
The ease of serving these gems would make them a perfect option for any of the July 4th gatherings you have planned this week!
 Whip up a batch, and then set up a station with various goodies so guests can outfit them with their favorite red, white and blue toppings: raspberries, strawberries, blueberries, and blackberries, along with sour cream and whipped cream.
Enjoy!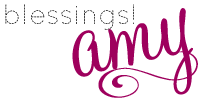 Having grown up in a home brimming with sewing notions and paintbrushes, Amy has a deep love for all things creative. On any given day, you'll find her knee-deep in her latest creative endeavor, with projects ranging from sewing and crafts to home decor and kid-friendly ideas. Amy believes that everyone, regardless of skill level or experience, possesses the ability to create something beautiful, and Positively Splendid was born of her passion for helping others harness their innate creative potential.