Today I'll be referring back frequently to my post from yesterday about some basic color theory, so I hope you'll head over to check out that information, as well!
Whether you are wanting to make some handmade greetings to send out to friends and loved ones this Sunday for the National Day of Encouragement (see this post for the full details on what the day is all about), or if you are simply wanting to avoid the exorbitant cost of greeting cards at the supermarket (nearly $5 a pop for most cards these days!), making your own cards for all of the occasions that fill your calendar is really a snap to do. This afternoon, I'm going to share with you a bit about the "system" I use to create large batches of cards all at once, thus replenishing my stash and helping me avoid those last-minute runs to Kroger when I realize I don't have a birthday card on hand.
#1 – Make a list, and check it twice.
Determine how many birthdays, anniversaries, etc., you have coming up, and use this list to figure the number of cards you need to make in one sitting. Doing this every 3 to 4 months will help you to avoid being inundated all at once with a vast number of cards to make.
#2 – Create a "kit" to work with.
There is nothing better than a stash of paper crafting supplies clamoring to be put to good use. Before I sit down to make my cards, I always pair coordinating papers and embellishments that I have on hand so that I know I have just the right supplies at my fingertips once I get to work.
As I was sorting through my paper supplies yesterday, I tried to keep in mind the color principles I posted about here while I was grouping and coordinating my papers. As you can see, I created a number of different kits in this fashion.
#3 – Use pre-made, pre-folded cards as your base.
When making sets of cards, having the actual card itself ready to go makes things so much simpler. I buy blank cards from Hobby Lobby (always at 40% off) for this purpose. They recently added blank Kraft cards to their inventory, which I used here. Love them!
#3 – Use a sketch for inspiration.
This is, by far, the most important key to streamlining the card-making process. A sketch is essentially a road map for how to put your card together, from the layering of the papers to the placement of the embellishments. This cuts down on needless time spent trying to design as you go, and it ensures the finished product will look balanced and well constructed. There are too many sketch websites available to count, but my personal favorite is definitely PageMaps (or, in this case, CardMaps). Becky Fleck never fails to come up with fresh sketches every month to really get your creative juices flowing!
I used two of Becky's sketches to help me as I made my cards yesterday. Below, you can see the sketch itself, and the card I made based on it. See how sometimes I stuck very closely with the overall layout of the sketch, but sometimes I chose to change things up a bit? There is no "right" or "wrong" way to use a sketch!
#4 – Do things is assembly line fashion.
When you have selected your kit and your sketch, it's time to get started cutting out the papers you'll use on your cards. For each respective sketch, I usually make a set of four essentially identical cards. This allows me to cut out four sets of identical pieces and use an assembly line setup to place them on each of my cards. What a time saver! Once the foundational pieces are adhered to my card, I add my greetings (either with stickers, as I've done on all of the cards here, or stamps) and my embellishments (flowers, chipboard pieces, ribbon, etc.)
Here are a few of my favorites from the sets I put together yesterday…
The last four months are, by far, the busiest for our family in terms of birthdays and anniversaries. When I counted it up yesterday, I had about 15 cards to make! But by using the process I outlined above, I was able to make enough cards for all of those events, plus those I will be sending out for the National Day of Encouragment, over the span of about 2-3 hours. Considering that store-bought cards for those same events would have set me back close to $70, I think that was an afternoon well spent!
Not to mention, I think any handmade card puts Hallmark to shame. 😉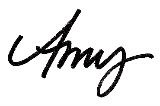 If you enjoyed this post, subscribe to Positively Splendid 
to receive updates, and join us on Facebook and Twitter!





Having grown up in a home brimming with sewing notions and paintbrushes, Amy has a deep love for all things creative. On any given day, you'll find her knee-deep in her latest creative endeavor, with projects ranging from sewing and crafts to home decor and kid-friendly ideas. Amy believes that everyone, regardless of skill level or experience, possesses the ability to create something beautiful, and Positively Splendid was born of her passion for helping others harness their innate creative potential.