Home manicures and pedicures are so much more relaxing and fun when necessary supplies are all nicely organized in one convenient place! This sweet little portable manicure and pedicure kit is outfitted with 4 polish-sized pockets on either side, as well as two medium-sized pockets for cuticle oil, polish remover/pads, and other necessities. Another large pocket is the perfect size to accommodate a coordinating vinyl-covered pad to keep my surfaces clean as you work. Two elastic loops at the center keep my emery board and nail clippers easily accessible, and with a snap closure, the bag fastens securely to ensure supplies stay put. And, when you're ready to polish your nails next time, the carrying handles will allow for easy toting to any location! These kits make unique, fun gifts, and they are surprisingly easy to make.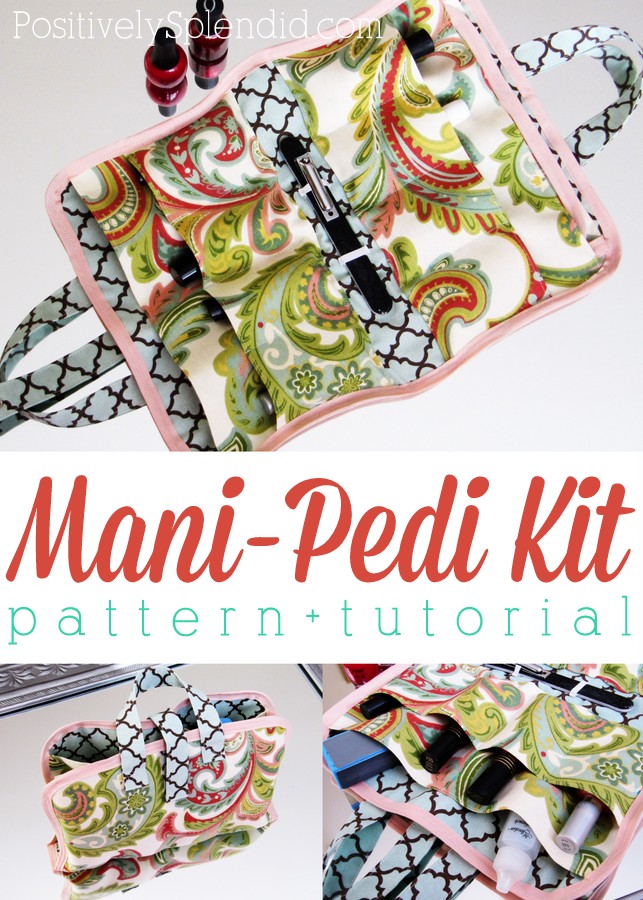 All set to put together one of these for yourself? Let's get started!
For this project, you will need…
Various coordinating fabrics, cut to the following dimensions:
Main outer piece (cut 1): 12 x 16″
Inside lining piece (cut 1): 12 x 16″
Lining pocket pieces (cut 2): 12 x 20″
Protective mat piece (cut 1): 13 x 10″
Straps (cut 2): 4 x 13″
Short fastener piece (cut 1): 4 x 3.25″
Long fastener piece (cut 1): 4 x 8″
Fusible fleece, cut to 12 x 16″
Fusible vinyl, cut to 13 x 10″
Rotary cutter and mat (optional, but recommended)
1 package extra-wide double-fold bias tape
Washable ink marker
Coordinating thread
Wash-Away Wonder Tape (optional, but recommended)
Size 16 snaps and snap setting tool
Jeans sewing needle
1/4-inch elastic
Basic sewing supplies: machine, shears, etc.
A note before you begin: It is up to personal preference, but I like the finished look of this bag when you round the corners of your outer and lining pieces and the protective mat. In order to do this, cut your fabric to the dimensions specified above. Take a round object (a roll of ribbon works well), and, using your rotary cutting mat, line it up at each corner so that the curve ends are 1 inch down from each edge, as shown. Trace off this curve, and trim the excess away. All set!
step 1/ Take one of your lining pocket pieces. Fold one of the short edges up 4 inches and press. Fold the opposite short edge up 6 inches so its raw edge lines up with the raw edge of the other side; press. Fold the piece along the seam where the raw edges meet so that you have two layers: one narrow front flap on the front, and one wider flap on the back, as shown. Press this fold. Repeat with the other lining pocket piece.


step 2 / Measure in 6 inches from one of the outer edges of the narrow front flap of one of your pocket pieces, and make a mark with your washable ink marker. Make an additional mark 2.75 inches on either side of this center mark, so that you have a total of 3 marks. Draw a line from the top to the bottom of your narrow front flap straight through each of these marks, so that your front flap is divided into 4 sections. (The outer sections will be a bit wider than the middle ones to account for the width of your bias tape later on.) Open up your pocket piece, and edge stitch 1/8 inch from the top (folded) edge of your narrow front flap. Refold your pocket piece, and then sew along each of the dividing lines you marked previously to create the pockets that will hold your bottles of polish. Repeat with the other pocket piece.
step 3 / Edge stitch along the top (folded) edge of your wide back flap. Place your inside lining piece face up on your work surface, and place one of your completed pocket pieces face up 1 inch from the short edge of the lining piece, lining up all of the outer raw edges. Pin into place. Edge stitch along the lower edge of your pocket piece to secure it to your lining piece. Working from the pocket bottom to the top, baste the raw sider edges to your lining piece, so that no pins are needed in the binding step later. Working on the opposite end of your lining piece, repeat with your other pocket piece.
step 4 / Working with a strap piece, fold each of the short ends down 1/4 inch and press. Fold the entire piece in half lengthwise and press. Open up your piece, and fold one of your raw edges up so that its raw edge meets the long center line you just pressed; press this crease. Fold the opposite edge in the same manner, and press that as well. Now, refold along center crease to form a 1-inch strip. Edge stitch around the 4 sides of this strip. Repeat with your other strap piece.
step 5 / Use your washable ink marker to mark the center of the short ends of your main outer piece. Measure 2.5 inches to either side of these center marks, and make 2 marks. Form a loop with one of your strap pieces and pin it to one end of your main front piece so that the outer edges of your straps are lined up with the marks you just made. Your strap ends should extend 1.5 inches from the raw edge of your main outer piece. Pin your strap into place, and then stitch both ends to you main outer piece using a small rectangle with an x at the center, as shown. (Make sure to the top of your stitched rectangle falls no closer than 3/4 inches from the raw edge of your main outer piece, so that you don't have issues during the binding step later on.) Repeat with you other strap piece on the opposite short edge of your main outer piece.
step 6 / Press your long fastener piece as you did your strap pieces in step 4, but leave the outer edges unstitched. For the short fastener piece, prepare as you did in step 4, except leave one of the short raw edges unfolded. Leave the outer edges of this short fastener piece unstitched, as well. Use your snap setting tool to set the prong snap piece through all layers of your short fastener piece 1/2 inch from the folded edge, and set it aside. Working with you long fastener piece, unfold the piece, and make a mark 1/2 inch up from one end on one side, as shown. With your strap still unfolded, use your snap setting tool to set the prong portion of your snap over this mark, so that the ring portion of your snap will be concealed in the center of your strap when you refold it later on and your socket will fall on the outside.
step 7 / Center your completed short piece between the strap on the side you wish to be the front of your bag, lining up the raw edges; pin into place. Stitch around the perimeter of this piece to secure it into place. Center your long piece between the other strap in the same manner, extending the end without the snap 3 inches down from the raw edge, as shown. Stitch a large rectangle to secure this piece to your main front piece, making sure the top edge of your rectangle is no closer than 3/4 inch from the top raw edge.
step
8
/ Iron your fusible fleece to the wrong side of your main front piece. Place your main front piece fabric side down on your work surface, and place your complete lining/pocket piece on top of it, lining up the raw outer edges, so the fleece is sandwiched between the two layers. Pin into place. Now, pin your bias tape around the raw edges of your stacked pieces, so that all layers are encased in the binding. (Or, as it my preference, you can use Wash-Away Wonder Tape to secure it so you don't have to worry about all of those pins.) With your machine outfitted with a jeans needle (important – there are lots of layers here!), carefully stitch your bias tape into place. If desired, stitch two small loops of elastic (mine were approximately 1.25 inches wide) to the center portion of the inside of your bag, as shown.
step
9
/ Iron your fusible vinyl to the front of your protective mat piece according to the vinyl's package instructions. Secure bias tape around the outer perimeter of this piece, and stitch into place.
Need help with snap setting? Check out this post here where I explained the in's and out's of the snap setting tool I use.
I can see this bag as also being a great way to tote around toiletries during overnight trips, or possibly even a place to stow away sewing or crafting supplies. The sky really is the limit here!
Having grown up in a home brimming with sewing notions and paintbrushes, Amy has a deep love for all things creative. On any given day, you'll find her knee-deep in her latest creative endeavor, with projects ranging from sewing and crafts to home decor and kid-friendly ideas. Amy believes that everyone, regardless of skill level or experience, possesses the ability to create something beautiful, and Positively Splendid was born of her passion for helping others harness their innate creative potential.