For a full description of this project and the first installment of this series,
click here.
Amy's Lasagne


Don't be intimidated by the number ingredients here, or by the number of steps. The payoff, friends, is so worth it: I cannot even begin to adequately convey how utterly delicious the finished result is! Also, when you consider that each batch will generously feed a family of two adults and two children for at least two nights, the initial time investment really isn't all that excessive. I always prepare a double batch of my Marinara Sauce when we have spaghetti so that I can freeze half to thaw out the day I plan to make a pan of this lasagne, which is a huge time-saver! 
1 pound lasagne sheets, cooked al dente
1/2 pound lean ground beef
1/2 pound Italian sausage
1 pound ricotta cheese
2 large eggs
1 (10-ounce) package frozen chopped spinach, thawed
5 tablespoons unsalted butter, plus 2 tablespoons for the lasagne
1/2 cup all-purpose flour
4 cups whole milk at room temperature
Pinch freshly grated nutmeg
1 1/2 cups tomato sauce (I use my Marinara Sauce, but jarred sauce is fine, too)
Salt and pepper
4 cups shredded mozzarella
1/4 cup freshly grated Parmesan
Cover with foil (use the same foil on which you cooled your pasta sheets), and bake at 375˚ for 30 minutes. Remove foil and bake an additional 15-20 minutes, or until top is browned and lasagne is bubbly around the edges. Allow to rest for 15 minutes before serving.
This recipe entered our lives long before Matt's forays into the kitchen became the regular occurrence they are today. I was in the throes of my first trimester with our first pregnancy, and cooking was absolutely, positively the very last thing on my mind. Matt found the original recipe (one by Giada DeLaurentiis), bought all of the groceries on his way home from work, and set to prepare it the moment he walked in the door.
Three hours later…
…He was still cooking. He cooked, and he cooked. And he cooked. By the time he unveiled his masterpiece at our kitchen table, I was on the brink of falling asleep in my seat.
Bless Matt's heart. He was so proud of the meal he had prepared (and rightfully so!). This lasagne is a meal fit for a king, with layer upon layer of rich flavors that meld together in a way that can only be described as magical. Unfortunately, somehow during the pregnancy (and unbeknownst to poor Matt), I had developed a very strong aversion to spinach. I couldn't take a single bite.
The more Matt ate, the more he raved. "How can this not taste good to you, Amy? This is the best thing I've ever put in my mouth!" I wanted to like that lasagne! I wanted to want to savor every last bite! The poor guy had literally broken a sweat cooking that meal for me, and, doggone it, I could tell by the rapturous look on his face that it had to be absolutely delectable. And yet, in that horrible foggy state of nausea, I was forced instead to grab a packet of saltines and head to bed. Matt probably would've had more pity on me, had he not been heading back to the kitchen for a second helping. 😉
Two weeks later, on Thanksgiving day, we started to lose the baby.
I will never forget that heartache. That emptiness. But what I will also remember forever is how that brought Matt and me closer together. How it forced us to grow up, to accept the fact that the path of our lives will inevitably take unforeseen turns we don't like and can't comprehend, but as a united front, we would always be able to weather the storms. How it helped us see the verity of the promise we have that everything works together for our good.
In the spring, we were thrilled beyond measure to discover we were expecting again. That year, just in time for Christmas, Jack was born. Such immense joy after such profound sorrow. God is so good.
I never put a pan of this lasagne together that I don't think of that meal Matt slaved over. Of the baby we lost. Of that fact that had he or she come into the world, we wouldn't have our Jack, and possibly not our Charlotte or our Cecily. Isn't it incredible that a pan of Italian food can conjure such emotion?
Do you have any recipes you prepare that transport you back to a particular time or place? I encourage you to document those stories to remember for years to come!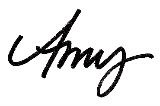 If you enjoyed this post, subscribe to Positively Splendid 
to receive updates, and join us on Facebook and Twitter!





Having grown up in a home brimming with sewing notions and paintbrushes, Amy has a deep love for all things creative. On any given day, you'll find her knee-deep in her latest creative endeavor, with projects ranging from sewing and crafts to home decor and kid-friendly ideas. Amy believes that everyone, regardless of skill level or experience, possesses the ability to create something beautiful, and Positively Splendid was born of her passion for helping others harness their innate creative potential.