In case you're new to
A Love Story + Food,
you might want to take a minute to read what you've missed. And for a full description of the concept behind the series, you can
click here.
Chapter 1
Chapter 2
Chapter 3
Chapter 4
Chapter 5
Chapter 6
I'll pick up today right where I left off in Chapter 6…
We sat down on the back porch steps together in silence for a number of minutes, both of our minds racing with the profoundness of the moment. And then Matt took me completely by surprise by doing something unforgettable.
He took my tear-streaked face in his hands, and he kissed me. 
There are kisses in life you never forget. 
Your very first kiss (although I know I can probably speak for many of us when I say I would probably like to forget that one). 
The kiss on your wedding day. 
The kiss where it suddenly hits you that you'll never want to kiss anyone other than this particular person ever, ever again.
Friends, that was this kiss. It was so full of the hurt and vulnerability that had built up over the course of that summer we had spent apart. But it was also full of optimism and hope. 
It was great. 😉
I think we were both floating on a cloud when we reemerged into the living room filled with all of Matt's closest friends. And when Matt informed all of them that I would be joining them in their evening plans (a concert), their eyes widened. I could read the messages they were trying to convey to him.
"Are you sure, man? This girl just broke your heart!"
"Does she really have to come?"
"Have you lost your mind?"
Matt and I were completely unfazed by their lack of enthusiasm. We went to that concert together, and I felt as though every single eye in that place was on us – on me. That girl. The one who had cut and run and almost lost the very best thing that had ever happened to her. But, you know what? When something is right, it is just right. Matt and I both knew that, and that made it easy to shrug off everyone else's doubt.
It was a romantic night. An unforgettable night. As we were standing front and center, the band announced that they would be performing one of their new songs that night, and when they started singing, it was as though it had been written for us. A song about two people miserable without each other, until one phone call changes everything…
They talked about Savannah
Sweet home Alabama
And how he missed the way she always smiled
Are you coming back soon
By the harvest moon
If I have to walk every mile on my knees


It is incredible how God works, friends. How He uses everything to work for our good. He used the antics of the selfish, spoiled girl that I was to ultimately lead me back to the one He knew was my perfect match. And He softened the heart and firmed the resolve of a sweet boy like Matt to trust me again and allow me back into his heart. 
From that day forward, Matt and I have been inseparable.
Don't take that to mean that it has been perfect.
We have fought like cats and dogs. I am ashamed to say I have grabbed my keys and stormed out of the house on more than one occasion. We have enduring heartbreaking loss (Chapter 2). We have survived the stress that comes along with jobs, financial worries and raising children. We have bickered over insignificant issues, and we have both said hurtful things in the heat of arguments that we fervently wish we could take back.
But, just as He did before, the Lord has used all of it – even these less-than-perfect aspects of our life together – for our good. And as Matt and I continue our journey together, I find such comfort in knowing He will always continue to do so.
And we know that

in all things

God works for the good of those who love him, who have been called according to his purpose. 
Romans 8:28
You're probably wondering where on earth food enters the picture here?
It took me a long time after that night to completely win over all of Matt's friends. Matt was so fortunate to have friends who valued him so much that they wanted to protect him. And so, I worked hard to win their trust. It took months, but I am happy to say I did just that. My secret weapon in my efforts? You guessed it: food. More cookies. Enchiladas. Spaghetti. 
The next summer, Matt and his buddies hosted a Fourth of July party at their house, and I prepared the recipe I'm sharing with you today – brownie trifle. After one bowl, Matt's roommates came over and hugged my neck, something they had never done before. It was a turning point. I had been forgiven. I am convinced each and every decadent bite helped those boys reach the conclusion that anyone who prepared something this delicious couldn't possibly be a that bad of a person. 
And a dessert good enough to accomplish that is definitely worth sharing. 😉
***
3 Tablespoons coffee (optional)
1 large tub of Cool Whip, thawed
1 large package chocolate instant pudding, prepared according to the package instructions
Toffee bits (they sell these in the baking aisle here, but if you can't find them, 3-4 crushed Heath bars will work, too)
Drizzle the coffee over your crumbled brownies. Place 1/3 of the brownies in the bottom of your trifle bowl. Spread 1/3 of the pudding over your brownie layer, and then 1/3 of the Cool Whip over your pudding layer. Sprinkle with toffee bits. Repeat these layers 2 more times, finishing with a generous sprinkling of the toffee bits. Chill for 2-3 hours before serving.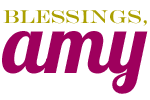 Having grown up in a home brimming with sewing notions and paintbrushes, Amy has a deep love for all things creative. On any given day, you'll find her knee-deep in her latest creative endeavor, with projects ranging from sewing and crafts to home decor and kid-friendly ideas. Amy believes that everyone, regardless of skill level or experience, possesses the ability to create something beautiful, and Positively Splendid was born of her passion for helping others harness their innate creative potential.