Many of y'all might remember the bittersweet post I wrote at the end of last summer about my first-born's starting kindergarten, and today already marks his final day of school. I can recall all of the times I used to roll my eyes as a teenager (albeit discreetly) when an adult would lament how quickly time marches on once you hit a certain point in your life. Yet I am now discovering that I have become one of those adults myself, and it is my turn to muse about how a certain span of time—the length of one kindergarten year, or 9 months, 28 days, to be exact—can seem all at once so interminable to a child, yet so meteoric to an adult. 
My sweet friend Kellie at Nest of Posies shared the most precious idea last week for documenting these momentous first and last days with photos to compare the many sweet changes that occur in the span of one year. She shared a printable to use for the occasion, which I will certainly be using in the upcoming school year. (So convenient that her son and mine are the same age! 😉 
Here is the side-by-side of sweet Jack's first and final days of kindergarten. 
On both days, he woke up well before his alarm.
On the first day, he and I were both tearful. What would this new chapter bring?
Yet today, I was the only one wiping away quiet tears as he and Daddy drove out of sight for the last time this school year. 
It is all going by so quickly. So. quickly. 
I had planned another post for today, but I had to share what occurred to me just after I came in from seeing Jack off to school this morning:
It is crucial to document the little things, my friends.
Snap photos, even if the composition of the photo isn't just right. Even if you have to use your flash and everything is a bit washed out. Even if there is a huge glare of sun in the background (as was the case in today's photo), or something distracting in the frame, or whatever. Possibly, those less-than-perfect photos are the ones you will cherish most later on, because they will represent so closely a slice of the life you have cherished and loved. Will I look back on today's photo of Jack and scold myself for having taken it in such poor lighting? Absolutely not! I'll notice the reddish color of his hair. His big-kid, snaggle-toothed smile. How proud he looks of how much he's accomplished in one short school year.
My next advice? Once you've taken the photos, take good care of them. Find a photo organizer you like (I use Picasa), and place the photos in files according to a system you like: date, event name, etc.
As you're organizing, strive to delete the photos you know you'll never use later on (something I admittedly need to be better about), but as you send some to the recycle bin, resist the urge to delete all of the outtakes. Remember the days of film photography, when you waited with bated breath until you could pick up prints from the store? Some of the best, most candid moments from those rolls of film were contained in photos we would most likely delete without a second thought today. We're talking red-eye-plagued, goofy-smiled, real-life moments.
Perhaps most importantly, back up those precious memories at least once a month! I use both an external hard drive and a remote backup system called Mozy, so that all of my bases are thoroughly covered. External hard drives are surprisingly inexpensive nowadays, with drives that will hold all of your files and then some available for $100, and sometimes even less. Such a small price to pay for such immense piece of mind.
And, finally, once your photos are insured through a back-up method of some form, do something with them. Make prints, and have them framed. There is no better way to inexpensively fill your home with ready-made art than to frame photos of the ones you love! I used to print photos myself with my home photo printer, but after spending a fortune on ink and photo paper, I have realized it is much more economical (and the quality is much better) when I send them out to be printed.  
If you love to scrapbook, do that! Digital or paper, it makes no difference in the long run. When my oldest three were small, I meticulously documented their milestones in elaborate scrapbook layouts like the ones below, and I loved it.
Today, I have come to terms with the fact that I just don't have the free time available to do something that ornate for each child. And that is okay! Just recently I have started going through our old photo files to compile yearly photo books to have printed with Blurb. There are many other book-building sites available, with options ranging from very involved to simple drag-and-drop formats. The important thing is to find one you like, and create a book project that you can add to gradually over the course of the year. By doing things little by little, you'll have an entire book by year's end to document all of the special moments you never want to forget. (And as an added bonus, these books make great Christmas gifts for grandparents, too!)
***
With summer upon us, this is a perfect time to commit to capturing all of those sweet summertime memories in meaningful ways. It can admittedly seem daunting, but once you've established and honed a system you can stick with, you'll be so glad you did!
So now, it's your turn:
How do you manage your family photos?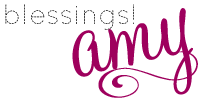 Linking this to…
Serenity Now
Tatertots and Jello
Having grown up in a home brimming with sewing notions and paintbrushes, Amy has a deep love for all things creative. On any given day, you'll find her knee-deep in her latest creative endeavor, with projects ranging from sewing and crafts to home decor and kid-friendly ideas. Amy believes that everyone, regardless of skill level or experience, possesses the ability to create something beautiful, and Positively Splendid was born of her passion for helping others harness their innate creative potential.