There is honestly little that can be accomplished online these days that surprises me. In a typical day, I can download my new favorite song nearly instantaneously, video conference with my mom halfway across the country, and pay bills with the click of a mouse. I can buy a new pair of boots, read favorite magazines and find the answer to just about any question that used to necessitate a trip to the library. Honestly, I used to think the only thing the internet couldn't allow us was the luxury of time transport. After being introduced to a brand-new site called LiveOn, suffice it to say, I stand corrected!
What would you say if I told you that LiveOn provides you the opportunity to compose a video message to be delivered to your now 5-year-old child on the day of his or her high school graduation? Or on the day when his or her first child is born? Amazing, right? 
The concept behind LiveOn is simple: you document your memories and milestones through photos and video, and then those memories are shared with your closest friends and family, who comprise your "tribe. As a parent, you have the opportunity to author the timeline of memories for your child until he or she is old enough to take over his or her particular story. LiveOn gives you the opportunity to author a precious capsule of memories for your children in a meaningful, dynamic way. 
When I first accessed the LiveOn site just days after Baby George's arrival, I knew without a doubt I wanted to document that story while it was still fresh in my mind. 
Our first photo as a family of six.
With the help of the LiveOn memory creator, I was able to easily import the photos I had already uploaded to my Facebook account in order to form the storyline for that experience. You can
click this link
to see the full presentation, which took me only about ten minutes to put together, yet I'm sure you'll agree the results are truly memorable.
The best part? If I choose to do so, I can place this memory in a time capsule to be delivered to George on a special day in the future. What an amazing concept!
So what will become of all of those photos that were taken before the days of digital photography, and how can they be incorporated easily into LiveOn? Enter LiveOn Rewind, a service that allows you to send in your old photos and video tapes to have them converted to a digital format, then returned to you on disc and uploaded to LiveOn. Now I can finally do something with all of our neglected wedding photos!
LiveOn is generously offering all PS readers 20% off of all LiveOn Rewind services by entering the code cgc10 at checkout. Terrific!
There are few memories I count more precious than the moments I spent leafing through our family's old photos album with my grandmother, her voice narrating the story of each of the relatives contained therein. I absolutely love that LiveOn promises the stories I compose there today will be available to my children and theirs, so that they can also experience that same profound connection.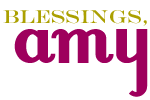 for this sponsored opportunity to blog about storing and sharing my most important memories with those closest to me. Although story ideas were provided, all thoughts and opinions are my own.
Please LiveOn to learn more about sharing and preserving your most important memories. I was selected for this sponsorship by Clever Girls Collective. All opinions expressed here are my own.
Having grown up in a home brimming with sewing notions and paintbrushes, Amy has a deep love for all things creative. On any given day, you'll find her knee-deep in her latest creative endeavor, with projects ranging from sewing and crafts to home decor and kid-friendly ideas. Amy believes that everyone, regardless of skill level or experience, possesses the ability to create something beautiful, and Positively Splendid was born of her passion for helping others harness their innate creative potential.