In the wee hours of Monday morning, I huddled on my couch with a very frightened 6-year-old watching ugly radar images and praying we would be spared an encounter with a rare mid-January tornado. Thankfully, the storms left our home unscathed, but the next day as I watched news footage of the families who weren't so fortunate, my heart broke for all of those poor people whose lifetime of earthly possessions had all been scattered and destroyed in a mere matter of moments. 
When it comes to my digital photos, I have a painstaking system in place to keep then protected: both an external hard drive that I add to myself and a remote backup service for additional peace of mind. But what about the hard copies of precious photos and videos that are just one disaster away from being gone forever? I am ashamed to admit that until this week, the lion's share of our old family photos taken before the days of digital cameras – ranging from my childhood photos all the way up to the photos of our wedding – were all still boxed up in our garage, in the precise location the movers had plopped them when we moved into our home over a year ago. All of those precious memories were just one storm, one burglary, one fire away from being gone. Poof! I have known for ages that I need to do something to convert those photos into digital format so that I can preserve them in the same way I have done with the images taken with my digital camera. But let's face it: who has time to scan every single one of their hundreds of old photos by hand? I know I don't!
That's where the beauty of LiveOn Rewind lies: if you can devote just one weekend of your time to sorting through photos and choosing the ones you want converted, LiveOn Rewind will do the tedious work of digitizing them for you. Once the photos are digitized, your files are sent to you on a DVD, along with all of your original hard copies. When you place your order, you can even choose to have them send you a box to mail your media in with their pre-paid preservation kit option. So simple!
LiveOn Rewind services include converting slides, old VHS tapes, photo reels and a number of other media to digital format, too. And perhaps the best part of all is that all of the images and videos are automatically placed in your LiveOn account once they've been digitized, making it so easy to sit down and document the stories and memories that go along with each one. 
Remember the video I created of George's birth with LiveOn? Imagine how meaningful it would be for my mom to do the same with my own baby pictures so that we could compare our unique experiences of motherhood. It is like a time machine to connect the past with the present!
I know my experience on Monday has prompted me to take action to protect my old memories, and I am so thankful LiveOn Rewind is making it so easy to do. I placed my order with them on Monday, and my box from them arrived on my doorstep yesterday afternoon! The task of sifting through the old photos was so much fun. Just look at how young Matt and I were!!
These photos and many, many others will be sent off to LiveOn Rewind today to be safeguarded from any storm that may come our way. What a great feeling!
Wanting to get started insuring your own collection of memories? LiveOn Rewind is offering a 30% discount on their services to all PS readers. Just enter the code  

cgc70

  at checkout. 
Thanks so much for stopping in!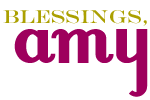 Thank you to LiveOn for sponsoring this blog post. Please LiveOn to learn more about sharing and preserving your most important memories. I was selected for this sponsorship by Clever Girls Collective. Although story ideas were provided, all thoughts and opinions are my own.
Having grown up in a home brimming with sewing notions and paintbrushes, Amy has a deep love for all things creative. On any given day, you'll find her knee-deep in her latest creative endeavor, with projects ranging from sewing and crafts to home decor and kid-friendly ideas. Amy believes that everyone, regardless of skill level or experience, possesses the ability to create something beautiful, and Positively Splendid was born of her passion for helping others harness their innate creative potential.