In case you missed it, be sure to check out the first post in this meal-planning series, Why Menu Plan, Anyway?
Now that we've covered a few of the many wonderful benefits of having a menu plan, today, I am going to pass along the 7 keys to my personal meal-planning "system," plus I am going to give you free access to the printable menu and shopping list that I use for my own family each week!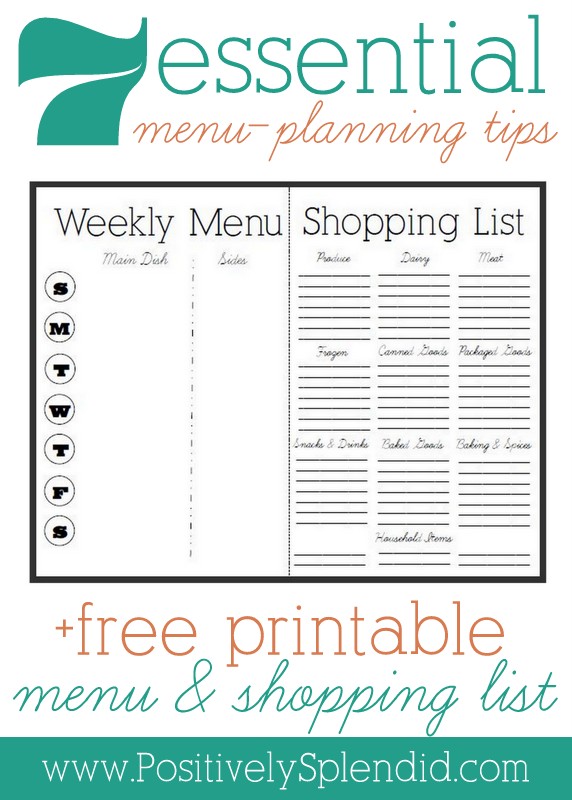 Key #1 – Have each family member make a list of the things they love to eat most, and keep them for future reference.
One of the most critical pieces of advice I can offer when starting a meal-planning system of your own is to say that when making a menu plan, make sure that the food is something that will appeal to your family. Having each member jot down a list of their favorite dishes will help gives you ideas as you plan the meals for the week, and it will ensure plenty of happy faces around the table. It's a win/win! Keep in mind that tastes do tend to change over time (especially where kids are concerned), so having members update these lists periodically is a good idea.
Key #2 – Don't plan for the impossible.
Mondays are a killer for our household. Between ballet for both girls and then ball practice for my oldest son, we are on the go from the moment the kids get home from school until my husband and I collapse in a heap in front of the television after the children are all put to bed. Planning something involved or complicated to prepare on that specific day is obviously not going to work, so instead, I plan something easy like soup and sandwiches, or–better yet!–I work into our menu a plan to have leftovers to reheat on that day. (See Key #3 below for more on that.) Knowing your limitations and time constraints is a key aspect of menu planning; if you aren't completely honest about the time you have at your disposal to spend preparing meals, you are setting yourself up to fail.
Key #3 – Cook once; eat twice.
In the winter, we have a go-to menu plan that we stick to just about every week: On Sunday night, my husband and I prepare a huge pot of soup (my 150-calorie vegetable soup is a family favorite) that we can eat again on Mondays, when our schedules are too hectic to prepare something wholesome. Other options I have found to work well for this type of cook once/eat twice arrangement are meat loaf (make an extra loaf to wrap up and then reheat the next day)…
…or a double batch of Baked Lasagna Rolls…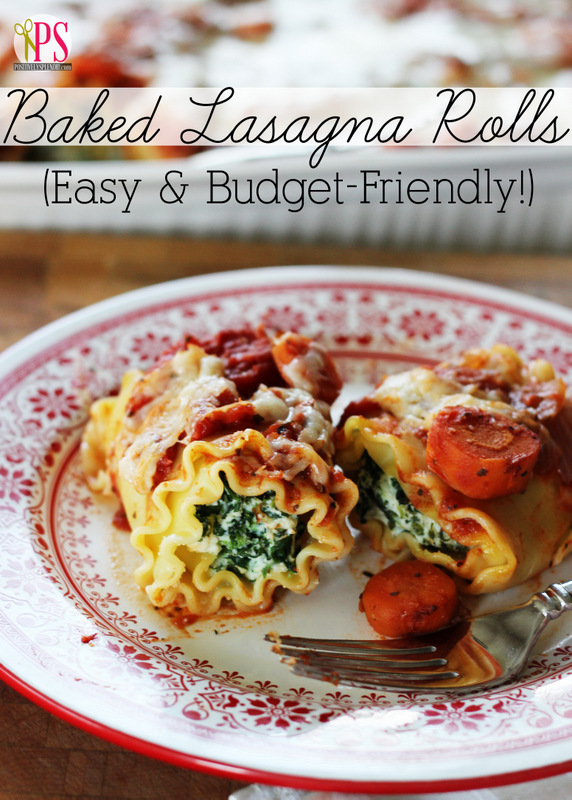 ….or Crock Pot meals like my Pork Taco Bowls.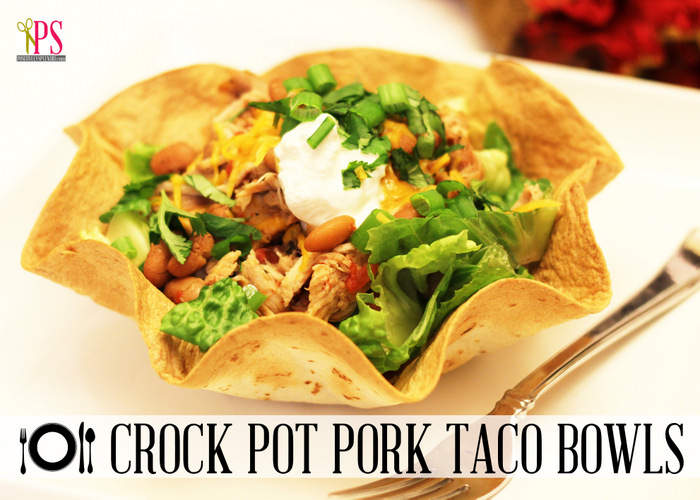 Key #4 – Plan for take-out or delivery periodically.
It is more than okay to designate a certain number of days per month or week (whatever your budget allows) as take-out or delivery days. For our family, that day often falls on Friday, when we are all feeling festive and wanting to hang out as a family. Menu-planning doesn't have to mean that you slave away in the kitchen every day of the week.
Key #5 – Have a back-up plan.
Someone gets sick. Or the oven won't heat up. Or you just plain don't feel like eating the thing you had planned for that day. Now what? Always have staples on hand to prepare super-easy meals to use as a back-up when sticking with the menu plan just isn't feasible. For our family, our contingency is generally an egg dish of some sort: omelets, frittattas, or scrambled egg sandwiches. Other great back-ups might be frozen pasta and store-bought sauce, grilled sandwiches and canned soup, or anything else that you can prepare easily without a ton of effort.
Key #6 – Designate a specific time each week to plan your menu/make your shopping list.
Each Tuesday, the circulars for all of the weekly sales at our local grocery stores arrive in my mailbox, and it is then that I sit down and pore over the sales to pick and choose what we will eat in the week to come. Scoping out sales like I do obviously isn't crucial to make a menu, but it really can help save quite a bit of money when it comes to your overall grocery bill. I intentionally start my menu planning process mid-week, three days before my Saturday shopping trip (more on that in a minute), so family members can add any additional items that we run out of before shopping time to the list gradually throughout the week.
Key #7 – Do all of your weekly shopping on the same day of the week, every week.
For our family, weekly shopping takes place on Saturday mornings, when I will sneak away on my own while the rest of the crew is busily doing yard work to purchase the week's groceries. Getting the shopping done first thing leaves me with no excuses as the weekend goes by, when I would much rather be spending time with my family than pushing a cart up and down the aisles at the supermarket. If all of your children are in school, it might work better to plan the weekly shopping trip for a weekday morning (Wednesday crowds at grocery stores are generally very light) or in an evening on your way home from work. Take honest inventory of the time at your disposal and then select a day of the week and time that works for you. And then–as crazy as this sounds–I encourage you to write that shopping "appointment" down on your calendar or in your planner. It helps to have a reminder so that when the day rolls around, you aren't tempted to shirk that task to do something else.
The menu-planner I use for my family is really very simple. On one side, I jot down the week's menu, and the other side is designated for the week's shopping list. The shopping list includes plenty of different categories to help me stay on track as a shop to avoid having to backtrack through the store and waste precious time.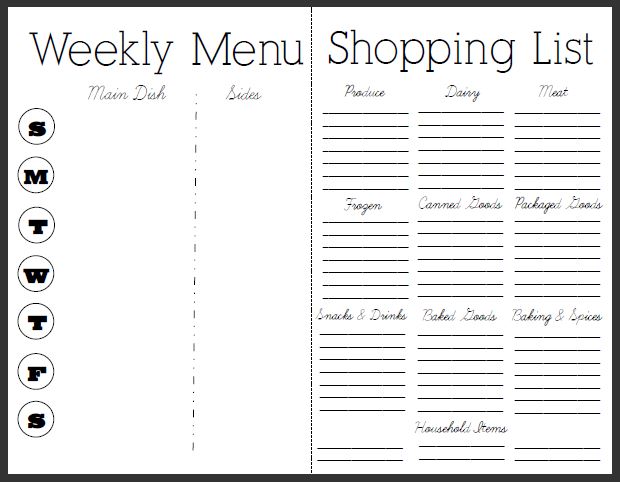 When the list is made, I simply cut apart the two sides along the center dotted line. The list portion gets placed on the fridge until shopping time to I can easily add items to it over the course of the week, before placing the menu portion in a small 3-ring binder I reserve just for this purpose. I like keeping the menus all in one place so that I can use them for reference when planning future menus. If there is a menu plan that I find works particularly well, I might even use the exact same menu plan many times over!
One more step: I then write the menu down on my chalkboard kitchen menu board (which I made from an ugly, mass-produced painting). Having the menu written in bold letters where all of the family can see gives me a way to curtail the whiny, "What's for dinner?" questions before they even happen. Yes!
To download your copy of the Menu and Shopping Planner, click on the link below. I hope you find this printable useful, and please remember that it is intended for personal use only and is not to be redistributed in any way. Thank you!
Do you stick with a menu plan? What is the system you have found to work best for you family? Feel free to add to the conversation in the comments below!
Having grown up in a home brimming with sewing notions and paintbrushes, Amy has a deep love for all things creative. On any given day, you'll find her knee-deep in her latest creative endeavor, with projects ranging from sewing and crafts to home decor and kid-friendly ideas. Amy believes that everyone, regardless of skill level or experience, possesses the ability to create something beautiful, and Positively Splendid was born of her passion for helping others harness their innate creative potential.