G
ood morning! I hope everyone had a terrific holiday. I know it can sometimes be a bummer having to get back into the daily grind after a bit of time off, so I think today's post might be timely for many of us!
I was absolutely delighted when I received an email in my inbox this weekend about a very special day that is set to take place this Sunday, September 12:
The National Day of Encouragement.
The idea is simple: As we go through life, we should never underestimate the power of a simple gesture of kindness or encouragement to brighten someone's day.
Consider the friend who just welcomed a baby and is dealing with the sleep deprivation of the round-the-clock feedings…
…The neighbor struggling to make ends meet while managing her household and caring for her young children…
…The widower coping with the loss of his beloved…
…The acquaintance from church, work, or school coping with illness or injury.
Now, consider the impact one handwritten note – such a small, simple gesture – might have on each of them. 
There is something so immensely encouraging about seeing a handwritten message of care and concern in your mailbox, isn't there? I can recall so vividly so many of the notes I have received over the years from friends and loved ones, many of which have been carefully tucked away in my most cherished box of mementos. 
To commemorate the National Day of Encouragement, won't you commit along with me to spread this message of encouragement and hope to at least one person in your life by sending them a handwritten note? Imagine the impact!
This week,
DaySpring
is giving away over half a million encouragement cards at local Christian bookstores. If you are interested in picking one up to send along to someone in your life,
head here
to find a participating store location near you.
Or, if you would rather make a card by hand to send, check back in later today when I'll be discussing how to create handmade cards using the same color wheel principles I discussed yesterday. I think you'll be thrilled to see how easy it is to build up your card stash for a minimal time and monetary investment!
Encourage one another and build each other up.
Blessings,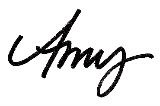 If you enjoyed this post, subscribe to Positively Splendid 
to receive updates, and join us on Facebook and Twitter!





Having grown up in a home brimming with sewing notions and paintbrushes, Amy has a deep love for all things creative. On any given day, you'll find her knee-deep in her latest creative endeavor, with projects ranging from sewing and crafts to home decor and kid-friendly ideas. Amy believes that everyone, regardless of skill level or experience, possesses the ability to create something beautiful, and Positively Splendid was born of her passion for helping others harness their innate creative potential.