I had a little bit of time to sit at my scrap table and finish a couple of pages today, my first creations as a Scrapbook Corner design team member. I was so glad when I picked up my supplies last week to see that there were some terrific boy-oriented papers waiting for me! I have been wanting to use these photos of Jack, and these papers from the Bella Boulevard Super Stud line were perfect for the task. For those of you in the Little Rock area, head on over to Scrapbook Corner and check them out!
In creating this first page, I garnered inspiration from a terrific sketch from Stacey Lokovic (check out her challenge and giveaway going on
here
). I also used a prompt from
Janna Wilson's 52-week challenge
for this layout, incorporating a hybrid technique into the page by utilizing one of the
FREE digital photo collage templates
on the Scrapbooks, Etc. website. They are so easy to use, and they streamline the page-planning process in a way that makes putting a multi-photo page together truly effortless!
For this second page, I used one of my own sketches from last year. It just so happened that Janna's challenge for this week is to incorporate some stitching on a page, and both of my pages today fit that bill. I am one step ahead of the game, people. 😉
I hadn't used my Cricut for a scrapbook page in ages, so it felt good to pull it out here for the star and circle embellishments for both pages. Jack absolutely loves to sit and watch as I cut out all those fun shapes!
**********************
In my continuing effort to document recipes I come with off the cuff, here was tonight's supper. This was so easy (I was able to prepare it while tending to one very crabby, teething baby and two needy older monkeys), and absolutely delicious and economical, to boot! We served this tonight with a loaf of crusty bread. Lentils are all too often overlooked when it comes to satisfying fare that isn't hard on a budget. I'll definitely be making this one again.
Lentil Soup with Italian Sausage
5 Italian sausage links
1 medium onion, chopped
1 large carrot, thinly sliced
2 ribs celery, thinly sliced
2 cloves garlic, chopped
1/2 dry white wine
1/2 tsp. dried thyme
1/8 tsp. crushed red pepper
1 cup lentils, rinsed
2 cups chicken stock
2 cups water
Salt & pepper
In a Dutch oven, heat 1 tbsp. olive oil over medium-high heat. Brown sausages on all sides and remove to a plate. Reduce heat to medium and add 1 tbsp. more olive oil to pot. Add onion, carrot and celery and season with about 1/2 tsp. each of salt and pepper. Saute until softened, about 5 minutes. Add garlic and saute until fragrant, about 2 minutes more.
Add wine to pot and bring to a steady simmer. Add thyme and crushed red pepper, and simmer until the wine is syrupy, about 5 minutes. Add lentils, and stir to coat. Stir in chicken stock and water. Check seasoning, and season with salt and pepper, if desired. Return sausages to the pot and bring to a boil over high heat. Reduce heat to low, cover and simmer for about 1 hour, until sausage is cooked through and lentils are tender.
We're on the brink of another weekend!!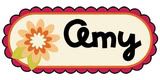 Having grown up in a home brimming with sewing notions and paintbrushes, Amy has a deep love for all things creative. On any given day, you'll find her knee-deep in her latest creative endeavor, with projects ranging from sewing and crafts to home decor and kid-friendly ideas. Amy believes that everyone, regardless of skill level or experience, possesses the ability to create something beautiful, and Positively Splendid was born of her passion for helping others harness their innate creative potential.