I'm trying something new this year: "spring" cleaning before spring has actually sprung. The way I look at it is, by the time the birds are chirping and warm days are upon us again, the house will be spiffed enough that I won't have to feel guilty about punching my housekeeper card to go play outside with the kiddos. I have a list about a mile long of different projects that need to be tackled, but the one that took priority was a no-brainer. Jack and Charlotte's room has been an absolute disaster since Christmas, and it was high time to take the bull by the horns and regain control.
Cleaning time elapsed: 0:00…And truly, it was much worse than this photo even gives it credit for!
So. One thing I hadn't thought of until I was knee-deep in toys that were truly yearning to be given away was the fact that purging the toys of two children is much, much easier when said children are not present. "Oh, Mama…I want to keep this forever….!" It has been far too long since I posted pictures of the brood. Even when they're making a relatively straightforward job like reorganizing hopelessly sloooooow, they are such little cuties, aren't they? I just love the photo below of Jack with his beloved Abe. What a companion that puppy dog has been to my boy for all these years.
Time elapsed: 1:01…Amazing how it has to get worse before it gets better, no?
Time elapsed: 2:47…Now, that's more like it!

I flexed my mother muscles and managed to get rid of a large bagful of toys, in spite of the pitiful protests of my biggest and middlest, so I suppose that's something. Their room is now in terrific shape! What a satisfying feeling.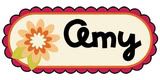 Having grown up in a home brimming with sewing notions and paintbrushes, Amy has a deep love for all things creative. On any given day, you'll find her knee-deep in her latest creative endeavor, with projects ranging from sewing and crafts to home decor and kid-friendly ideas. Amy believes that everyone, regardless of skill level or experience, possesses the ability to create something beautiful, and Positively Splendid was born of her passion for helping others harness their innate creative potential.