My oldest started kindergarten last week, and one thing I have learned to count on is the fact that he is absolutely ravenous the moment he steps off the bus in the afternoon. Yesterday I decided to make a special treat to greet him when he walked in the door. This One-Pan Banana Cake is an ingenious recipe that allows you to mix your ingredients directly in the pan, minimizing prep-time and making cleanup a breeze. And the orange frosting that accompanies this cake is simply too good to miss!
One-Pan Banana Cake
2 very ripe bananas, mashed (about one cup)
1 cup flour
3/4 cup chopped walnuts or pecans
2/3 cup sugar
1/4 cup cornstarch
1 teaspoon baking soda
1/4 teaspoon salt
1/3 cup vegetable oil
1 egg, slightly beaten
1 tablespoon orange juice
1 teaspoon vanilla
1/2 teaspoon banana extract
Mash bananas with a fork. In a 9-inch square baking pan sprayed with non-stick spray, stir flour, nuts, sugar, cornstarch, baking soda, and salt with a fork. Add bananas, oil, egg, juice, and extracts. Mix with a fork until blended. Bake at 350 degrees for 30-35 minutes, or until cake pulls away from sides of pan and toothpick inserted in center come out clean. Cool in pan. Spread with Orange Frosting.
Orange Frosting
1/4 cup butter, softened
1 1/2 cups powdered sugar
1 tablespoon orange juice
1 tablespoon grated orange peel
Mix butter and sugar with a fork until blended. Add orange juice and peel; stir to blend.
***
Although school has already been in full swing for over a week in our neck of the woods, I know summer is still in full swing in many parts of the country. If you're needing some new, inventive ideas for keeping your kiddos entertained, you'll love my Boredom Busters series over at Tip Junkie! Last week I shared a game of edible bingo, and today's post is all about going on a photo scavenger hunt through your neighborhood. Both activities come with free printables to minimize your effort and maximize your fun. I hope you'll venture over to check out both ideas!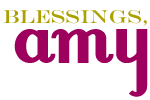 If You Liked This, You Might Also Be Interested In: