Tuesdays and Thursdays throughout November and December, some of my favorite blogging friends will be stopping by Positively Splendid to share some of their best holiday ideas in the third annual Swell Noël series. You can stay up-to-date on all of the fantastic ideas shared throughout the series by following the Swell Noël 2013 Pinterest board, and also by following the #SwellNoel hashtag on Facebook, Twitter, Google+ and Instagram. The very talented Amy from Ameroonie Designs is here today to share a truly darling Christmas party game idea!
My name is Amy Chappell and I blog over at Ameroonie Designs. I spend my days running after my 5 kiddos, sewing items for my business and blogging. I'm so glad to be here today with a fun holiday activity that the kids will love.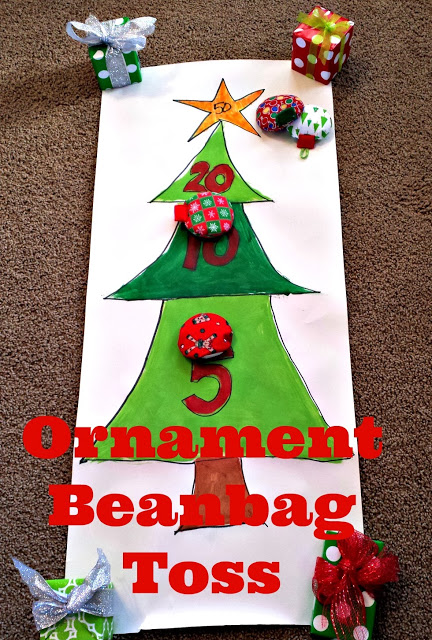 Holiday parties with my family mean 3 things, lots of yummy food, lots of fun, and lots of crazy kids. This year I'm trying to get ahead of the game by having some simple activities on hand to keep them occupied while we get meals ready, or just visit as adults.
This Ornament Beanbag Toss can be made in one nap time and can be used over and over again. The kids can team up, or can try to beat their high score. There are lots of ways to play depending on the ages and interest of the kids.
Let's get our ornaments started.
You will need:
a large circle template. I used a canister lid.
a pen
fabric scraps, large enough to make 2 circles
felt scraps and a small piece of ribbon
Fold your fabric over so the right sides are together. Trace your circle and cut it out. Sew around the circle using a 1/4″ seam allowance. Go slow here. Put your needle down every couple of stitches, lift the presser foot and turn the circle.
Leave a small opening for turning. Backstitch at the beginning and the end of your sewing. If your fabric is directional (meaning it has a pattern that only goes one way) you will want to make sure the opening is at the top of the ornament. (my picture shows the opening in the wrong place, the next collage has it placed correctly)
This is my trick for clipping seam allowances so circles lay flat. I use pinking shears. Just trim close to the sewn line, making sure you don't clip the string. If you don't have pinking shears, just cut notches into the seam allowance all around the circle to remove some of the excess fabric. Turn right side out.
Fill your ornament. A small piece of paper rolled into a funnel can help here. Use rice, beans or whatever you have on hand that will give the ornament some weight. Don't overfill the ornament, you'll want to leave it about 1/3 – 1/4 unfilled.
Push all the filling into the bottom of the ornament and place a pin through both layers of fabric just above the top of the filling to keep it at the bottom while you sew the topper on.
Cut two rectangles of felt. Mine were 1″ X 1 1/4 ". Place one felt piece under the opening in the ornament. Create a loop with the ribbon. Make sure the ends are both in the middle of the felt rectangle. Match up the last felt rectangle on top with the bottom one. Make sure you have both ribbon ends and the entire opening of the ornament enclosed within the rectangles. Sew around the rectangles using a 1/8" seam allowance.
Your ornament is done. Now make up a few more. You can do two color schemes- like red and green for example- to allow for more options for game play. Or just make up 3-4 random patterns.
The last thing to do is make your game board.
For my game board I used some paper from a roll I bought at Ikea. You could use wrapping paper, poster board or any other base you'd like. I painted a tree with graduating sized sections and gave them increasing value based on their size. The paper started rolling up at the ends so I wrapped some blocks of wood with wrapping paper to use at weights to hold the corners down.
The basic game would involve the kids standing behind a pre-determined line and tossing the ornaments on the tree. Scores would be kept and the highest score would win.
One alternative would be to have two teams and alternate tosses. If an opponent's bag lands on the same section as the player the scores are offset. Knocking bags off the board would be allowed and the team with the highest score after a certain number of rounds would win. Or you could play the first team to a predetermined score would win.
The options are endless. And hopefully the kids will have as many ideas as I do for how to play with this game and it will keep them busy for a good long while. One can hope anyway, right?
Thanks so much for letting me come spend some time over here at Positively Splendid. I hope you'll pop over to my blog sometime and say hello!
xoxo,
Amy
Amy is a precious person with terrific ideas! Don't miss these inspiring posts from her blog:
Everything I Never Knew I Didn't Know about Motherhood (A must-read for any mom!)
Having grown up in a home brimming with sewing notions and paintbrushes, Amy has a deep love for all things creative. On any given day, you'll find her knee-deep in her latest creative endeavor, with projects ranging from sewing and crafts to home decor and kid-friendly ideas. Amy believes that everyone, regardless of skill level or experience, possesses the ability to create something beautiful, and Positively Splendid was born of her passion for helping others harness their innate creative potential.