I love when the weather gets warmer and it's time to take gatherings of friends and family outdoors! If you are also looking forward to outdoor entertaining this year and are in need of some fresh ideas for gatherings that are sure to impress but don't cost a fortune, you've come to the right place! Outdoor entertaining during the warmer months is truly one of my favorite things each year, and today, I've rounded up 5 of my best tips for hosting easy and festive outdoor gatherings without having to invest a ton of time or money.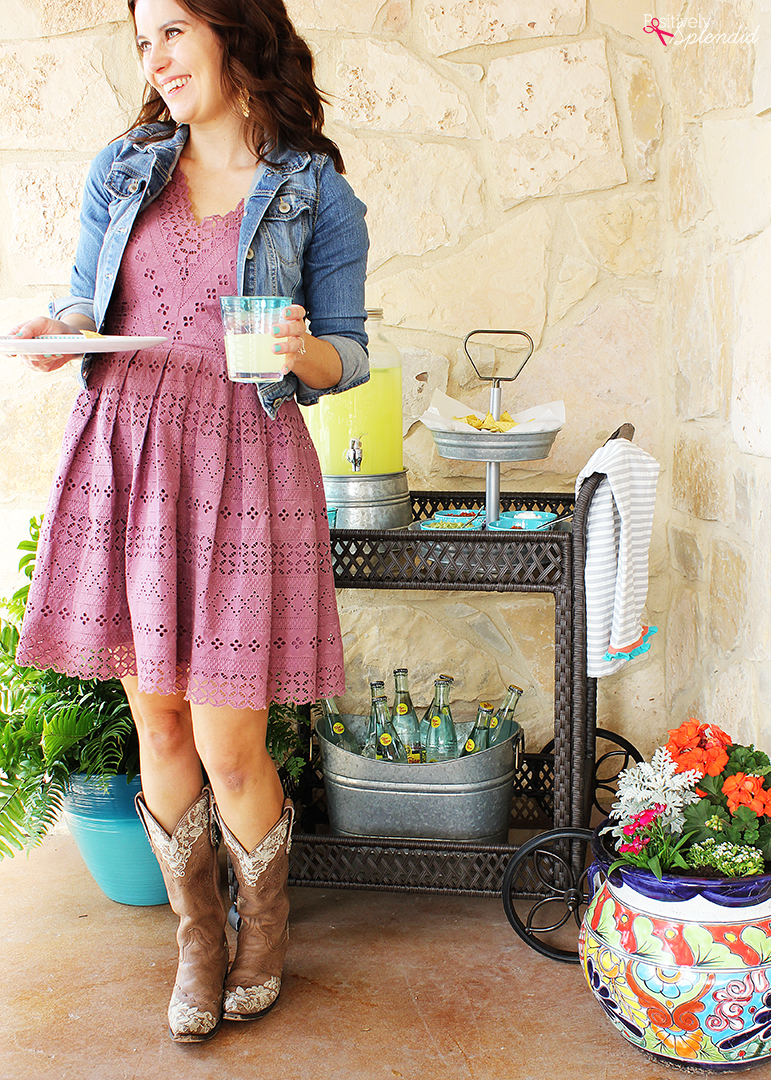 I've teamed up today with Better Homes and Gardens at Walmart to share these fun ideas and products with you. All opinions are entirely my own. This post contains affiliate links.
No matter what the groundhog says each year, down here deep in the heart of Texas, outdoor entertaining time usually begins sometime in mid-February, when temps are warm but not muggy and the evenings are crisp but pleasant. Our home is blessed to have a big front porch that we love to sit on in the evenings and let the kids play in the yard while the adults mingle and visit over drinks and appetizers. It's somewhat of a Friday night tradition!
If you would love to do more outdoor entertaining this year, or if you simply want some fresh ideas for making your outdoor gatherings even better than before, check out my 5 smart tips for easy outdoor entertaining.
Tip 1 – Make it Portable
---
At our home, we alternate between gathering on our front porch and on our back patio. Having a portable cart for serving food and drinks is a terrific way to maximize all of your home's outdoor spaces, since it allows you to take the party anywhere you like! This serving cart from Better Homes and Gardens at Walmart is a terrific size: fairly compact but still large enough to serve all the snacks and drinks you need.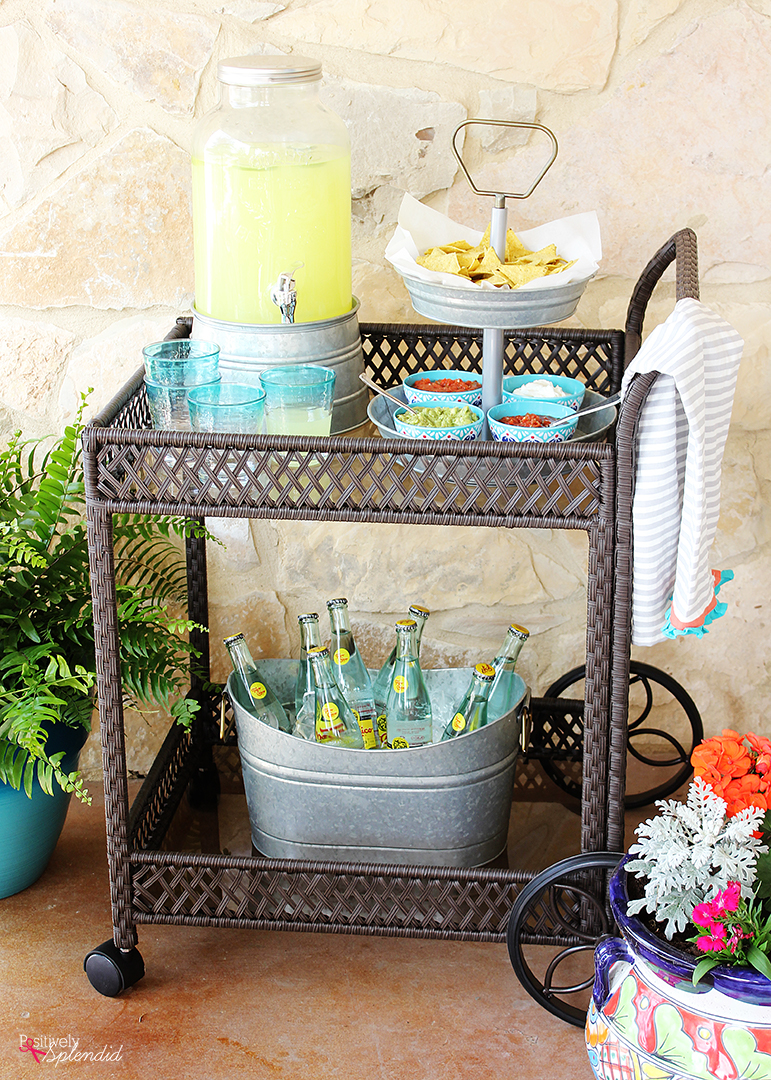 Tip 2 – Make it Tasty
---
The #1 surefire way to ensure guests enjoy any gathering, no matter the setting: keeping their tastebuds happy! For outdoor gatherings during warm months, cold beverages are a must. Ice down a variety of different drinks for both the adults and the kids, and provide some ice-cold lemonade to sip on as you visit. And then be sure to provide some tasty finger foods that are easy to grab and eat while mingling. Some great options: chips with a variety of dips, pita chips with hummus and yogurt dip, or fresh fruit with whipped cream.
When it comes to serving, galvanized metal servers are a terrific option for outdoors, since they are sturdy and ready for the elements, but stylish, too! Galvanized buckets keep ice-cold beverages handy and accessible for all. These scooped tubs from Better Homes and Gardens at Walmart are a perfect size for this purpose, and I really like that they can be moved around easily with handy handles.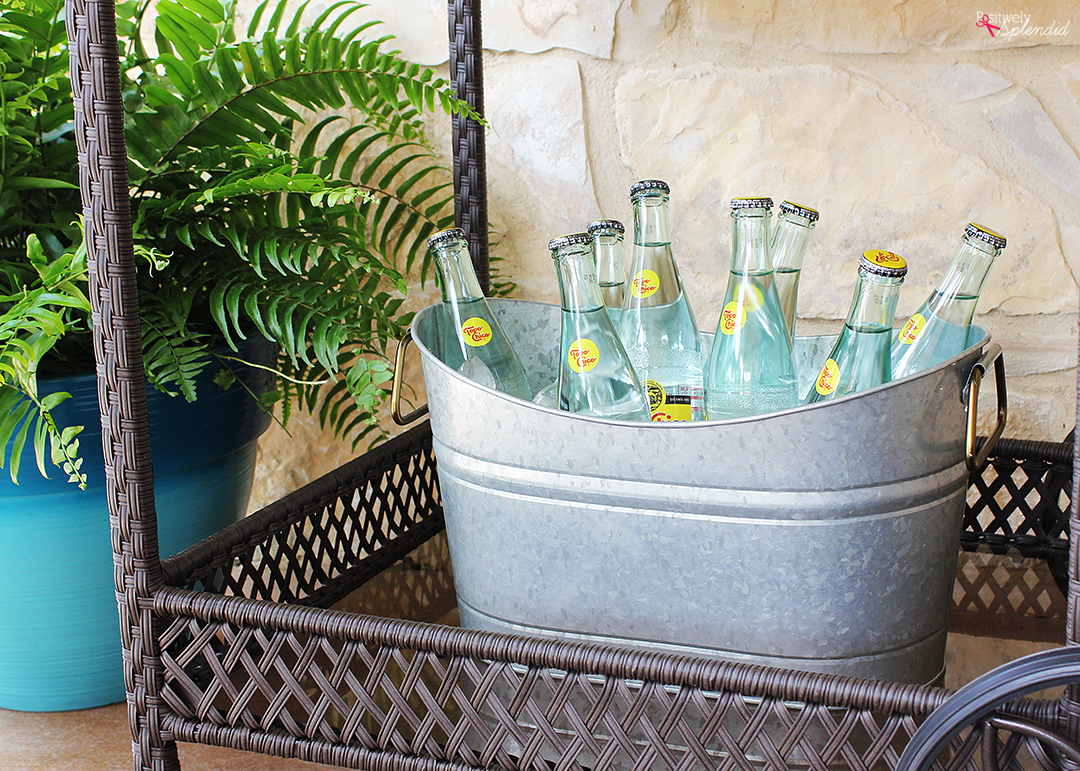 Continuing with the galvanized metal theme, this beverage dispenser with galvanized base (the base can also double as a bucket) is perfect for everything from lemonade to a large batch of sangria, and this 2-tiered server makes food serving a snap. I outfitted this server with four pretty melamine berry bowls filled with a variety of different dips along with some tortilla chips for an appetizer that comes together in less than 5 minutes.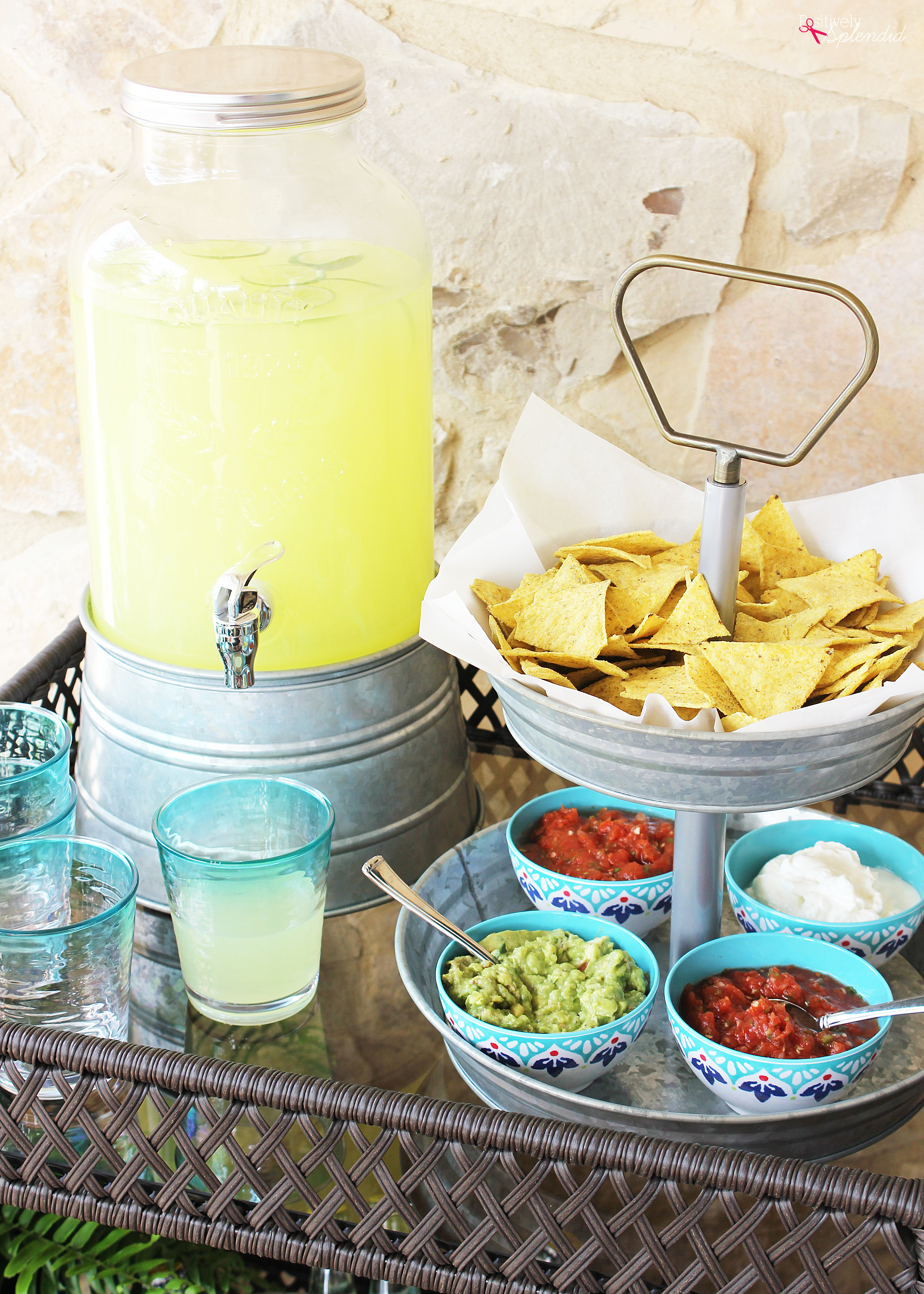 Tip 3 – Make it Stress-Free
---
Transporting your favorite indoor dishes and glasses outside is a pain, and it puts you at risk of the nightmare of something being broken, while paper plates lack sturdiness and visual appeal. My go-to for serving in outdoor spaces: melamine! Shatterproof and beautiful, these pieces are durable enough for outdoor use but stylish enough that you'll be proud to use them. And there are so many fun styles and designs available from Better Homes and Gardens at Walmart! I love these medallion dinner plates and berry bowls and these pretty teal tumblers.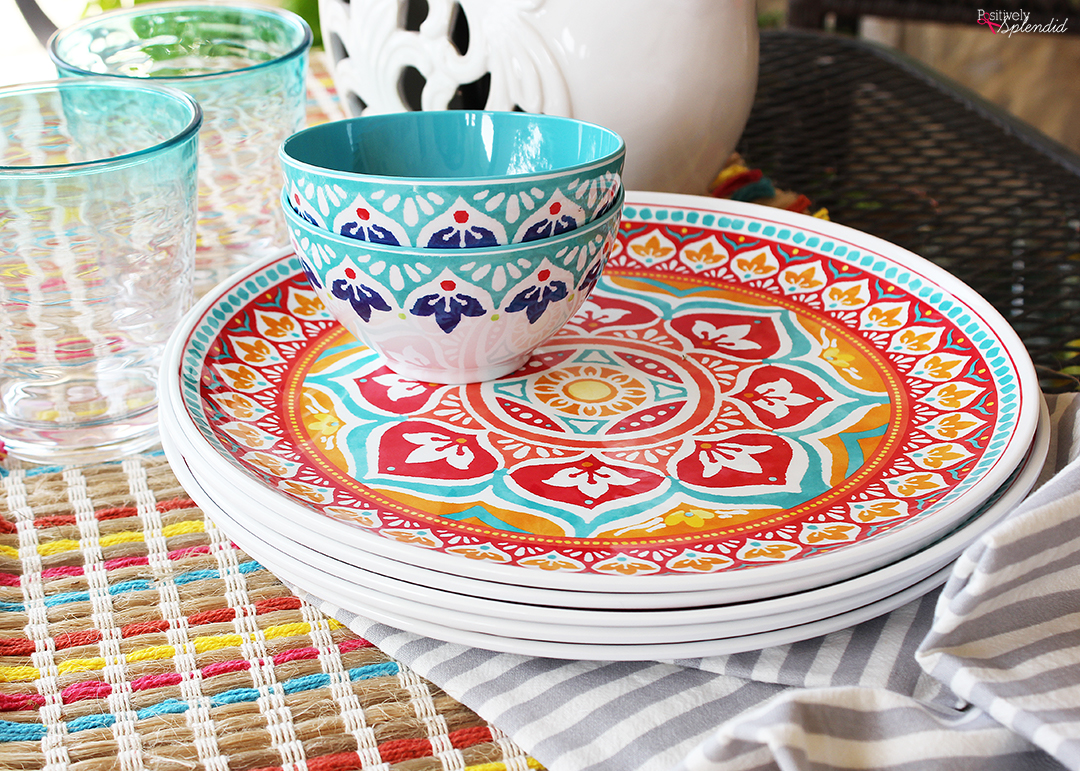 Tip 4 – Make it Pretty
---
Just because a gathering is outdoors doesn't mean you have to throw style out the window. When it comes to any party or gathering, indoors or out, I like to spruce things up with some nice decor elements.
One way to really add a touch of style to an outdoor party is by incorporating some great texture from textiles. A table runner on an outdoor table adds an inviting touch of unexpected texture to an outdoor space, along with some practical flour sack tea towels.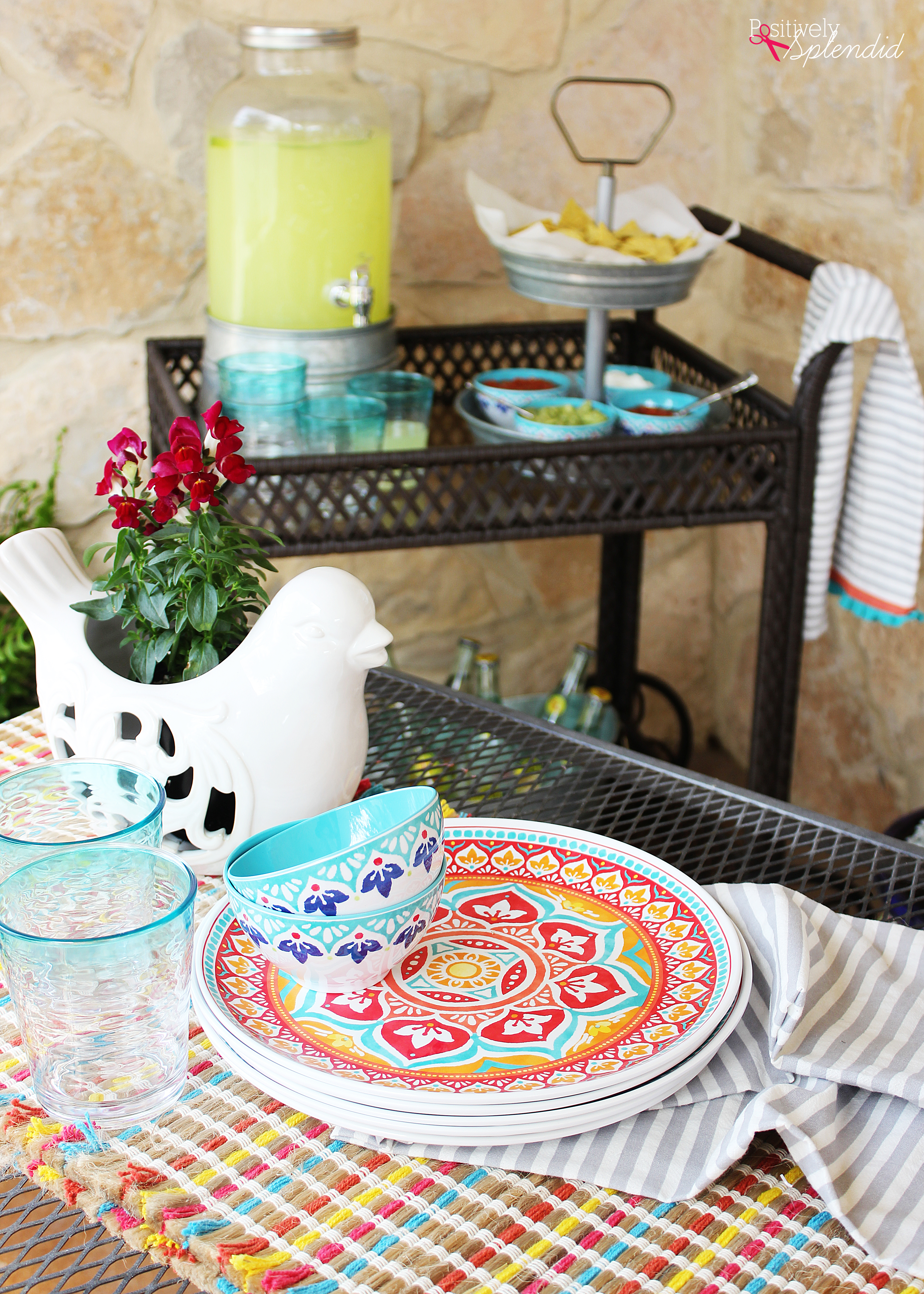 Plants and flowers are an effortless way to add a pop of color. Ferns are one of my favorite green plants to have on my porch each year, and when planted in a light-weight resin planter, the plant can be moved to a new location quickly and easily.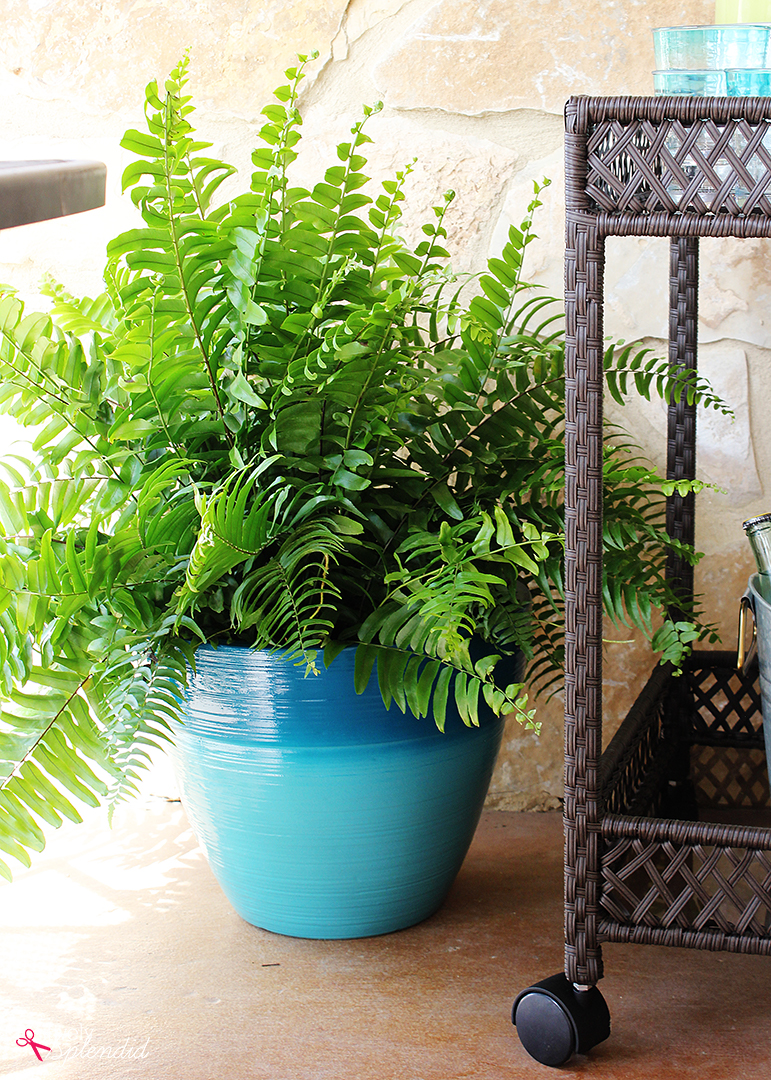 Bright blooms in a sweet bird planter add a happy pop of color to the mix, too.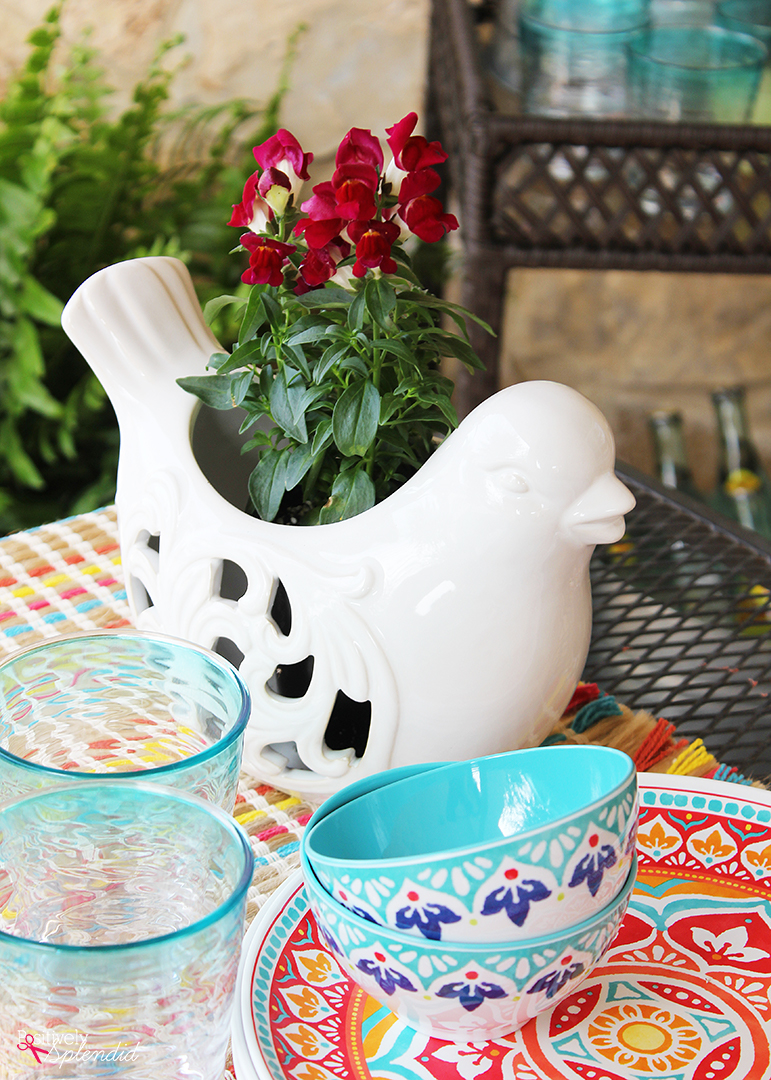 Tip 5 – Make it Fun!
---
When entertaining a group with children, especially, I like to have plenty of outdoor toys and games on hand to keep them entertaining while the adults mingle. A bucket filled with a collection of items like bubbles, silly string, balls, sidewalk chalk and other items will ensure everyone has a great time!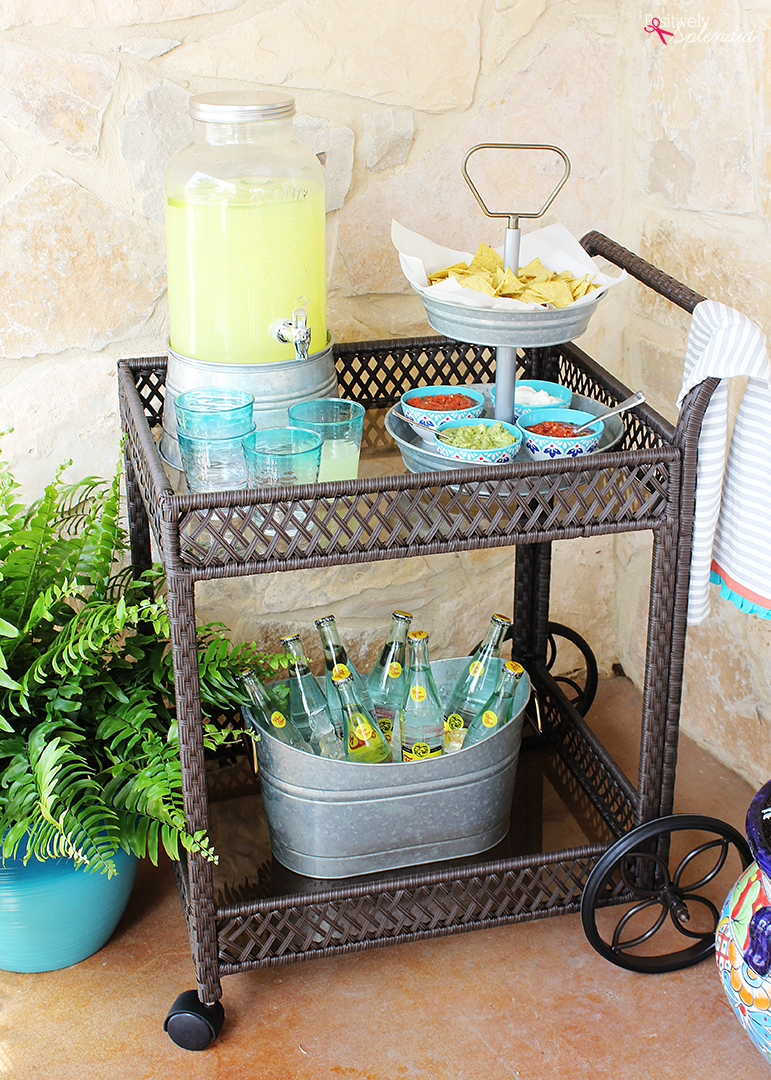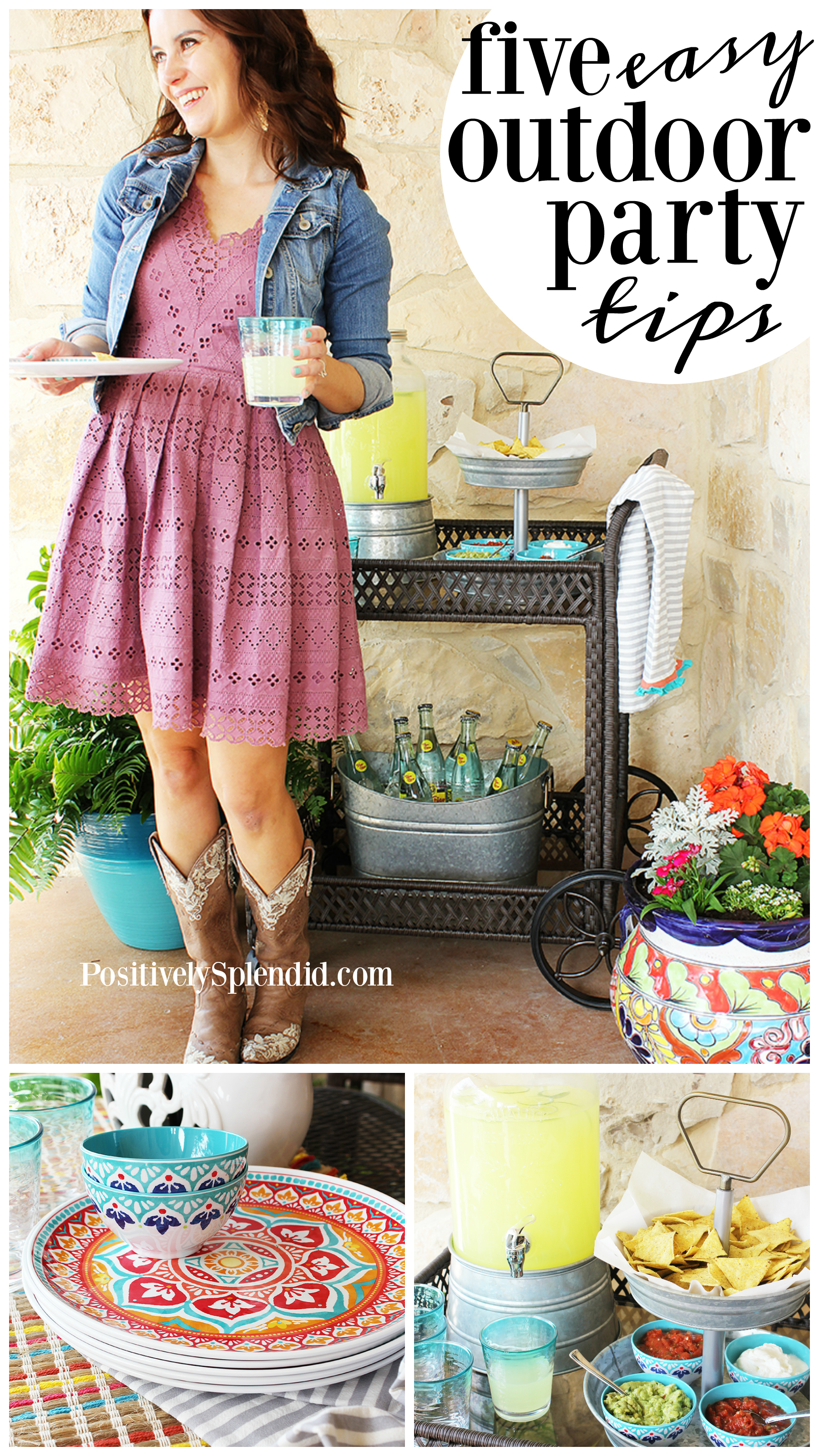 Shop this post!
All of the fabulous Better Homes and Gardens products featured in this post are available exclusively at Walmart, both in stores and online, and you can find a terrific assortment of other products online by visiting Walmart.com/BetterHomesandGardens. With just a click, the styles, colors and sizes you need are right at your fingertips!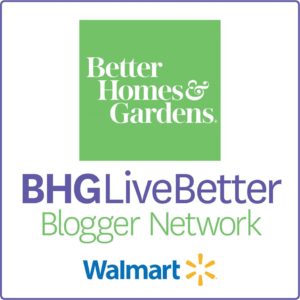 FOR MORE INSPIRATION, VISIT BETTER HOMES AND GARDENS LIVE BETTER ON FACEBOOK, TWITTER, INSTAGRAM AND PINTEREST!
Having grown up in a home brimming with sewing notions and paintbrushes, Amy has a deep love for all things creative. On any given day, you'll find her knee-deep in her latest creative endeavor, with projects ranging from sewing and crafts to home decor and kid-friendly ideas. Amy believes that everyone, regardless of skill level or experience, possesses the ability to create something beautiful, and Positively Splendid was born of her passion for helping others harness their innate creative potential.