Terracotta pots are a great option for using as containers for plants of all types. I love that they are durable, affordable, and it just so happens that they are the perfect blank canvas for painting! These pretty DIY geometric painted terracotta pots are an easy, fun project that requires just a minimal investment of supplies and time. Painting clay pots like these is an easy way to add personality to your garden decor. Let's get started!
This post contains affiliate links.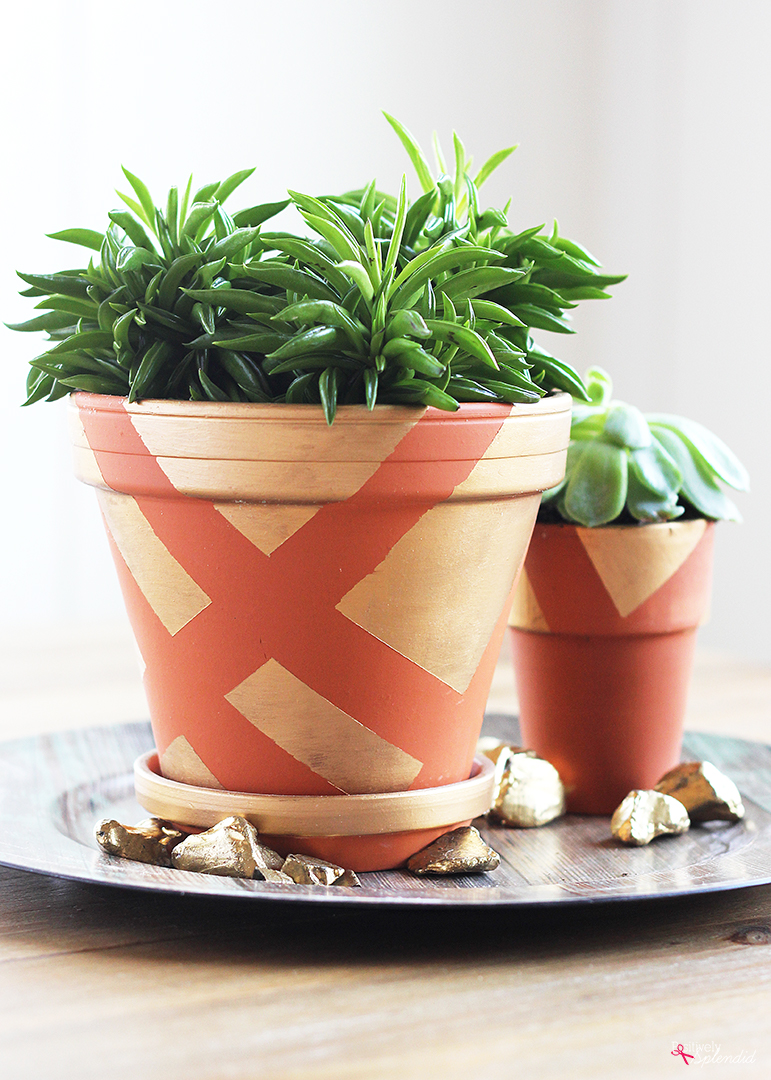 Supplies for Painted Terracotta Pots
---
Optional, but recommended:
How to Paint Clay Pots
---
Apply the tape to the outside of the pot, overlapping the tape strips, to form a geometric design, as shown. Using the paint brush, apply the acrylic paint inside the borders of the taped off design.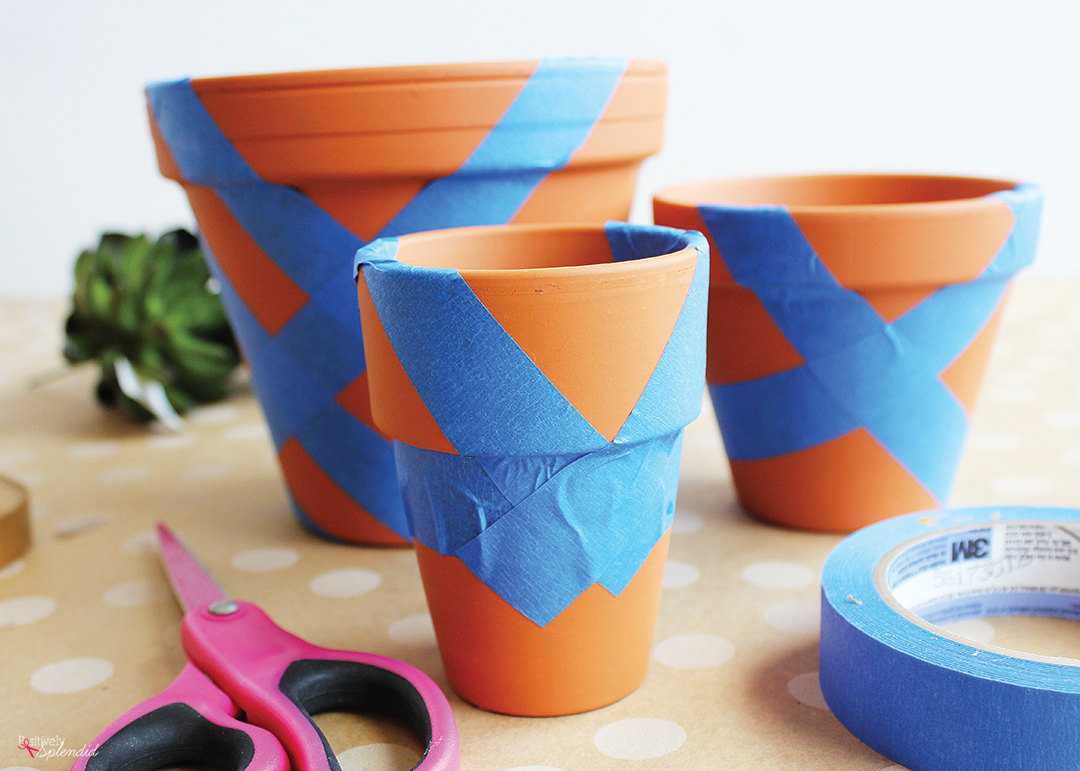 Allow the paint to dry completely before carefully pulling off the tape to reveal your pretty painted geometric design!
When painting terracotta pots, I really love using metallic paints like FolkArt Brushed Metal. The shimmer and shine of the paint is such a nice contrast to the matte surface of the clay, and gold paint, especially, goes really beautifully with the coral color of the pot itself.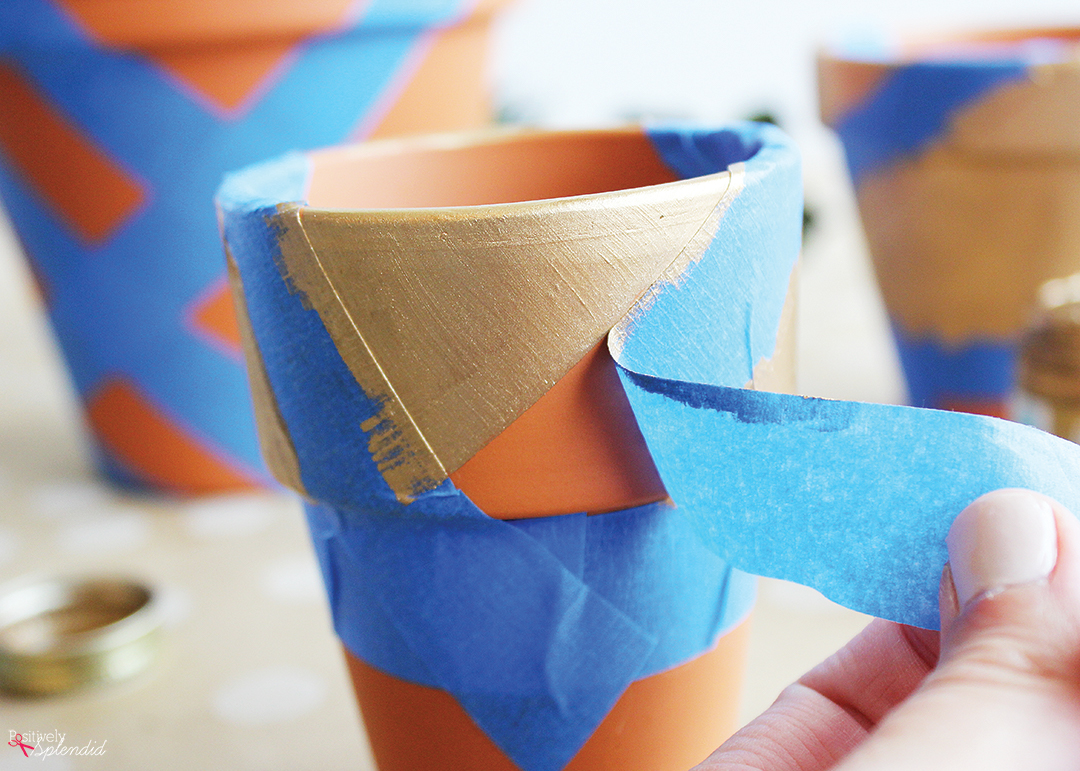 Once the paint is dry and the tape has been removed, I recommending spraying the inside surface of the painted terracotta pots with a water seal spray for pots that will be used for live plants. This will prevent the water from seeping through and damaging the painted design while the pot is in use.
For added durability for pots that will be used outdoors, I also recommended adding a coat of outdoor sealer to the outside surface of the pot to prevent damage from outdoor elements over time. To apply, just brush on and allow to dry completely. This easy step will ensure your project stands the test of time!
When your painted terracotta pot is completely finished, the fun part can begin: filling it with your favorite plants or flowers! These pots make really great unique handmade gifts.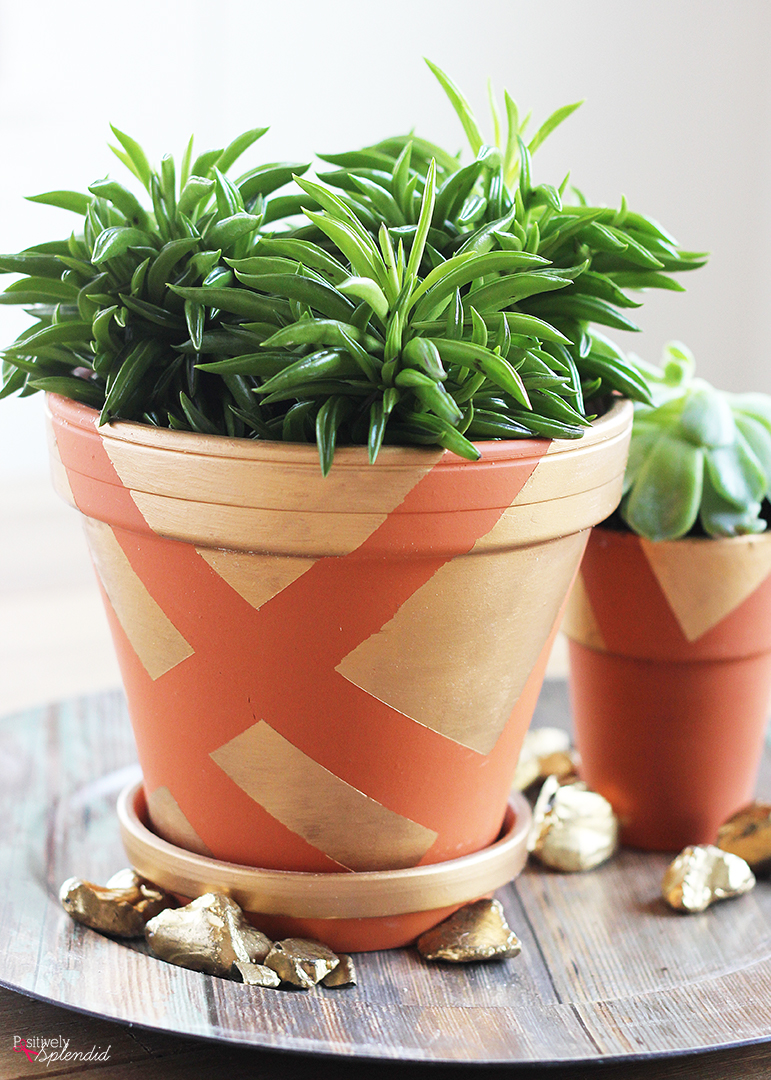 I absolutely love to plant succulents in pots like this one, since they are so easy to maintain (and keep alive!). Another fun idea is to plant some fresh herbs in a collection of matching painted pots placed in a bright kitchen window to use as an indoor herb garden.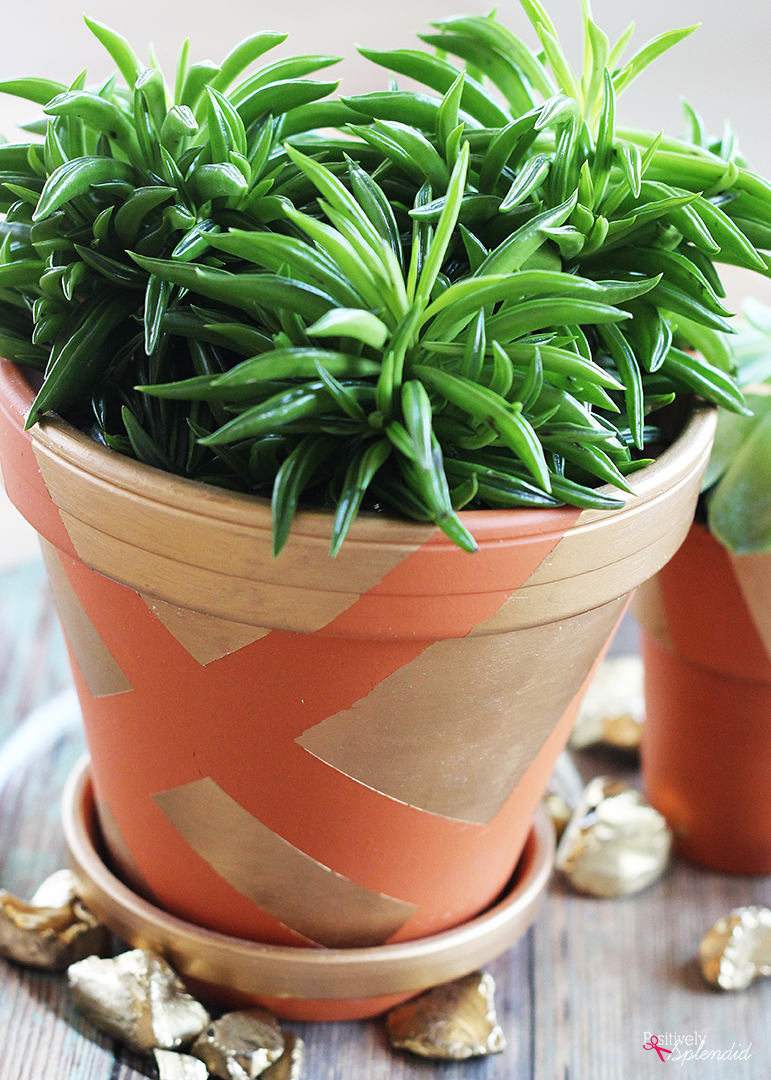 Painted Terracotta Pot Project Q&A
---
What does "terracotta" mean?
Literally "Baked Earth." Terracotta (sometimes "terra-cotta" or "terra cotta") is a clay-like earthenware ceramic material, and it is perfect for making clay pots. You can read more about terracotta here.
Do I need to water seal the pots?
I recommend spraying a water sealer inside the pots before painting to ensure that the moisture from the plants doesn't ruin the paint finish.
Do I need to apply a paint seal to the pots once they are painted?
I recommend apply a coat of outdoor sealer to the pots for added durability for any pots that will be used in an outdoor setting.
Do you have any other fun painted terracotta pot ideas to try?
I sure do! My polka-dotted tiered terracotta planter is one of my all-time favorite gardening projects!
Having grown up in a home brimming with sewing notions and paintbrushes, Amy has a deep love for all things creative. On any given day, you'll find her knee-deep in her latest creative endeavor, with projects ranging from sewing and crafts to home decor and kid-friendly ideas. Amy believes that everyone, regardless of skill level or experience, possesses the ability to create something beautiful, and Positively Splendid was born of her passion for helping others harness their innate creative potential.