There are some recipes my sweet mother likes to refer to in their preparation as "easier than falling off a log."
Friends, this recipe falls into that category, but you would never, ever, ever know it by taking a taste!
If you're from the South, chances are that the secret ingredient in this recipe won't cause you to bat an eye, because desserts like this one have been making their rounds at barbecues and church pot lucks around these parts for a couple of years now. If you happen to hail from elsewhere, you will undoubtedly think I've lost my marbles when I reveal to you what gives these peach dumplings such a luscious kick.
Ready for it? Mountain Dew.
I'll be honest: I'm generally the world's greatest skeptic when it comes to recipes using odd-ball, pre-fab ingredients. I have to say, though, that one bite was all it took to win me over for these little guys, and I have a feeling you'll feel exactly the same way! 
Peach Dumplings
(from a recent issue of Southern Living)
2 (8-oz.) cans refrigerated crescent rolls
2 pounds fresh, firm, ripe peaches, peeled and quartered (4 large)
1 1/2 cups sugar
1 cup butter, melted
1 teaspoon ground cinnamon
1 (12-oz.) can Mountain Dew
Preheat oven to 350°. Unroll crescent rolls and separate into triangles. Place 1 peach quarter on wide end of each triangle; roll up triangles around peaches, starting at wide end. Place, point sides down, in a lightly greased 13- x 9-inch pan. Stir together sugar, butter, and cinnamon, and drizzle over rolls; pour soft drink over rolls. Bake at 350° for 45 minutes or until golden brown and bubbly.
Serve with a healthy dollop of Blue Bell Homemade Vanilla ice cream.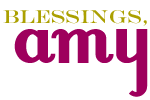 Having grown up in a home brimming with sewing notions and paintbrushes, Amy has a deep love for all things creative. On any given day, you'll find her knee-deep in her latest creative endeavor, with projects ranging from sewing and crafts to home decor and kid-friendly ideas. Amy believes that everyone, regardless of skill level or experience, possesses the ability to create something beautiful, and Positively Splendid was born of her passion for helping others harness their innate creative potential.