At 23 weeks, my nesting instinct has hit with a vengeance. I suddenly have an urge to get Baby Cuatro's nursery done. Now.
Only one problem there, folks. S/he doesn't have a room yet!
When we bought our house, I thought my days of my own crafting space had finally arrived. Tucked at the top of our stairs is a lovely little loft bonus area. I started bookmarking craft nook ideas right and left, painstakingly planning and scheming just how to get the very most out of my new creative digs.
Amazing how two little pink lines have a way of changing things, yes? 😉
Come October, we will have six people living in a house that currently has three bedrooms. That, girls and boys, must be remedied. We feel so fortunate that we serendipitously purchased a home (before Cuatro was even a twinkle in our eye) that will make adding on another room so incredibly simple, as the bonus area was originally written in the plans as an optional fourth bedroom.
And I promise: I am in no way saddened by the fact that I'll be sewing and crafting at the desk in my master bedroom for the foreseeable future. I know this little one will be totally worth it!
We are in the process of taking bids and such for the labor to complete the new bedroom and closet, but until then, I'll have to leave my nesting to the Pinterest realm. So far, I've decided on a color scheme I love, and I've been bookmarking decorating ideas to really punch up the space.
This, my friends, is "the" color scheme. The moment I laid eyes on this nursery, I knew I had to incorporate that lime/royal blue palette into Cuatro's room. Since we won't know whe s/he is until delivery day, I think this will be a great route to take for a room that will be equally appropriate for a boy or a girl. My plan is to add accents of more gender-specific colors (possibly turquoise for a boy, magenta for a girl) once the baby arrives. I am thinking, too, and a little zebra rug might just *have* to make an appearance in this space.
Source: gallery.projectnursery.com via Amy on Pinterest
There are so many inspiring design elements in the blog below, I scarcely no where to begin! I adore the use of the chickenwire frame above the crib to display the vintage pieces, as well as the cheery color of the freshly painted crib. (I think I might need to be committed for this decision, but I am contemplating painting the crib for Cuatro's space.) 
Source: gallery.projectnursery.com via Amy on Pinterest
Ooooh – hello, lovely! The bright colors here are right up my alley. I love the way those bright hues pop against the white accents. Those drapes are downright fabulous, too!
Source: ohdeedoh.com via Amy on Pinterest
These birth stat prints are simply marvelous. 'Nuff said.
And I am loving the abundance of bold, bright lanterns I've seen in nurseries of late. What a great alternative to a crib mobile: eye candy for babies and mamas alike!
Source: unique-baby-gear-ideas.com via Amy on Pinterest
This list of ideas only promises to grow over the course of the next few months. (Just like me! 😉
Have you seen any inspiring nurseries lately? I'd love to see them!
Happy Sunday, Friends!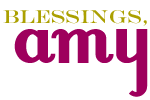 Having grown up in a home brimming with sewing notions and paintbrushes, Amy has a deep love for all things creative. On any given day, you'll find her knee-deep in her latest creative endeavor, with projects ranging from sewing and crafts to home decor and kid-friendly ideas. Amy believes that everyone, regardless of skill level or experience, possesses the ability to create something beautiful, and Positively Splendid was born of her passion for helping others harness their innate creative potential.