It is always nice to have special gift ideas in your arsenal that make it possible to get kiddos involved in the prep process. The idea I'm sharing today –

Flower Rice Krispies Treat Pops

– is one that enables children to add their artistic stamp to a sweet gift perfect for teachers, moms, grandmas and friends. With Mothers' Day this weekend and end-of-year school celebrations right around the corner, making a few of these to hand out to special people in your life will be an easy gift solution that is also a lot of fun to put together!
Note: The basic assembly for these pops is identical to the prep process I used in making my Christmas Tree Pops last year, so for a more detailed step-by-step, you can refer to that post.
For this project, you will need…
3 tablespoons butter or margarine
4 cups miniature marshmallows
Gel food coloring
6 cups Rice Krispies cereal
Flower cookie cutter(s)
Lollipop sticks
Almond bark or white chocolate chips
Brightly colored candies (I used jelly beans)
Computer and printer
White cardstock
Scissors
X-Acto Knife
Place the butter and marshmallows in a microwave-safe bowl. Microwave in 1-minute intervals, stirring after each interval, until marshmallows and butter are completely melted, about 3 minutes total. Stir a small amount of food coloring into the mixture. 
(Note: To make two different colors of treats, make two separate batches of treats, dividing the amounts listed of butter, marshmallows and cereal in half to do so. You'll need a separate pan to cool each batch in.)
Measure the cereal into a very large mixing bowl. Working quickly before it starts to set up, stir the marshmallow mixture into your cereal. 
Spread the mixture into sprayed pans so that each pan has a layer about 3/4″ thick. Allow to cool completely. (To speed up cooling time, place the pans in the fridge for 15-20 minutes.) 
When the mixture has cooled, use cookie cutters to cut flower shapes.
Melt 3 squares of almond bark (or 1/2 cup of white chocolate chips) in the microwave at 70% power, stirring often, making sure not to scald the mixture. To assemble your pops, dip the ends of your lollipop sticks into the melted almond bark, and then carefully guide one through the end of each of your flower shapes.
Now, place the unused portion of your melted almond bark into a piping bag (or a zip-top bag with a corner trimmed off). To decorate your flowers with jelly beans, use dabs of almond bark as the "glue" to adhere them to your flowers. 
While your decorated flowers are setting up, print off the free leaf printables (available for download below) onto white cardstock. Carefully cut the leaf shapes out with scissors, and then use an X-Acto knife to make a small cut through the two white lines at the center of each leaf shape. Slip this decorative leaf piece onto the lollipop "stem" of each of your flowers.
All finished!
A fun packaging idea for these little guys would be to place some styrofoam in the bottom of a terracotta pot and poke the lollipops sticks down through it to make them look like real flowers. You could even include some flower seeds and a trowel to make this a tasty and practical gift! 
For the leaf shapes, I have made six different sets of printables: aunt, friend, grandma, mother, sister and teacher. I have also made a sheet containing one of each of the names, just in case you want to hand these out to a number of different people. It's up to you!
To download, simply click on the arrow with the line below it at the bottom of the box containing the printable of your choice.
As always, you are free to print as many of these printables to use as gifts, but please reserve them only for personal, non-commercial use. Thank you!
Aunt
Friend
Grandma
Mother
Sister
Teacher
All
***
On the lookout for some other last-minute ideas perfect for moms, teachers and friends? How about these?
Clipboard Photo Display
Mothers' Day Photo Collage with Free Printables
Thanks so much for stopping in!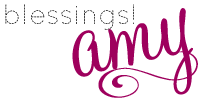 Having grown up in a home brimming with sewing notions and paintbrushes, Amy has a deep love for all things creative. On any given day, you'll find her knee-deep in her latest creative endeavor, with projects ranging from sewing and crafts to home decor and kid-friendly ideas. Amy believes that everyone, regardless of skill level or experience, possesses the ability to create something beautiful, and Positively Splendid was born of her passion for helping others harness their innate creative potential.