I love kicking through the archives to find inspiration for new projects! I used the same technique to create this darling little

Ruffled Easter Egg Tee

I have to share with y'all today that I did for the Ruffled Candy Corn Tee I made for Miss Charlotte around Halloween. I love this technique, and I can't wait to share the ways I tweaked the process to make the final result even more dynamic! 
Ready to see how I put this together? Let's get started!
For this project, you will  need…
Ruffled Easter Egg Tee Template
Scraps of fabric, cut into 2×6-inch strips (you will need a total of seven strips for each egg)
Lightweight fusible interfacing
Washable ink pen
Coordinating thread
A plain t-shirt
Basic sewing supplies: shears, machine, etc.
step

1

/ Fold each of the long sides of one of your fabric strips under 1/4″ and press. Fold both long sides under again another 1/4″ and press. Head over to your machine and use a decorative stitch (I used a zig-zag) to secure each of these folded sides. Repeat with all of your fabric strips.
step

2

/ Using my shortcut ruffling technique, run a line of stitches down each of your hemmed strips, making sure to leave thread "tails" at either end to adjust your ruffles, if necessary. (Alternatively, you can do this the traditional way by running basting stitches down the center of each piece if you prefer.) Make sure that once you've ruffled your pieces, they are at least 3.5″ long. Once your ruffles are your desired fullness and length, gently press them so they lie as straight as possible. (This makes step 3 much easier!) 
step

3

/ Cut a 4×4″ square from your interfacing. Starting at the bottom of your piece, place one of your ruffles onto the smooth side of your interfacing square, and, stitching as closely to your gathering stitching as possible, secure the ruffle to your interfacing. Place your next ruffle on your interfacing in the same manner, overlapping the edges by about 1/2″. (The right edge of one ruffle will line up with the center line of stitching on the previous ruffle.) Stitch down the center of this ruffle to secure it to the interfacing piece. Continue stitching your ruffles in this manner until you have secured 7 total ruffles, or as many as it takes to form a ruffled panel that is at least 3.5″ long from the top ruffle to the bottom ruffle.
 step
4
/ Trace your egg template onto the back of your ruffled piece, as shown. Carefully stitch all the way around the perimeter of the egg shape you have traced. Now cut as closely as possible all the way around your stitching, taking care not to cut through the stitching as you go. Repeat the preceding steps to create your desired number of eggs.
step
5
/ Position your eggs as desired onto your t-shirt, and gently iron them into place. (This is the beauty of using fusible interfacing here – no pinning necessary!) Stitching a scant 1/8″ within the lines of stitching you created in step 4, sew around the perimeter of your eggs to secure them to your tee.
You are finished!
Please let me know if you have any questions. And – as always – I would love to see your creations if you put this (or any other of my tutorials) to use!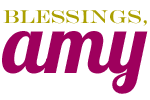 Linking this to…
Somewhat Simple
Tatertots and Jello
Skip to my Lou
The CSI Project
Having grown up in a home brimming with sewing notions and paintbrushes, Amy has a deep love for all things creative. On any given day, you'll find her knee-deep in her latest creative endeavor, with projects ranging from sewing and crafts to home decor and kid-friendly ideas. Amy believes that everyone, regardless of skill level or experience, possesses the ability to create something beautiful, and Positively Splendid was born of her passion for helping others harness their innate creative potential.