Our family is currently settling into our new routine, now that the new school year is in full swing. Unfortunately, the day-to-day grind of getting everyone up in the morning and out the door on time can lead to a very unhappy consequence: Stress! If you can relate, today I'm sharing four of my family's best tips for eliminating as much of that stress as possible from our school morning routine. With just a bit of planning and a couple of smart organizing systems, these tips really have made our mornings so much more pleasant, and our kids so much happier to head off to the classroom!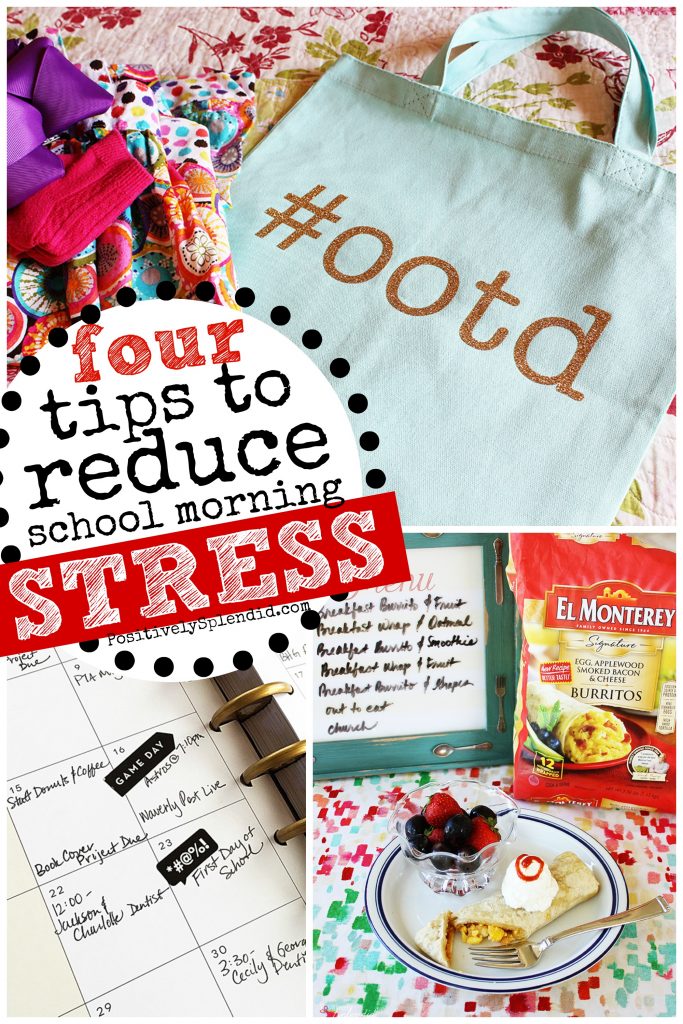 This post is brought to you by El Monterey. All opinions are entirely my own. This post contains affiliate links.
4 Smart Ways to Eliminate Stress from School Mornings
#1 – Stay Ahead of the Game.
This is, by far, the most important tip I can share for how to keep school morning stress at bay. Nothing is more stressful as a parent than feeling that you aren't on top of things, and this is especially true during school mornings when there is so much to be done in such a short amount of time. Over time, I've found THREE things to do every day that ensure I'm always one step ahead from the moment I wake up each school morning:
Build some quiet time into your morning routine. Doing this every morning really is a game-changer! Regardless of how you spend this time, taking a few minutes to collect your thoughts before the day begins does so much to reduce stress and help you feel so much more collected. I like to take about 15-20 minutes each morning to do my daily devotional before spending some quality time with my planner to see a visual of what the day ahead has in store. Just this brief amount of introspective time does wonders for my stress level and attitude!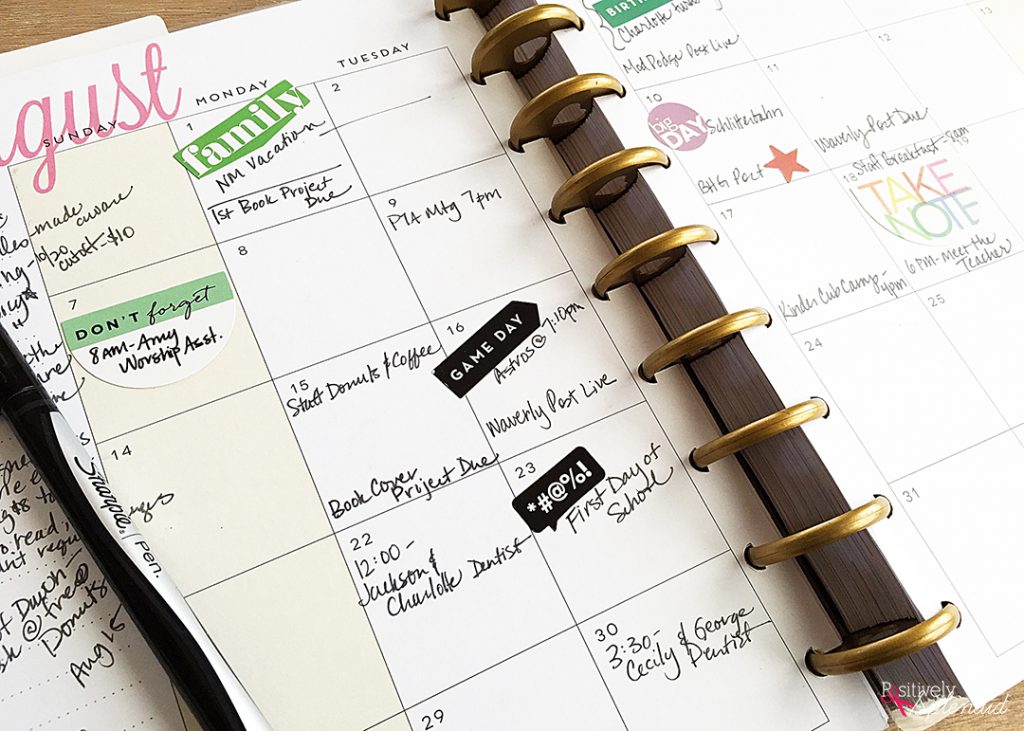 Sign papers the moment kids come home from school. Instead of waiting until the next morning to sign papers in a rush (and inevitably hearing, "Mama, you forgot to sign this paper!" on our way out the door when we're already running late!), I have discovered that by signing everything right when the kids walk in the door, my morning the next day is so much less stressful as a result. Poring over paperwork, permission forms, and order forms that might require writing checks or gathering additional information in the afternoon means you won't have to take precious time out of your morning.
Pack lunches the night before. Surely I'm not the only one who finds the task of packing school lunches downright tedious? I have found that packing lunches as I clean up after dinner instead of waiting to do so the following morning makes all the difference in my overall attitude toward the process. Knowing when I wake up the next morning that one major task is already done helps get my day off to a much less stressful start!
#2 – Have a breakfast game plan.
I am a firm believer in dinner menu planning, but I have to admit that until recently, it never occurred to me to plan our breakfast menu as thoroughly. This school year, I've started planning our breakfast menu, as well, and I have been amazed at how much easier our mornings have flowed as a result. I use a handy DIY Dry Erase Menu Board to jot down the breakfast items we have on hand for each day of the school week. (I've shared a FREE printable menu planner to help you make a menu board of your own in 15 minutes or less!)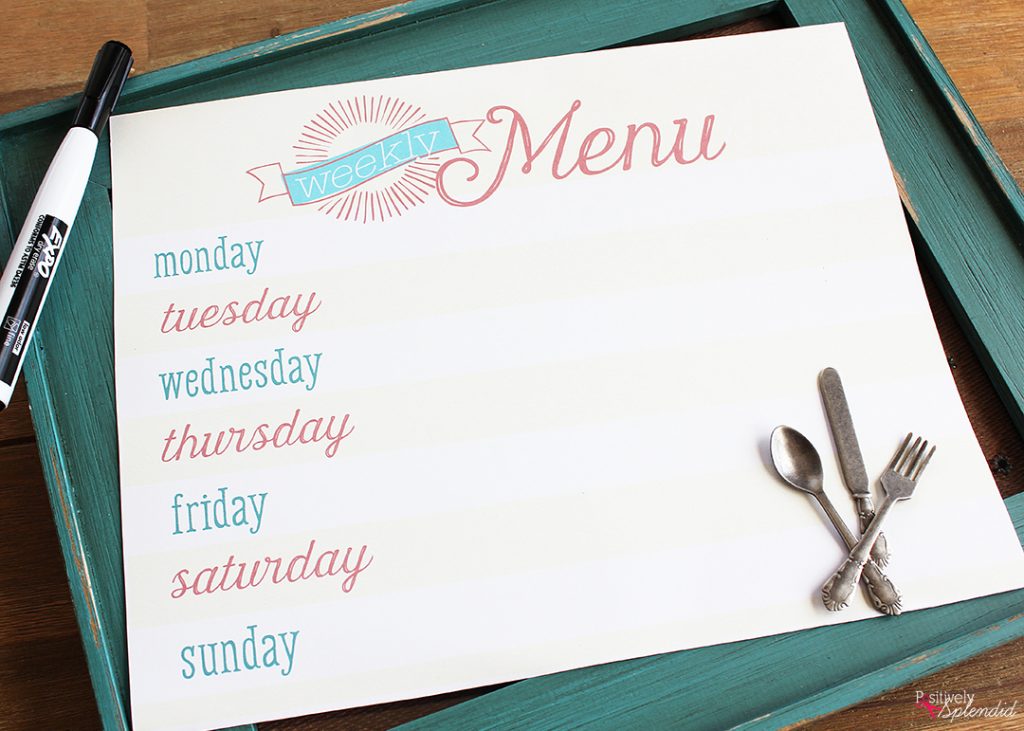 I love incorporating El Monterey breakfast items like their breakfast burritos and breakfast wraps. Even though I don't have time to make from-scratch items on hectic school mornings, El Monterey lets me fill up my kids before school with wholesome food that contains simple, tasty ingredients like real scrambled eggs, applewood smoked bacon and fresh-baked tortillas. My kids love them, and I love that they can be on the table in just minutes.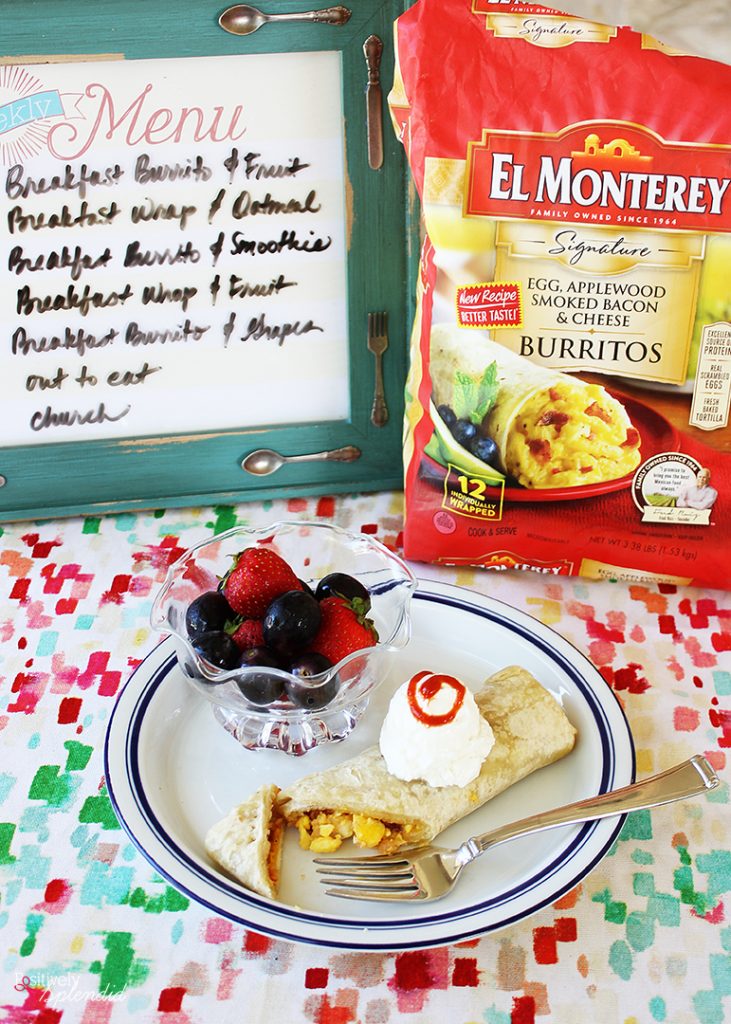 #3 – Always set aside clothes the night before.
Wardrobe arguments are undoubtedly one of the things that can add stress to any school morning faster than just about anything else! Oh, the agony of hearing the dreaded words, "Mama, I have ABSOLUTELY NOTHING TO WEAR!" This school year, I devised a smart system for eliminating clothing stress on school mornings: Each girl has a personalized tote that they use each night to fill with their outfits for the following day. Everything they will wear (tops, pants/skirts/shorts, socks, underwear, and any accessories) goes into the bag at bedtime, and the filled tote is then hung on a hook on their closet door. When I wake them up the next morning, all they have to do is grab the bag and get dressed. This is the simplest system I've come up with yet, but so far, it is working amazingly well!
Be sure to check out the complete post I wrote about how to make the totes.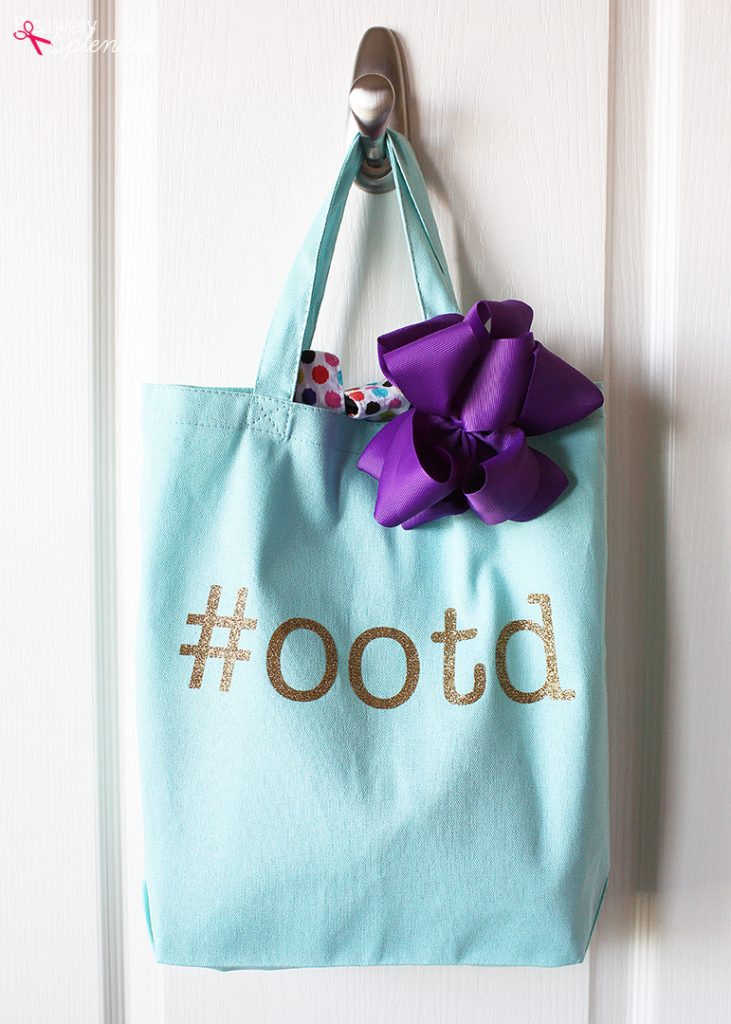 #4 – Commission the help of your kids.
As my kids have gotten older, I have started giving them more responsibility when it comes to our school morning routine. My 10-year-old son is a great help in cleaning up after breakfast, while my 9-year-old daughter helps prepare snacks and fill water bottles to put in each child's backpack. Even my 6- and 4-year-olds can help out by rounding up shoes and turning off lights before we head out the door. Assigning kids simple, attainable tasks helps reduce the workload of a parent while teaching them the gratification of working as a team.
Thanks so much for stopping in! I hope these four tips will help ensure your school mornings are as stress-free as possible.
Do you have any great tips to add to this list? Feel free to comment below to share your best ways for reducing stress in the midst of hectic school morning routines!
By the way…if you're looking for even more great tips for making this the best school year ever for your family, don't miss my 5 SMART BACK-TO-SCHOOL TIPS!
And for even more great #momwins tips to use throughout the year, visit El Monterey on Facebook, Twitter, Pinterest and Instagram!
Having grown up in a home brimming with sewing notions and paintbrushes, Amy has a deep love for all things creative. On any given day, you'll find her knee-deep in her latest creative endeavor, with projects ranging from sewing and crafts to home decor and kid-friendly ideas. Amy believes that everyone, regardless of skill level or experience, possesses the ability to create something beautiful, and Positively Splendid was born of her passion for helping others harness their innate creative potential.