Sewing is my true creative passion, and with four kiddos ranging in age from 9 months to 6 years, I am never in short supply of cute little models to outfit with my latest creations! The only problem? The hustle and bustle of our everyday routine limits the amount of time I get to spend at my sewing desk. Out of necessity, I have come up with a way to organize my sewing projects, which allows me to maximize my time and be as productive as possible. Today I'm going to share my little system with you!

Basically my sewing "system" contains two specific elements:
1. A project planning worksheet
Before I begin the creative process, I fill out a Sewing Project Planner (available for download below) for each project. 
There are seven different fields in the planner: project description, made for, pattern, size, fabric, notions and project notes. The project notes section is particularly helpful, because as I make my way through a project, I can jot down helpful tips and adjustments I make to the pattern so I don't have to reinvent the wheel the next time I tackle a project with the same pattern.
The beauty of this planner is that it not only keeps me organized and on top of things during the creative process, but it also doubles as a project journal that I can keep to refer to later on. Once a project is complete, I can snap a 4×6 photo to include with the project planner worksheet, so that when I want to use the same pattern or I am wanting to complete another similar project in the future, I can use that for reference. This is so incredibly helpful! The worksheet can be placed in a standard-sized 3-ring binder by punching holes along the top edge, or it can be cut in half with a paper trimmer along the designated cutting line so that the sheets can be placed in a smaller 3-ring binder. The choice is up to you!


2. A pre-planned sewing kit 
Once I have filled out the project planner, I create a complete sewing kit that contains all of the different elements required to complete that project. When creating these kits, I will often sit down and cut out 3-4 different projects in one fell swoop, since the cutting portion is what I tend to find the most tedious. Once the cutting step is complete, I then gather all of the related notions, patterns and special supplies needed for that specific project. 
When everything is gathered, I place the items in a gallon-sized zip-top bag to keep all of my elements consolidated, and I slip the Sewing Project Planner inside.
Now, when I get a free minute to sew, everything I need will be right at my fingertips! This has truly revolutionized my sewing life and enabled me to maximize my sewing time (read: nap time 😉 to be as productive as possible.
If you would like to give my system a try, you can download my free Sewing Project Planner printable by clicking on the arrow at the bottom right-hand side of the download box below. This jpeg file is sized at 8.5×11. I print mine out using Picasa onto heavy cardstock so it will hold up to wear and tear over time. (If you are enjoying this post in a reader or by email subscription, you'll have to click over to the blog for the download.)
Are you an organized sewist, or do you just create as the urge strikes? I would love to hear about your systems for creating!
Thanks so much for stopping in today!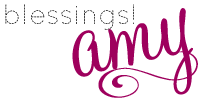 Having grown up in a home brimming with sewing notions and paintbrushes, Amy has a deep love for all things creative. On any given day, you'll find her knee-deep in her latest creative endeavor, with projects ranging from sewing and crafts to home decor and kid-friendly ideas. Amy believes that everyone, regardless of skill level or experience, possesses the ability to create something beautiful, and Positively Splendid was born of her passion for helping others harness their innate creative potential.