Welcome to my brand-new creative space, a room that is honestly a dream come true for me!
Until a couple of months ago, I never thought our small home had enough free space to dedicate a room entirely to my creative endeavors. Last year, one sweet baby boy gave us the best reason imaginable to convert what was at that point our bonus area and my potential sewing room into his nursery. Ever since, my sewing and crafting efforts have been relegated to the kitchen table or the desk in our master bedroom. I can't begin to count the number of evenings that I've had to clear away mounds of sewing supplies, my machines, and my projects in progress in order to set the kitchen table for supper or climb into bed at night. With this new room, I now have a dedicated space where my creative juices can flow. I am so excited to give you the full tour!
After taking inventory or our home's available space, my husband and I agreed that our formal dining area would be much better utilized as a home office. The only challenge with this space is that it is the very first thing you see when you walk through our front door. How would I design a creative space that was as stylish as it was functional?

The Sewing Box

was the answer to that conundrum. This cabinet allowed me to turn this small space into a veritable sewing command center without having our guests' first impression of our home be a mess of sewing machines, notions and mounds of fabric.
Are you familiar with the dream where you suddenly realize that there is a room in your home that you never even knew existed, and you find yourself imagining all of the amazing things you will do with it?

The Sewing Box is the closest thing I've ever experienced to having that dream come true. With this cabinet, if you have just one free wall available in your home, you have enough room for a dedicated sewing space of your very own. I have never felt more compelled to shout from the rooftops how much a product has truly revolutionized my life!
On the outside, it looks unassuming enough: just a nice piece of furniture with beadboard accents. Most would assume it is an armoire of some sort, probably hiding away a television or some other form of electronic equipment. 
But oh! Look what is revealed when you take a peek inside!
In just a few moments' time, this little cabinet transforms into something to make any sewist's heart go pitter pat.
The design of this cabinet is absolutely ingenious. Every single feature a sewist could possibly wish for is all here: plenty of workspace, with abundant room for a serger and a standard machine, plus a fold-down desk on the right-hand side that can function as a cutting area or a general work surface.
A thread organizer attaches to inside of the left-side door…
…and I found the shelves beneath to be the perfect size to accommodate the small galvanized buckets from the dollar section at Target and standard-sized plastic school supply boxes. Because the school supply boxes stack tidily and latch securely, they are terrific for holding just about any type of sewing notion under the sun. 
A handy slide-out drawer ensures my most-used tools are easily accessible…
…and three storage bins are perfect for housing tools like shears, bobbins, pins and the like. I purchased 12×12″ drawer organizers from Target to tuck into the bottom of each one to maximize the storage space each had to offer. 
Would you ever in a million years guess that all of that stuff is hidden away in one cabinet? Incredible, I know!
The shelves are the perfect place to store my favorite sewing and crafting books and display some decorative accents. I owe so much of my passion for creativity to my family, and specifically to my children, mom, dad and grandmother. This space is filled with items I have received from each of them over the years: photos of my children, paintings from my dad, vintage pieces from my grandma and knick-knacks from my mom. Those items give this space a meaningful, cozy feel, which I know will inspire my creativity for years to come!
I purchased four media boxes at Jo-Ann to display on the shelves, which are perfect for storing any number of crafting supplies and tools, and the price ($3 apiece) can't be beat!
My mother-in-law made me this sweet little tiered tray for my birthday, and I decided it would be perfect to display beneath the shelves on top of my Sewing Box to hold loose buttons, pins, trims and such. 
I knew I needed an ergonomic, comfortable chair for this space, so I opted to purchase a standard rolling office chair to go with the desk. To give it some pizzazz, I outfitted it with a custom slipcover I sewed using some of my favorite Premier Fabrics.
I used iron-on letters from Hobby Lobby to add a monogram accent to the back of the slipcover…
…and I accented the back with four pretty black buttons. (Reality check: these puppies are attached with hot glue.)


Voila! Instant glamour.
I made some custom magazine files to go on the shelves of the bookcase, along with other crafting, reference and cookbooks.
The cabinet across the room, which I purchased a JC Penney a few years ago, is the perfect place to display a showy flower arrangement…
…and inside the cabinet you'll find my sewing supply command center! I outfitted the insides of the doors with chalkboard vinyl and cork tiles so that I can stay nice and organized.
On the top shelf I placed a lazy Susan with metal containers from the dollar section at Target. This is the perfect spot to store all of my most-used crafting tools and products.
My fabric is folded up on the second set of shelves…
…and the bottom shelf is home to all of my kiddos' crafting supplies. I found this cleaning caddy to be the perfect solution for holding all of their markers, paints, scissors and the like.
Thanks so much for stopping by to take this tour with me today! Be on the lookout in the coming weeks when I'll be sharing project tutorials for many of the DIY projects in the space.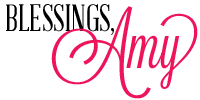 Linking this to…
Serenity Now
Home Stories A to Z
Tidy Mom
Tatertots and Jello
Flamingo Toes
A Glimpse Inside
This post was sponsored by The Original Scrapbox. 
Disclosure: I received compensation in the form of product to write this post. Rest assured that I am committed to sharing only products that I feel my readers will benefit from and enjoy, and all opinions expressed in this post are, as always, entirely my own.