Happy Friday! 
I have to say that I have been really delighted with the input I've received so far from those of you wanting to share some of your Simple Solutions. This week's roundup of ideas takes us into the kitchen, a place I know I am always looking for ways to streamline my routine a bit.
It's nice to have pre-prepped items available to eat on for breakfast throughout the week, and I have found muffins to be particularly popular around here. One batch will make for an easy on-the-go breakfast for all of us for at least a couple of mornings. In order to make putting a batch together a breeze,

I measure out the dry ingredients in advance and place them in a zip-top bag labeled with the type of muffin the mix is for, as well as the necessary wet ingredients and the baking instructions.

Although it doesn't eliminate the prep-work for making the muffins entirely, making these mixes in advance saves precious minutes when I'm scrambling to get lunches put together and kiddos out the door. And I'm sure many of you will agree that each and every minute saved during the morning rush is a godsend! These are also great for when unexpected guests arrive and you're looking for simple breakfast options.
***
Our first reader tip is actually related to the SS post I shared a couple of weeks ago about Composting.
Caroline

of The Feminist Housewife shares…
 I keep a stainless steel bowl in my freezer and put our scraps in there. And then every few days, I take it out to our compost pile. It's nice because the freezer keeps it from smelling funky.
Thank you so much for this tip, Caroline! I have been doing this very thing, and it has made composting during the winter months a breeze. Now I can just stockpile my trimmings and take them out in one fell swoop!
***
Positively Splendid reader Liezel shares this lineup of great kitchen tips…
#1 When I don't have a clue what to fix for dinner I start water to boil in my big stew pot. That way if I decide to make pasta, potatoes, soup or even hot tea I am ready. If I choose to go a different route all together, I'll just use it as a hot rinse to clean off the dishes before I wash them. 
#2 When I buy green onions right away I wash, cut up and stick them in a freezer bag to put in the freezer. This saves time since they are always ready and money because they don't go bad.
#3  I try to always clear out my fridge before I go to the store.  When I don't do this I end up buying something I don't need and forgetting something that I do.  Plus then I don't have a science experiment that I didn't know about.
#4 I only use glass jars (mostly canning jars) to store leftovers. When I do end up with the science experiment I can boil my jars and lids to get out all the icky stuff. It is great since the glass always comes clean, no stains! If it is just too disgusting I can just pitch the lid because the lids and rings can be bought separately. The leftovers also last much longer in glass then plastic.
So many great ideas! I honestly had never considered what a great option canning jars would be for food storage. And so much more budget-friendly, too! Cleaning out the fridge before shopping (instead of trying to cram arrange everything I just bought alongside all of the old stuff!) would be a huge help, too.
***
Do you have a Simple Solution to streamline your crafting/sewing/creating process that you find particularly helpful? If you think you have something that would work well for this series and you'd like to post about it here, contact me. I'd love for you to share your knowledge with all of us!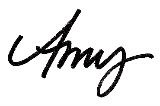 Having grown up in a home brimming with sewing notions and paintbrushes, Amy has a deep love for all things creative. On any given day, you'll find her knee-deep in her latest creative endeavor, with projects ranging from sewing and crafts to home decor and kid-friendly ideas. Amy believes that everyone, regardless of skill level or experience, possesses the ability to create something beautiful, and Positively Splendid was born of her passion for helping others harness their innate creative potential.