So how does this…
…relate to this?
(The tutorial for my Tiered Terracotta Planter can be found here.)
The answer is one thing: compost! I have wanted for a while now to start a compost, but until we moved to our new home, I didn't want to invest a great deal of effort into something we would have to leave behind. Anyone who gardens knows that one of the primary costs of planting container flowers and a garden is the often exorbitant price of potting and gardening soil. Making your own compost will allow you to save money to apply elsewhere, all the while whittling down the amount of garbage you send to the dump each week. It really is a win-win!
For those who are unfamiliar with composting (as I was until not too long ago!), the concept it this: by reserving things like vegetable scraps, banana peels, egg shells, coffee grounds, newspaper, grass clippings and other goodies (see below for links to great resources that outline in detail exactly what you can and can't add to your compost), you can combine them in a way that will allow them to decompose (a nice way of saying rot!) and form the most gorgeous, fertile soil you can imagine. All that is required in terms of effort is to add your ingredients to a pile or a bin in the proper proportions, keeping everything evenly moistened and turning your compost periodically to keep the decomposing process moving along. 
From the start, I knew I wanted to do container composting, as we have a very wily beagle who would make trying to keep a tidy compost pile a real headache. Online, I found ideas ranging from creating a compost bin from a large Rubbermaid tub to investing in pricier ready-made bins. I was particularly intrigued, however, by this video from About.com, which talked about making a compost bin from a trash can.
I did everything as the video describes, except I opted to use my cordless drill and a 3/16″ bit to make the holes in my can instead of a nail and a hammer. I also opted for a plastic bin as the video shows rather than a metal one, to make rusting a non-issue. One recommendation: Make sure when you are purchasing your can to verify that the lid closes very securely. (As the video describes, you will have to roll the thing around, so you don't want to wind up with a huge mess in the process!) I had to test a couple at Lowe's before I found one that latched to my liking.
At Blissdom, I had the opportunity to meet Lisa from Condo Blues, and she and I were comparing notes on composting. She does her composting in large Rubbermaid tubs, and she keeps two going simultaneously so that once the compost in one is ready for use, she can start adding her clippings and scraps to the other and keep the process going. Once our current compost is ready, I think I'll buy another trash can to do the same. Adding a bit of the finished compost from the first bin will kick-start the new compost and get the decomposing process started more quickly. Very smart!
The links below are a couple of terrific resources I've found for exactly what you should and shouldn't add to your compost. As the video above mentions, there are two categories you need to strive to include in your compost to ensure everything breaks down as efficiently as possible – your

greens

and your

browns

– and each of these links goes over those in detail.
Earth Friendly Gardening
Plow & Hearth
Better Homes and Gardens
So, do you compost? Have you ever considered it? Or is it just something that isn't for you? I'd love to hear about your experiences. I'll definitely keep you updated on my composting progress, too!
***
Every week or so, it is going to be a goal of mine to share this

Simple Solutions

 series with y'all – cooking tips, organization options, healthy living ideas, and time-saving solutions for sewing, crafting cooking, etc. The sky is the limit to what you'll see here! Based on the feedback I received from the survey I posted a few weeks back, I think this will be a terrific way to enrich your experience here at Positively Splendid.
You know, it is truly amazing. I was thrilled to have a chance to chat with the lovely Liz from Hoosier Homemade during Blissdom, and she said something that really resonated with me: As we go through our lives, developing and honing our particular "systems" for coping with the daily rush, we sometimes take for granted that everyone does the same things we do to streamline their harried schedules. Liz's example of this was the amount of feedback she received on this post where she shared with her readers an ingenious way to manage her coffee prep each morning. For Liz, this was just something mundane, but to many of her readers, it was a tip that will help them save precious minutes during their morning. How invaluable!
 What we can't discount as we engage in the blogging world is how

much

we have to learn from one another. I hope this

Simple Solutions

 series will be a resource for learning information that will make you life better! 
Do you have a Simple Solution that you find particularly helpful as you deal with the daily grind? A time-saving tactic for cooking, crafting, or otherwise? If you think you have something that would work well for this series and you'd like to post about it here,
contact me.
I'd love for you to share your knowledge with all of us!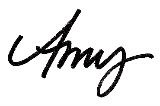 If you enjoyed this post, subscribe to Positively Splendid 
to receive updates, and join us on Facebook and Twitter!





Having grown up in a home brimming with sewing notions and paintbrushes, Amy has a deep love for all things creative. On any given day, you'll find her knee-deep in her latest creative endeavor, with projects ranging from sewing and crafts to home decor and kid-friendly ideas. Amy believes that everyone, regardless of skill level or experience, possesses the ability to create something beautiful, and Positively Splendid was born of her passion for helping others harness their innate creative potential.