With Thanksgiving around the corner, sew up a fun t-shirt for a little boy in your life to wear on the big day. This Thanksgiving I (heart) turkey t-shirt idea is so simple to make with my free templates!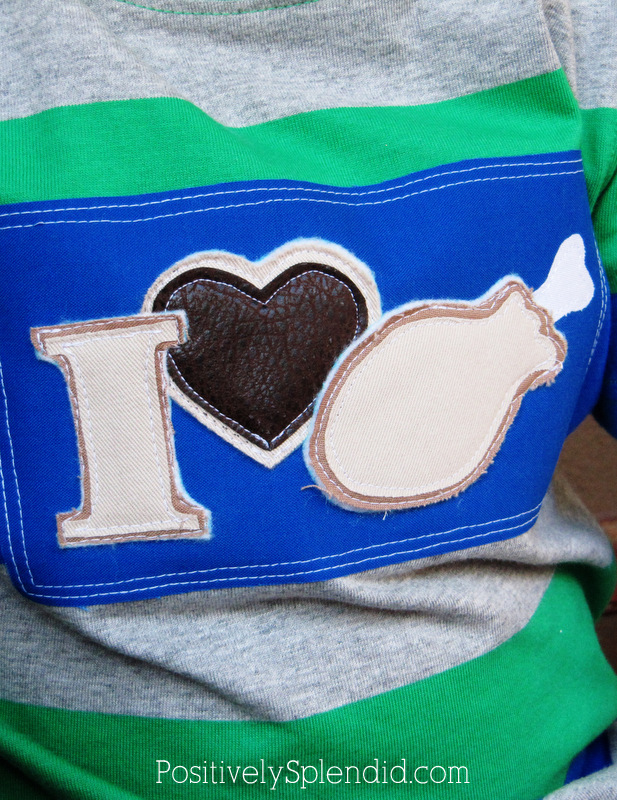 O

kay – enough ruffles already. Let's make some Thanksgiving duds perfect for the little guys in our lives, too! What better way to outfit him for Turkey Day than to pay homage to what is most likely every boy's favorite part about this holiday: the food! 🙂
For this project, you will need…
Butterball Tee Templates
A plain tee in your little one's size
Assorted fabric scraps (I used various shades of brown, white and cobalt blue)
Coordinating thread
Fusible web
Fusible fleece
Fabric glue stick
Washable ink marker
Basic sewing supplies: machine, shears, etc.
step

1 Create your "I", heart and turkey leg templates. (For my letter I, I used Broadview font at 200 pixels. I freehanded my heart and turkey leg shapes onto copy paper.) When creating your templates, make sure to not only create a top piece, but also a base piece for each that is just a smidgen larger than the top. Cut each of your templates out.
**If anyone is interested, I will be more than happy to send you the templates I created for this project in PDF form. Just let me know!
step

2 Iron fusible web to the back of the fabrics you will be using for your top pieces. Iron fusible fleece to the back of the fabrics you will be using for your base pieces. Once your pieces are stitched, the fleece will will give the top a fun quilted look.
step

3

Trace the templates you created in step 1 onto the back of their respective fabric pieces. You will need to use a washable ink marker to trace your base piece templates onto the fleece. A regular pen will work to trace your top piece templates onto the paper backing of your fusible web. Cut out all of your pieces using very sharp scissors.
step

4 Remove the fusible web backing from your top pieces, and center them on top of your base pieces. Iron them into place using your fusible web's package instructions.
step

5For your patch, cut a piece of fabric that is 7.5 x 4 inches. Position each of your pieces onto your patch so you can visualize your overall layout. Once you are satisfied with how things look, remove your I piece and your main turkey leg from the patch, leaving the heart and turkey leg bone pieces in place. Use your fabric glue stick to adhere these to your patch before machine stitching them into place. Affix your I piece and your main turkey leg piece to your patch with fabric glue, and stitch them in the same manner.
step

6

Center your finished patch onto your tee, using fabric glue to hold it in place during stitching. Stitch around the perimeter of the piece 1/8 inch from the outer edge. If desired, stitch again 1/8 inch inside of the first stitching for added interest.
Now, let your little one gobble till they wobble while they model their snazzy new shirt!
P.S. Looking for a t-shirt idea for the little girls in your life? Don't miss my Ruffled Turkey Tee!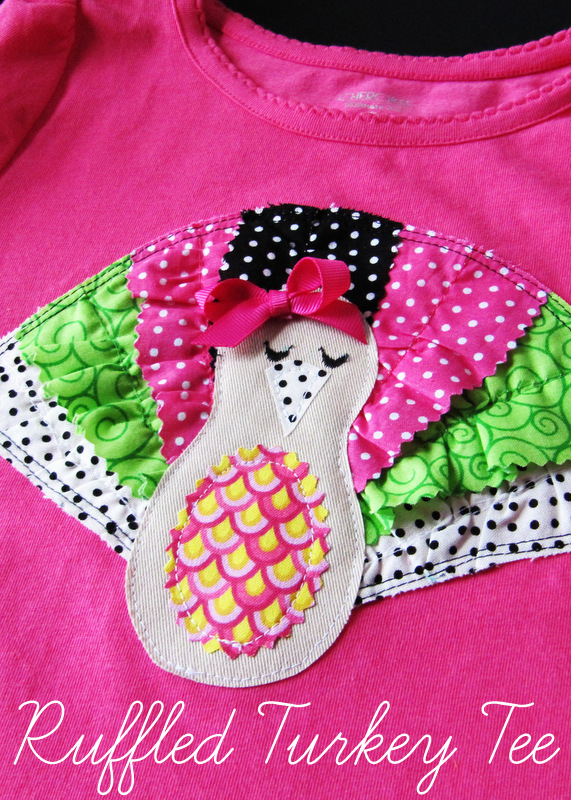 Having grown up in a home brimming with sewing notions and paintbrushes, Amy has a deep love for all things creative. On any given day, you'll find her knee-deep in her latest creative endeavor, with projects ranging from sewing and crafts to home decor and kid-friendly ideas. Amy believes that everyone, regardless of skill level or experience, possesses the ability to create something beautiful, and Positively Splendid was born of her passion for helping others harness their innate creative potential.