As I nursed sweet baby George in the wee hours this morning, I found myself stroking his velvet-soft skin and pondering what lies ahead in his future. What will he be? What will he do? How will the world be made better because he's in it?
As I contemplated all these things, my mind drifted to another mother, one cradling a newborn baby nearly two thousand years ago. 
Do you think as Mary held her son, as she meticulously counted his toes and fingers (as all mothers do), that she pondered the places those little feet would someday trod and the miracles those hands would perform? Could she possibly have had any concept as she gazed down at his sweet face the impact that wee creature would have on the future of all mankind?
The most unlikely of settings, the least likely of characters: one stable in Bethlehem, one tiny infant cradled in his mother's arms. 
Only God himself could have written a story so perfect.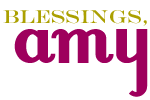 Having grown up in a home brimming with sewing notions and paintbrushes, Amy has a deep love for all things creative. On any given day, you'll find her knee-deep in her latest creative endeavor, with projects ranging from sewing and crafts to home decor and kid-friendly ideas. Amy believes that everyone, regardless of skill level or experience, possesses the ability to create something beautiful, and Positively Splendid was born of her passion for helping others harness their innate creative potential.